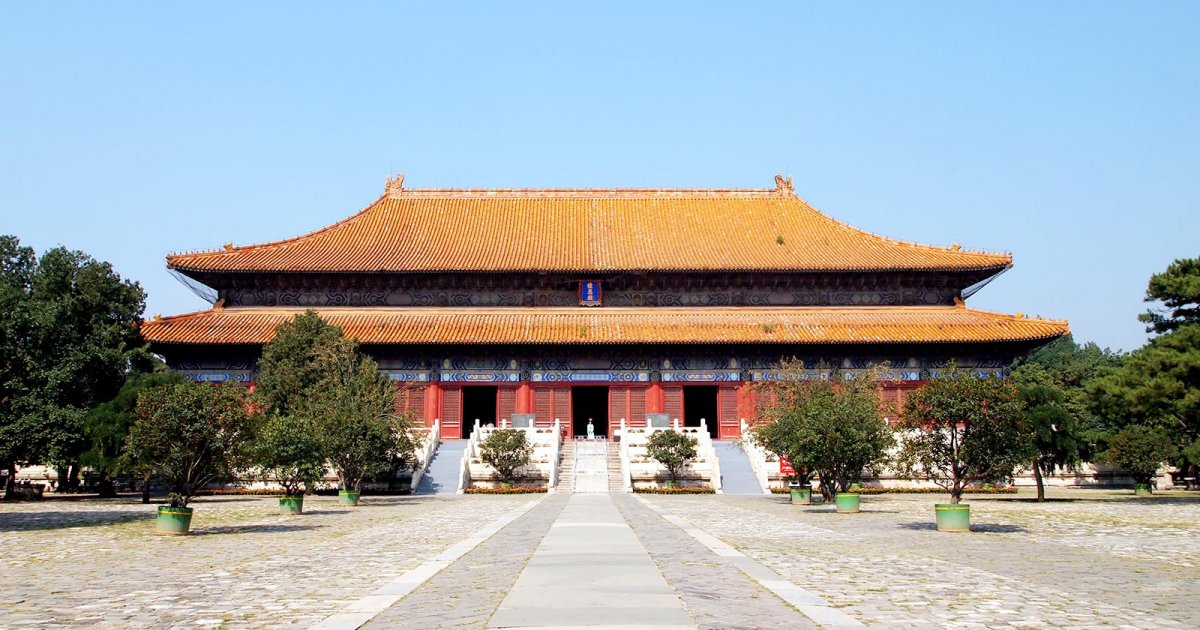 Audio File length: 2.23

Language: English / USA
Although it is the oldest, dating back to 1420, the Changling Tomb where Emperor Zhu Di is buried, is the best preserved. It covers around 120,000 square meters, and like the others, is formed by a square front, divided into three courtyards, and a round part at the rear.
The distinctive gateway into the Tomb is built in Arab style, and is inspired by the constructions of the Alhambra in Spain, with the beams and arches covered in colored glazes.
In the first courtyard is a perfectly preserved pavilion with the tombstones, but the second courtyard is the most attractive and interesting.
The way into this courtyard is called the Blessing and Grace Gate.
Take note of the stone sculptures shaped like dragons' heads, positioned at the corners of the steps and under the railings, and the magnificent sculptures along the stairs and look closely at the stone slab featuring a bas-relief of two seahorses leaping on the waves, with the mountains in the background. At the top, you can see two flying dragons chasing beads of fire.
The magnificent Blessing and Grace Palace is the only surviving burial palace of the Ming dynasty, the only one built in camphor wood, and the finest testament to the wooden architecture of ancient China.
It covers about 2000 square meters, and is built on a three-level white marble base.
It is extremely worth a visit, with an extremely colorful roof supported by 16 camphor wood pillars up to 13 meters high and 1 meter thick. The floor is covered with gilded brick tiles, and the room measures almost 200 square meters. On a throne, decorated with nine dragons, you can see a realistic bronze statue of Emperor Zhu Di.
Inside, you can admire many documents and objects illustrating the endeavors of Emperor Zhu Di, as well as hundreds of archeological finds relating to the Ming Tombs.
The rear part of the tomb, resembling a circular castle with a height of 7 meters, is the resting place of Emperor Zhu Di and the Empress Xu.
An interesting fact: Zhu Di, also known as Yongle, was the emperor who built the Forbidden City, and had the Yongle Encyclopedia, the first in the world, written in 1403.