HERITAGE MUSEUM, First Floor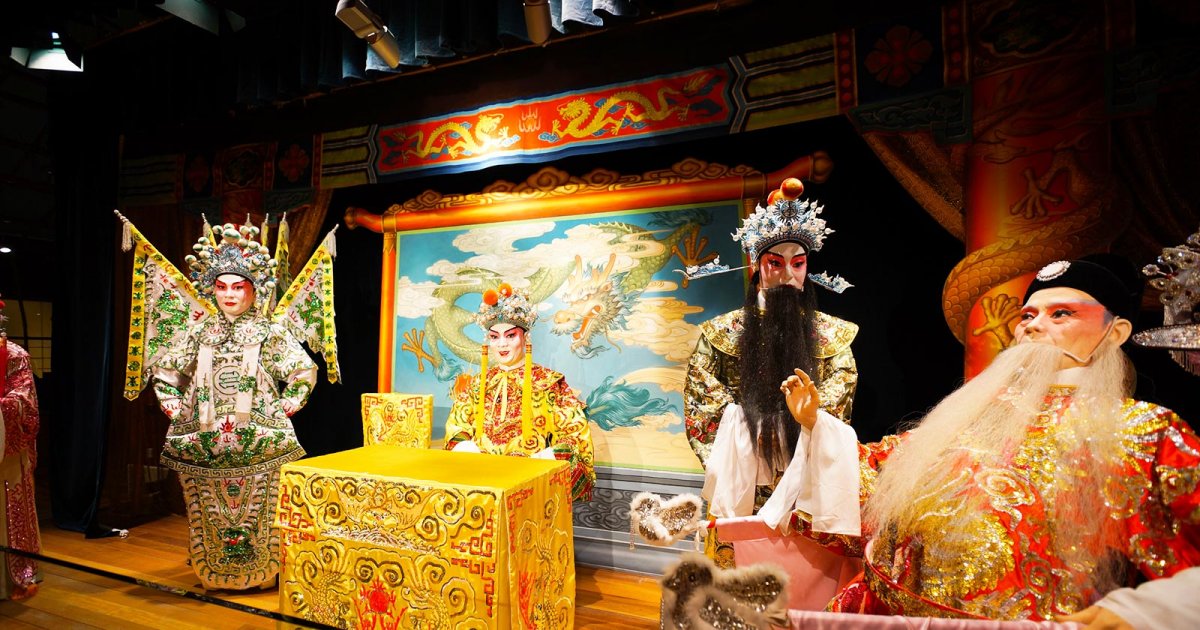 Audio File length: 2.47

Language: English / USA
On the first floor of the museum, you'll find two important permanent exhibitions: one dedicated to Cantonese opera, and another to one of the best-known artists of the Lingnan genre, Chao Shao-an.
The "Cantonese Opera Heritage Hall" welcomes you with a triumph of colors, materials and precious objects, in an area that even includes a reconstruction of an actual opera house. If you're not familiar with Cantonese opera, it is a highly complex artistic genre, involving a number of different disciplines: song, dance and acting, as well as acrobatics and martial arts. Artists' training requires years of study and great skill. To save this art from dying out, there are associations that offer scholarships for the most deserving students.
This gallery is a treasure trove of richly decorated stage costumes and fabulous objects such as headdresses and hair clips, posters, photographs, set designs and multimedia programs.
Some of the objects were donated by great performers, such as the well-known star Lee Hong Kum.
Now press pause and head for the "Chao Shao-an Gallery".
This gallery is named after a Chinese grand master, one of the leading lights of a particular artistic style dating to the early 20th century, known as Lingnan, after the region where it first became popular. Lingnan takes its inspiration from traditional Japanese painting, although it maintains many original Chinese characteristics, and has also taken on board Western influences.
In the paintings on display, you can admire landscapes, trees and animals such as peacocks, tigers and monkeys. Many of the works illustrate the artist's impressions from his numerous travels.
Among the most fascinating works is "Skull in a faded dream", from 1955, with a predominantly gray background with an abandoned skull lying in a field near some white azaleas, highlighting the sharp contrast between life and death and testifying to the fact that life goes on, despite the traumas of war and loss.
An interesting fact: as you look at the works, you'll notice that Chinese painting also includes the ancient art of calligraphy which completes the works. Divided into five main styles, Chinese calligraphy is such a beautiful, ancient art that it figures on UNESCO's list of intangible cultural heritage.