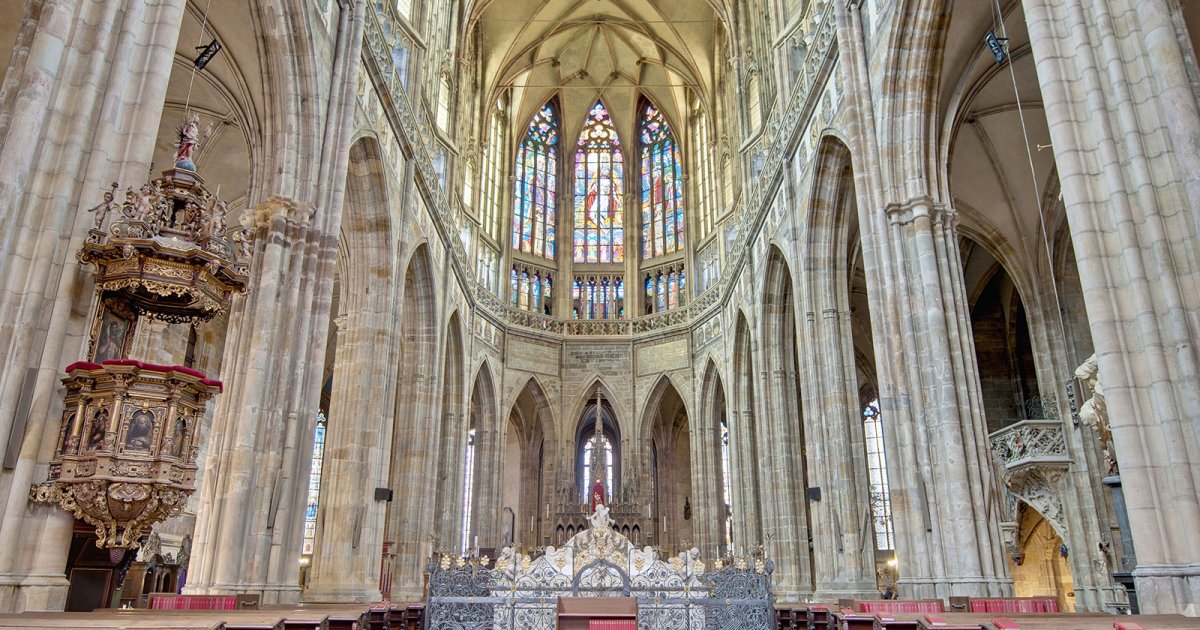 Audio File length: 2.21

Language: English / USA
The inside of the Cathedral is an unforgettable sight, with all the spectacular, airy grandeur of the finest Gothic architecture.
The front part, with the naves and the side chapels, was completed between the nineteenth and twentieth centuries, but the rest of the Cathedral maintains its fourteenth-century allure, thanks to the genius of the architect Peter Parler, whose system of flying buttresses on the outside gave the walls their slender, incredibly elegant appearance.
The Cathedral's history is inextricably linked with that of the dynasties of the Bohemian monarchs, and many kings or members of their courts are buried here: in the crypt under the choir, for instance, is the modern-day tomb of Charles IV and the original coffin of Rudolf II.
There is a large funeral monument right in the center of the Cathedral: the Royal Mausoleum, a Renaissance sculpture by the Flemish artist Alexander Colyns featuring statues of the Emperors Maximilian II and Ferdinand I of Habsburg. It was created in 1564 for the Court Church in Innsbruck, in Austria, but was moved to Prague in 1589.
At the beginning of the 20th century, while the architecture of the Cathedral was completed following the fourteenth-century model, the decorative elements are more in line with the tastes of the period: especially stunning are the delightful Art Nouveau windows by Alfons Mucha in the third chapel on the left.
A detailed visit to the more than 20 chapels spread around the aisles can take hours, so I suggest you concentrate on two you'll find on the right of the high altar: the Royal Oratory, created at the end of the 15th century by Benedikt Ried and reserved for the king's family, who could reach it directly from the palace by crossing a little bridge; and the Saint Wenceslas Chapel, by Peter Parler, with 1300 large colored stones set into the walls, creating a truly spectacular effect.
An interesting fact: conserved in the Cathedral are a number of relics of Saint Vitus, the Sicilian patron saint of dancers, the cult of which contemplated lengthy dances before the statue of the saint. In the Slavic language, however, Vit means eyes, so here the saint is believed above all to be the protector of the eyes.