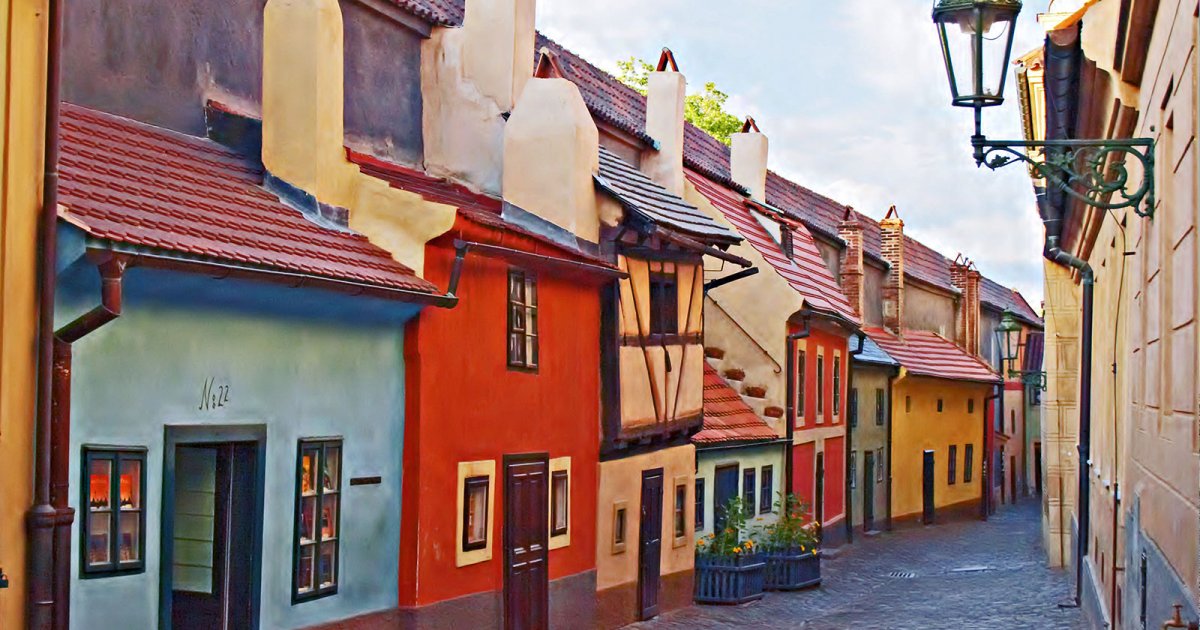 Audio File length: 2.26

Language: English / USA
Golden Lane is a narrow street built next to the defense towers, running parallel to the walls between two arches. The delightful little seventeenth and eighteenth-century houses were once lived in by goldsmiths and specialized craftsmen who supplied their creations to the court: it is just a legend that the name derives from magicians and alchemists who wanted to transform metals into gold and whom Rudolf II liked to surround himself with.
His alchemy laboratory was located in the imposing fifteenth-century Powder Tower, to the left of the Cathedral, also known as the "Mihulka Tower" because the shape resembles a lamprey (mihule in Czech).
Today, Golden Lane is one of the city's most popular tourist attractions. Following the painstaking restoration work completed in 2011, the interiors of some of the houses have been furnished to illustrate the activity of the craftsmen. Franz Kafka lived at number 22 from 1916 to 1917.
On the outside, you can admire magnificent gardens that end with the large Royal Garden that runs right along the northern side of the Castle. It is here in the Stag Moat that Rudolf II liked to go hunting, and he also raised a few lions in the park.
Along the gardens you can admire the sixteenth-century Ball Games Hall, after which you will come to the marvelous Belvedere Pavilion, perhaps the finest example of Renaissance architecture in Prague, designed by Italian architects in the mid-sixteenth century for the Emperor Ferdinand I and used for court ceremonies in the summer.
The portico that runs right around the building is topped with a hull-shaped roof. In the balcony gardens that look out over the center of Prague, you can see the popular "singing fountain", crafted in the mid-sixteenth century and known by this name for the sound made by the jets of water.
An interesting fact: Franz Kafka, author of the famous Metamorphosis, in which the main character turns from a man into a cockroach, is the most important Czech author, and one of the best-known writers in the world. However, he wrote only in German, the language of his parents, despite the fact he was born and lived his entire life in Prague.
Our visit to Prague Castle ends here: MyWoWo would like to thank you - see you again at another Wonder of the World!