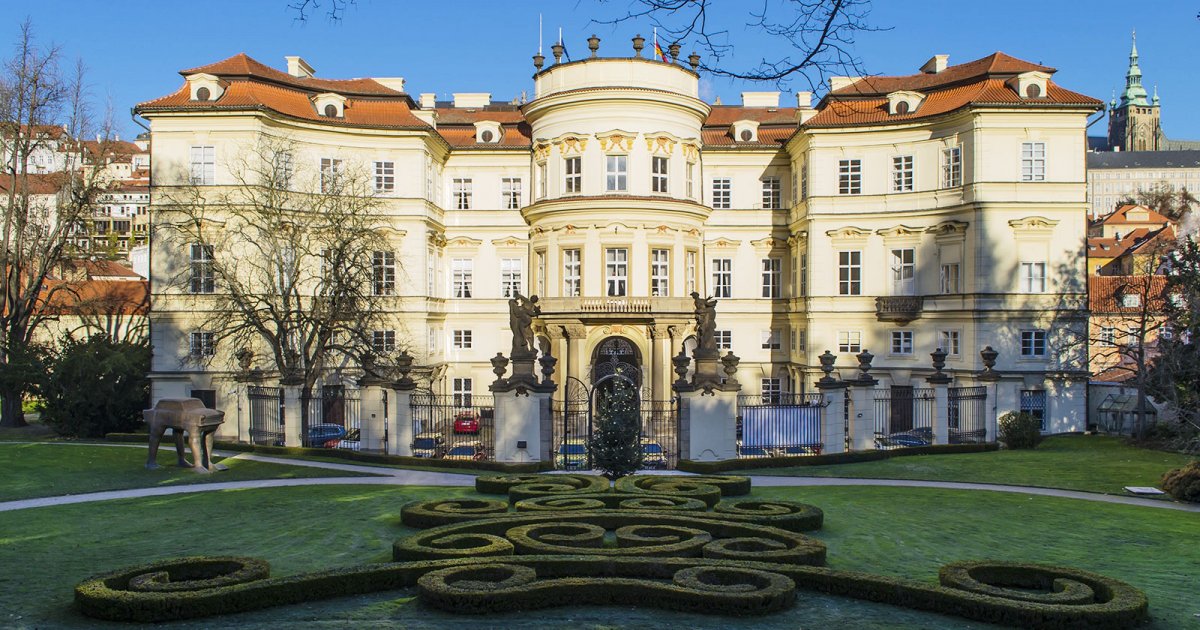 Audio File length: 2.37

Language: English / USA
Just behind the Cathedral is St George's Square. The buildings around it are the residences of the canons, and on the right you can see an old building that at the end of the 18th century, on the orders of the Empress Maria Theresa, was turned into a home for noblewomen who had fallen on hard times.
The Square takes its name from the centuries-old Church of Saint George, which has a Baroque façade and is easily recognizable thanks to the twin bell towers that are a hallmark feature of the Castle skyline. The appearance of the church has been significantly altered by the work carried out through the centuries, and the restoration work on the inside has brought to light the original Romanesque structure, dating back to 1100.
Dating to the Middle Ages are a number of ceiling frescoes above the high altar, while the Baroque restructuring work has given us the beautiful staircase that descends into the crypt, as well as the fine Chapel of Saint John of Nepomuk.
The huge Convent of Saint George, built to the left of the church, is home to the splendid section of the National Gallery dedicated to the 19th century, featuring paintings, furniture, objects, furnishings and clothing.
If you follow the road that winds its way along the right side of the church, you'll come to the seventeenth-century Lobkowicz Palace, the most important private residence inside the perimeter walls of the Castle. Inside, perfectly restored and painstakingly refurnished by the owners, there is now a splendid museum. One of the most popular with tourists, the museum displays the marvelous collection of the Lobkowicz Family, which includes fine porcelain and pottery, as well as a series of paintings by Italian, German and Spanish masters, such as Velazquez, Cranach and Canaletto, and most notably, the famous panting "Haymaking" by Pieter Bruegel the Elder, a true masterpiece.
The museum has a large section devoted to music, in which you can see period instruments and sheet music, including some originals of Mozart and above all Beethoven, including the music of two of his famous symphonies, the Fourth and the Fifth.
An interesting fact: the Lobkowicz family is of Jewish origin, and was dispossessed of the palace twice: first by the Nazis and later by the Communists. It was not until 2012, after a twelve-year trial, that – thanks to the laws by the Czech President Václav Havel – ownership was restored to the Lobkowicz family, who opened the museum there in 2007.