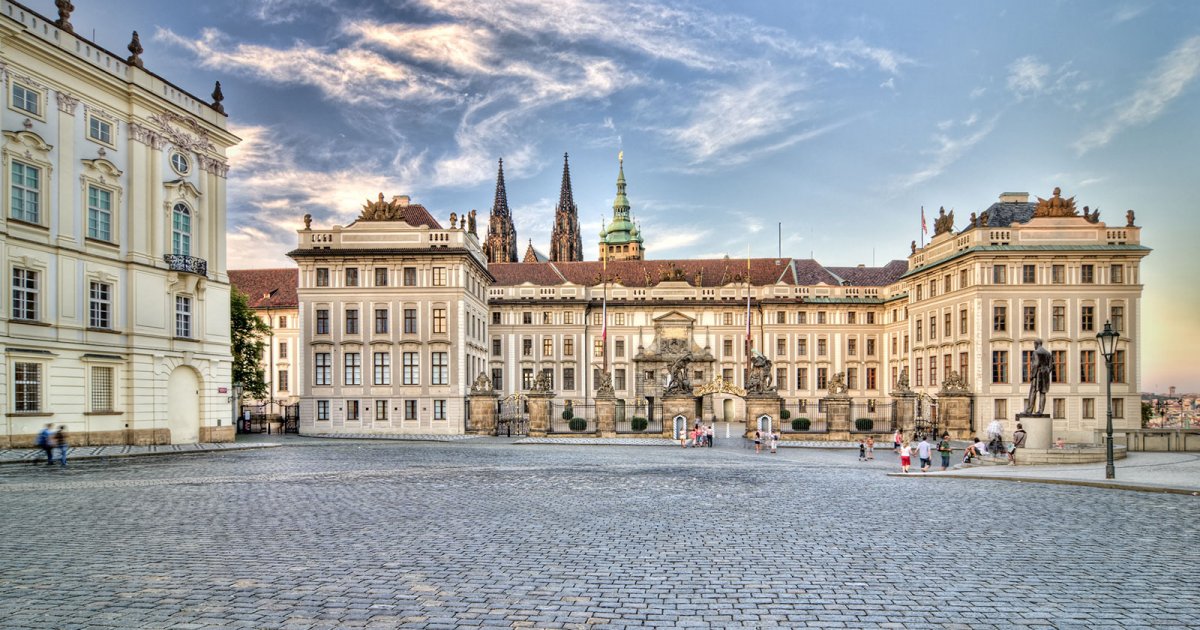 Audio File length: 2.27

Language: English / USA
The slightly sloping Hradcany Square, one of the most popular entry points to the Castle, is surrounded on all sides by monumental buildings, between which you can see a number of streets and some delightful views over the rooftops of Malà Strana, the neighborhood south of the city whose name means "little bank" in Czech.
On the opposite side of the Castle, the backdrop is formed by the Baroque palace of the Grand Duke of Tuscany, with little twin towers at the entrances.
Almost overhanging the steep descent towards Malà Strana is the sixteenth-century Schwarzenberg Palace, with a façade decorated using the sgraffitto technique to mimic sculpted stone.
The Palace's spacious, frescoed rooms with sculpted wooden ceilings provide an impressive home for the Baroque art section of the city's National Gallery. On the second floor is a large collection of Mannerist art, while the other two floors host the finest examples of Czech Baroque paintings and sculptures. From the windows, there are unique views over Petřín Gardens.
Just before the entrance to the Castle, on the left, the beautiful eighteenth-century façade of the Archbishop's Palace dominates the square. In front of the Palace, in an extremely symbolic position, stands the statue of Tomas Masaryk, the first president of the Republic of Czechoslovakia in 1918 and a leading figure of the national independence gained following the collapse of the Austrian Empire after the First World War.
Next to the Archbishop's Palace, a passage leads to the elegant Sternberg Palace, the main building of the National Gallery, whose splendid artistic heritage is very effectively spread over a number of monumental sites.
On the inside, the palace is richly decorated, furnished with numerous period closets restored throughout, and it contains a collection of European paintings from between the 15th and 18th centuries, featuring the works by Italian, German, Flemish, Dutch, French and Spanish painters, such as El Greco, Rubens and Goya. This impressive, extremely varied collection also includes an absolute masterpiece: the Feast of the Rosary by Albrecht Dürer.
An interesting fact: almost in the center of the square is one of the most striking and most bizarre elements of Prague's nineteenth-century urban furnishings: a large cast-iron gas lamp from 1867, held up by statues of female figures, in an unusual combination of Neoclassical and Neo-Baroque styles.