MALA STRANA, CHURCH OF SAINT NICHOLAS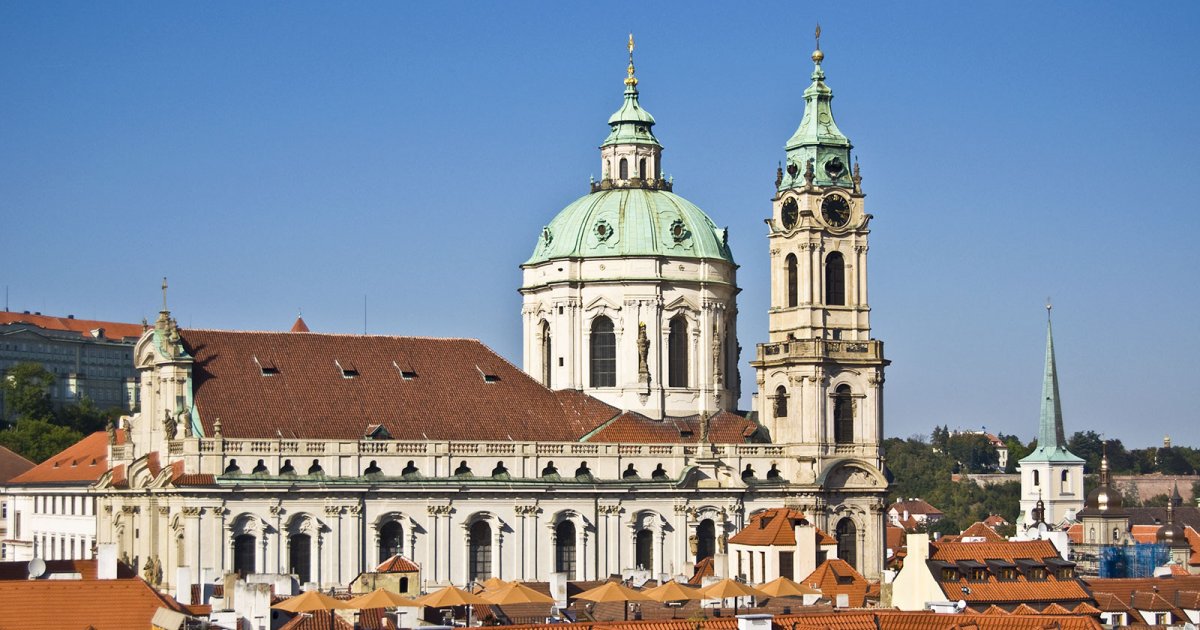 Audio File length: 2.47

Language: English / USA
Hi, my name's Rick, and I'm your personal guide. Along with MyWoWo, I'd like to welcome you to one of the wonders of the world: Malà Strana, the "lesser town" of Prague, on the steep left bank of the Vltava River.
Malà Strana starts out from the end of Charles Bridge and runs along the steep, narrow strip of hills between the Vltava and the Castle. The visitor has the impression that nothing has been built here since the 18th century: Baroque decorations, sophisticated details, centuries-old signs and antique shops all contribute to the extraordinary elegance of the neighborhood.
Here you'll find a series of gardens, fine buildings and churches, featuring a delightful assortment of stairways, balconies, cupolas and spires, enhanced by the unusual perspectives offered by the steeply sloping streets and the presence of statues, columns, portals and tabernacles.
It is curious that this area, considered as the most characteristic and authentic in Prague, is also the most cosmopolitan neighborhood in the city, given the international character of the architecture and the urban landscape, and the fact that the many of the fine historical buildings here house embassies or diplomatic offices.
The slope of the ground and the density of the architecture in Malà Strana make everything appear narrower, with the remarkable exception of the Church of Saint Nicholas, which bursts spectacularly forth inside the porticoes that surround the beautiful main square of the neighborhood. Designed in 1703 by the architects Cristoph and Kilian Dientzenhofer, father and son, this huge Late Baroque church was completed after over half a century of construction work and decoration, culminating with the tall, bulging cupola and the quaint bell tower, both with copper roofs.
The bright, tranquil Church of Saint Nicholas transmits the idea of a place of worship as a joyful, engaging place. On the inside, the huge perspective frescoes, the light flooding in from the windows, the stucco work and the furnishings come together to create the joyful allure of a place in perpetual, vibrant movement.
An interesting fact: the bell tower of Saint Nicholas, with its distinctive large clock, and undoubtedly beautiful architecture, as well as the exceptional views from the balcony, is not popular with the locals. Because of its dominant position, during the Communist period it was used as a much-hated lookout post from which the widely feared police forces of the regime were able to keep watch over the activities of the people of Prague and the foreign embassies in the vicinity. The lookout post can today be visited.