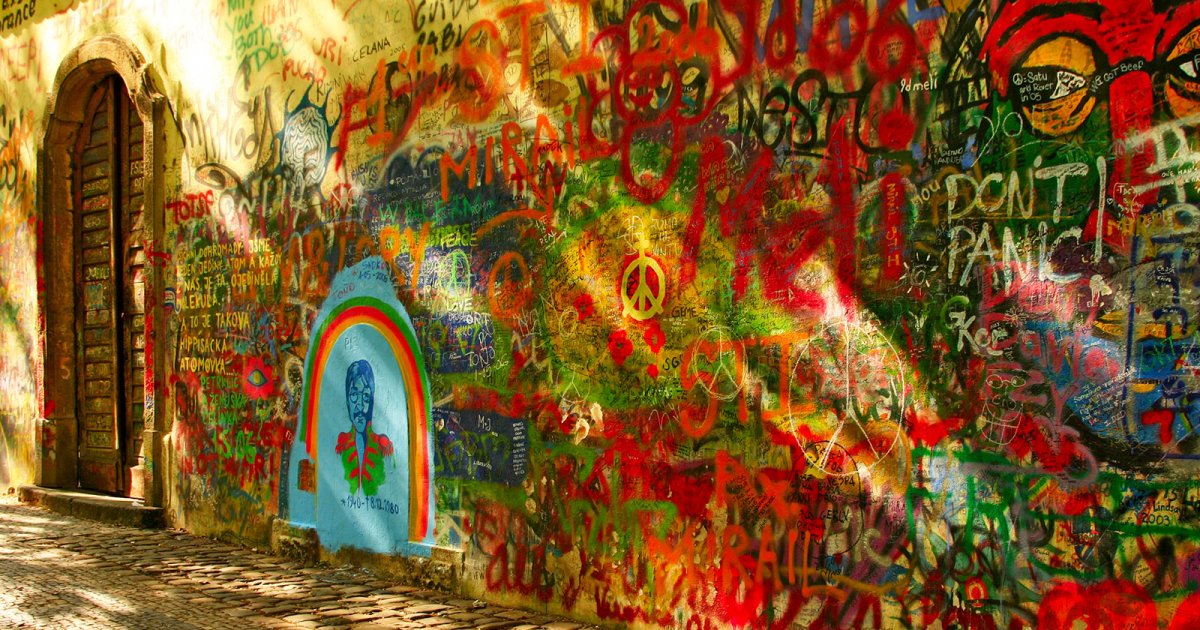 Audio File length: 2.27

Language: English / USA
The lower part of Malà Strana is influenced by the presence of the Order of Malta, and numerous important historical buildings are located around the Grand Priory Square.
However, the square is best known for the John Lennon Wall: a stretch of the wall around the Grand Priory garden covered in graffiti and images of the English music idol who became a symbol of peace after he was murdered on 8 December 1980.
After Lennon's death, a young man decided to use a piece of the wall to draw a tombstone in his memory, which was immediately surrounded by candles and drawings of flowers.
In 1981, a Mexican art student is reputed to have painted a mural on the wall depicting Lennon's face, to which other graffiti were then added.
You must bear in mind that rock music, including the Beatles, was forbidden by the Communist regime, because it was believed young people would be corrupted by its capitalist values, so the police ordered that the wall be painted over in green.
However, the graffiti soon reappeared, and indeed intensified, and the wall had to be painted over in green many times.
On each anniversary of Lennon's death, the young people of Prague would meet here in increasing numbers, demanding reform, until, in 1988, they clashed with the police in what was to become the largest anti-government demonstration of the Eighties. Since then, the wall has become a symbol of peace for the whole city.
Around the square, you can see the medieval-style Church of Our Lady beneath the Chain. The name derives from the chains that once closed off Charles Bridge.
If you fancy taking a stroll around the neighborhood, I can recommend the Church of Our Lady Victorious, one of the best loved among the locals, famous for the cult of the Infant Jesus of Prague, a small wax votive statue from the 16th century. There is a museum that collects the clothes that have been donated to the Infant over the centuries. In the shops in the vicinity, you can find reproductions of the statue in a huge variety of sizes and materials.
An interesting fact: since the early Sixties and Seventies, the young people of Prague have been writing phrases about love or poems on the Lennon Wall; these often sentimental expressions have also, however, been accompanied by expressions of protest, so much so that it was also known as the Wailing Wall.