OLD TOWN SQUARE, Church Of Tyn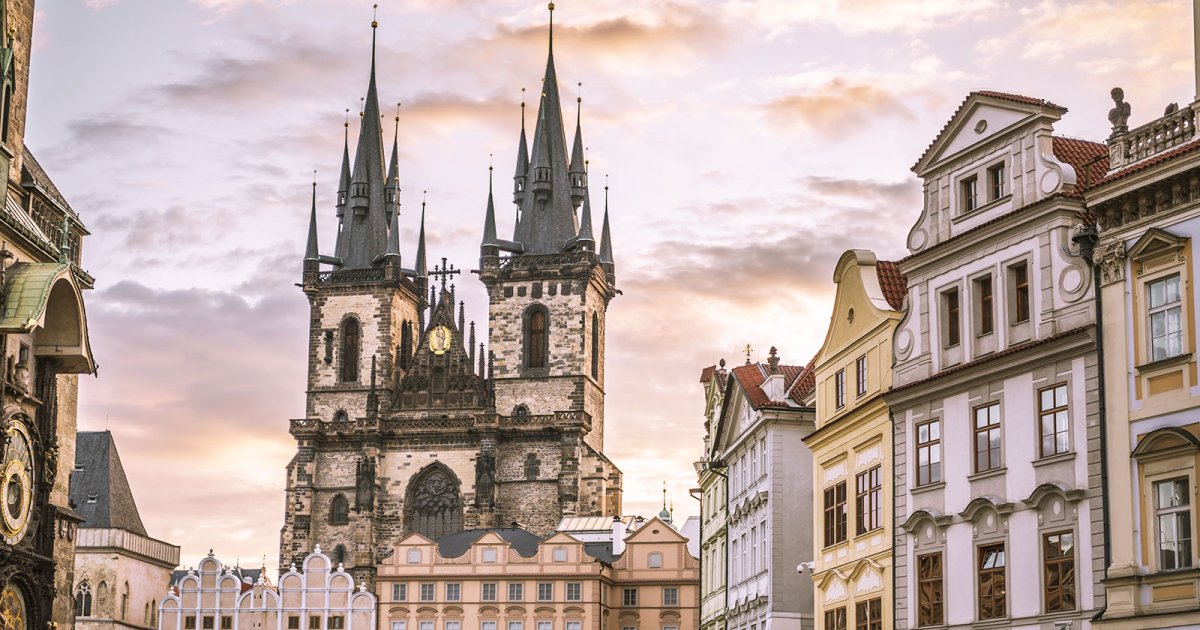 Audio File length: 2.21

Language: English / USA
The Church of Our Lady before Tyn, also known as the Church of Tyn, or market cathedral, was built in Gothic style at the beginning of the 14th century, over the remains of two earlier churches, one Romanesque and the other Gothic, dated 1256.
It takes its name from the large courtyard behind it, used as a market and as a customs point. The courtyard is also home to the Church of St. James, of Gothic origin but renovated in Baroque style after a fire in 1689.
The Church of Tyn was completed around 1450, with the building of the tympanum, the triangular surface surrounded by the frame of the pediment, and the two towers, similar but not perfectly identical, both crowned with sharply pointed turrets, with a height of 80 meters.
At the center of the tympanum, above the façade, is a relief of the Madonna and Child in sparkling pure gold.
The interior, accessible from a narrow lane, is astoundingly solemn. The Gothic structure is very easily recognizable in the high pillars that mark out the space. Some of the furnishings, including the pulpit, the baldachin and the baptismal font, date back to the 15th century, but the decor was renovated during the Baroque period, when the altars were crafted. Next to the fourth pillar on the right, you can see the tombstone of the famous astronomer and astrologist Tycho Brahe, who died in Prague in 1601 while at the service of the Emperor Rudolf II.
Among the fine buildings next to the Church, particularly important is Kinsky Palace, decorated with stucco work in pastel colors and a splendid example of mid-eighteenth-century Rococo architecture. Today the Palace hosts a section of contemporary art of the National Gallery.
An interesting fact: for over 200 years, this church was the main place of worship of the Hussites, the movement inspired by the teachings of Jan Hus. After Hus was burnt at the stake in 1415, and the significant disorder that followed, 452 Bohemian nobles sent a formal letter of protest to the Church of Rome, and the Hussites were allowed to continue preaching in Bohemia. When the Austrians returned in 1620, however, they were sent away and their statues removed from the church.