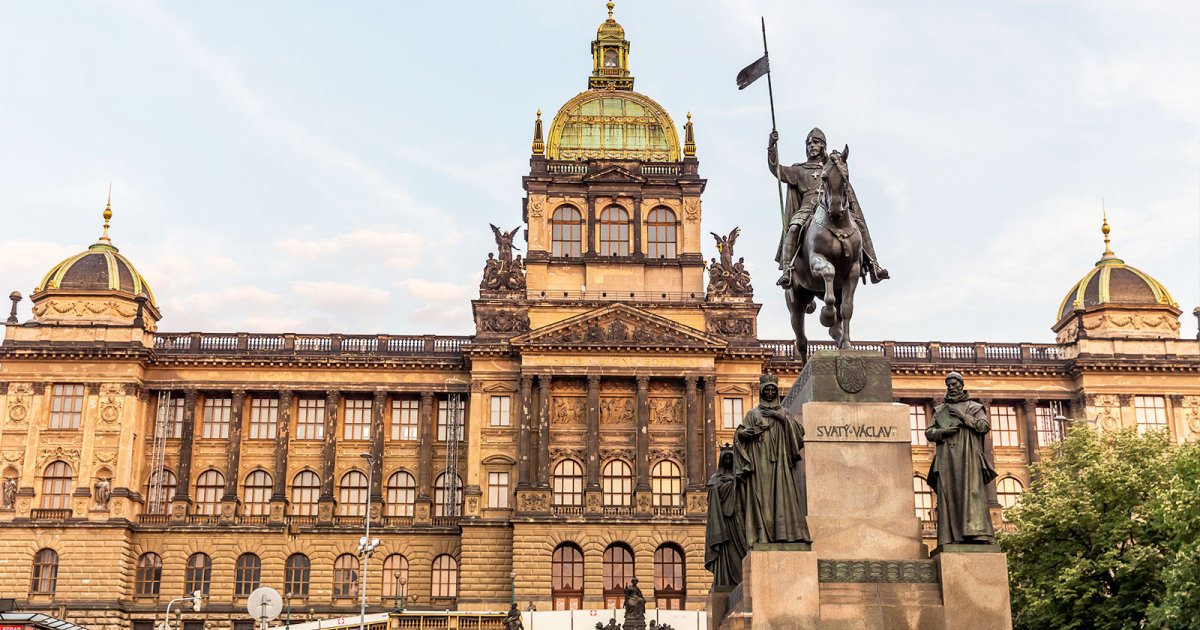 Audio File length: 2.54

Language: English / USA
Starting out from Mustek on the left side of Wenceslas Square, at number 11 you'll find the former shopping center Darex, where the party leaders were able to buy Western products during the Communist regime. At number 19 is the Neo-Baroque building of the Assicurazioni Generali insurance company, where Franz Kafka worked as a simple clerk.
This is followed at number 21 by the Druzba shopping center in the Koruna building, dating to 1911 and flanked by an exotic tower that is a superb example of "Secese", or Art Nouveau architecture.
Further ahead, located next to one another are the Europa and Meran hotels, built between 1903 and 1905, and offering fine examples of a fascinatingly eclectic style and exuberant decoration.
Towards the top end of the square, in the center, is the solemn, imposing equestrian monument to Saint Wenceslas, beside which are other four saints believed to protect Bohemia, crafted by the Czech sculptor Josef Václav Myslbek and inaugurated in 1914. In front of the monument is the flowerbed in memory of the suicide of Jan Palach, brightened up by flowers and candles.
The imposing National Museum building, designed in 1890 in a vaguely Neo-Renaissance style as a spectacular symbol of Bohemian identity, illustrates the country's history, as well as the geological, zoological and botanical characteristics of the area. The natural science and ethnographical collections and the museum exhibits combine with a celebration of important national characters and events.
As you make your way back down towards the Old Town, at the corner with Vodickova Street, you're sure to notice the richly decorated home designed by the architect Alexander Wiehl for himself in 1895, with its façade adorned with decorative sgraffito. Next to it, at number 36, is the building that hosts the Melantrich publishing company, built in 1900 and with a façade featuring paintings by Vratislav Mayer. In 1989, from the balcony on the second floor, Alexander Dubcek and Vaclav Havel, poet and future president of the Republic, addressed the crowd gathered in the square for the end of the Velvet Revolution, thus known because no blood was shed during the Soviet rule of the country.
An interesting fact: from the Wiehl House, a slight turn off to the left will take you to the Lucerna Palace, a shopping mall built in Moorish style in the early 20th century. Hanging from the glass ceiling is a sculpture by the Bohemian artist David Cerny: it is a parody of the monument to Saint Wenceslas, with the saint astride an upside-down horse.