CHAMPS ELYSEES, CONCLUSION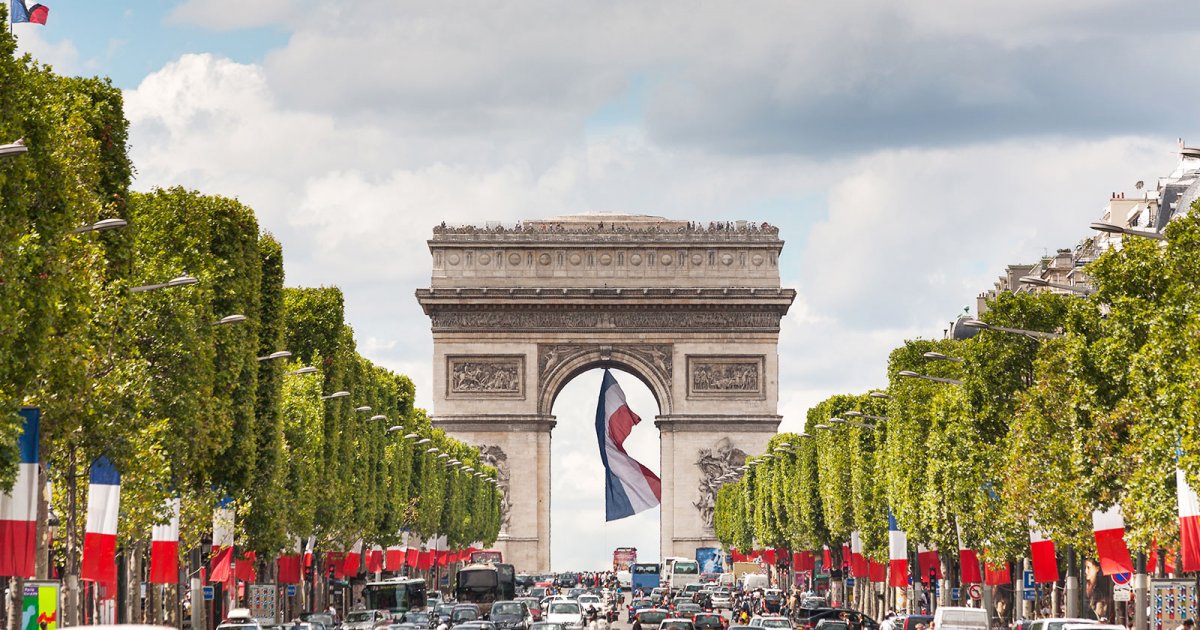 Audio File length: 2.53
Author: STEFANO ZUFFI E DAVIDE TORTORELLA

Language: English / USA
Let's continue walking along the Champs-Elysées, as always on the right side. As you may have noticed, the farther you move away from the center, the more the boulevard becomes modern and loses its bourgeois appearance.
At number 78 you can see the entrance to the historic Arcade des Champs-Elysées, the commercial gallery where Parisians once waited in line among imperious columns of pink marble, fountains, and Lalique lamps to attend the performances at the famous Lido theater.
Slightly further on after crossing Rue de Berri, look at the imposing bank building at number 103: the first hotel on this avenue, the Elysée-Palace, once stood here.
In the last section of the avenue you'll pass palaces that were once the homes of famous aviators or directors of prestigious newspapers, as recalled by the commemorative plaques at numbers 114, 120, or 122. At number 124 at the corner of Rue Balzac, you can see one of the few surviving examples of the avenue's noble residences of the past, which have since been occupied or replaced by fast-food restaurants and mega-stores. And if you want to feel the thrill of speed, stop at Peugeot's scenic showroom at number 136, where if the line's not too long, you can try your luck in a virtual car race inside a simulator.
A few steps further on you'll find the historic Maison du Danemark, a space that aims to spread Danish culture. Lastly, finish off your walk down the avenue perfectly by admiring the beautiful palace at number 156, which is the seat of the Qatar Embassy. The great Arc de Triomphe marks the end of your journey up the earthly version of the heavenly "Elisi Fields"!
FUN FACT: the Avenue des Champs-Elysées's large width, majesty, and imperial reminiscence make it a spectacular setting. Adolf Hitler had understood this perfectly when he walked down the avenue with magnificent pomp to celebrate the Nazi conquest.
You should also know that on July 14th, a French national holiday, there is a very famous military parade that goes down this street. Lastly, if you're athletic you might also know that this point is the arrival of the final leg of the Tour de France cycling race, which traditionally closes with the Paris circuit where cyclists cross the avenue twice in both directions.
And with this we have finished our tour of the Champs-Elysées in Paris. MyWoWo thanks you for staying with us, and will see you at the next Wonder of the World!