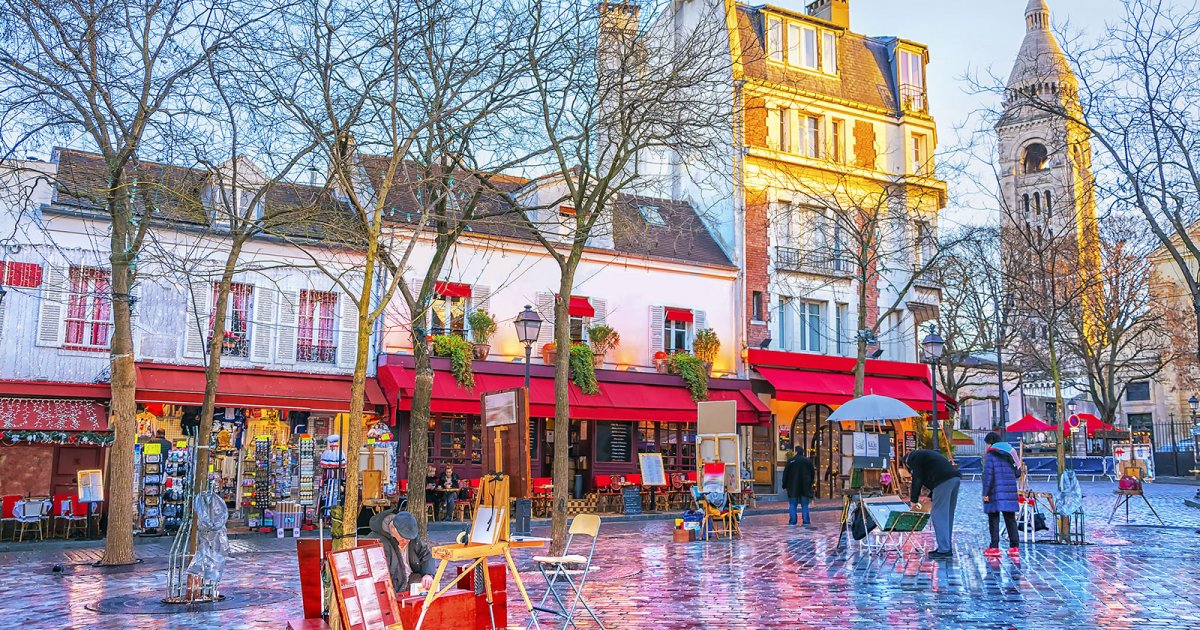 Audio File length: 2.13
Author: STEFANO ZUFFI E DAVIDE TORTORELLA

Language: English / USA
Your itinerary exploring Montmartre starts at Boulevard de Clichy, in front of number 82. You're standing before the famous Moulin Rouge, which was celebrated in several works by the famous painter Toulouse-Lautrec.
At number 9 in Rue Yvonne Le Tac you can see the place where Saint Dionysius, a 3rd-century bishop and patron saint of Paris, was beheaded. On the right on Rue Lepic, you'll see Moulin de La Galette, which was once a famous outdoor dance hall that has since become a restaurant. The venue is immortalized in a famous Renoir painting from 1876 that MyWoWo has dedicated a separate file to; it is displayed at Musée d'Orsay.
Now walk to Place du Tertre in the heart of Montmartre, and have fun looking at painters and street portraitists with their easels, souvenir shops, and coffee shops.
Now go to Rue Cortot to visit the Musée de Montmartre. Here you can travel back in time to the end of the nineteenth century, when the district and the building you now stand in was inhabited by all kinds of artists. One of the most original works of art in the history of painting is displayed here: it's called Sunset on the Adriatic, and was painted by the writer Roland Dorgelès by using a donkey's tail as a paintbrush.
Near Place de Tertre on Rue du Mont Cenis, you can visit the Church of Saint-Pierre-de-Montmartre, one of the few examples of Romanesque style in Paris. Its simple, gray stone façade is the result of a seventeenth-century refurbishment, while the interior retains its simple medieval structure. In this church that was consecrated in 1147, you can see the oldest masonry vaults in Paris, and enjoy yourself admiring some architectural fragments from Roman times. And don't forget to go around the church to take a look at the old bell tower, a simple, multiple-tiered tower of double windows.
FUN FACT: it seems that stripping was invented directly in Moulin Rouge, in 1893 to be precise. It happened at the annual Bal des Quat'z Arts, where all the models of the artists who attended the School of Fine Arts were in attendance; one of them was a bit more uninhibited than the others, jumped on a table, and began to dance while taking off her clothes.