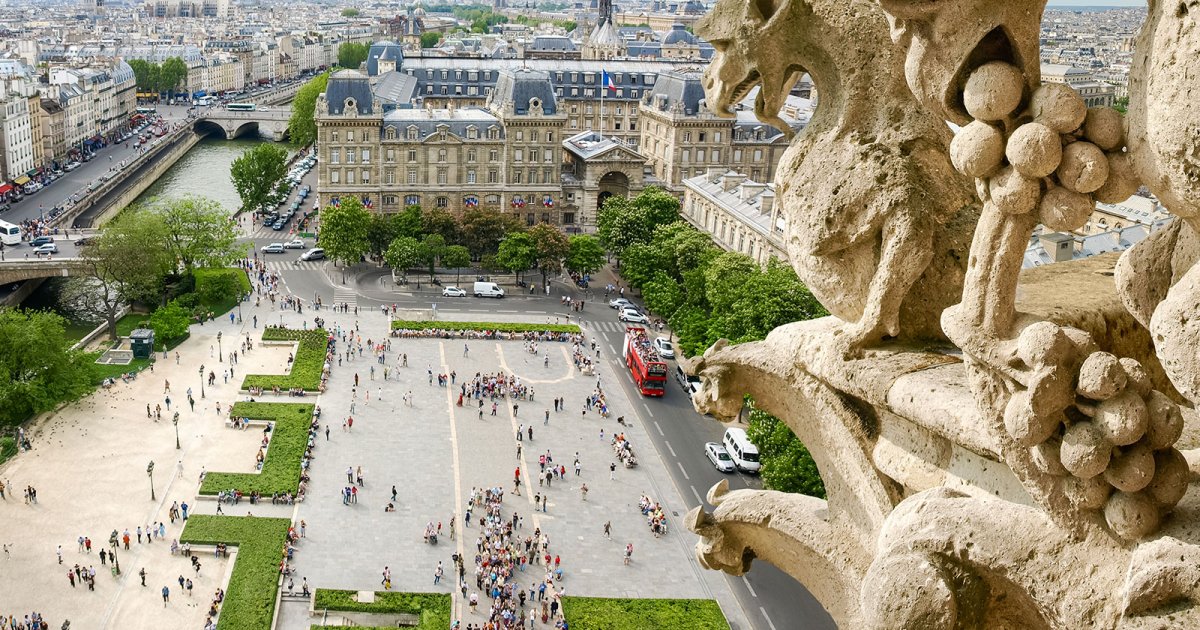 Audio File length: 2.45
Author: STEFANO ZUFFI E DAVIDE TORTORELLA

Language: English / USA
Hi, I'm Ed, your personal guide. Together with MyWoWo, I'd like to welcome you to one of the wonders of the world.
Today I'll accompany you through the Cathedral of Notre-Dame,
which is one of the most legendary churches in Paris and in the world!
In his novel dedicated to the church, Victor Hugo defined the cathedral "A stone symphony, a colossal work of a man and a people, a prodigious product of the competition of all the forces of an era".
Your visit begins in the large square facing the west façade, which is the main side. The churchyard is crossed by the always-crowded rue de la Cité, one of the outcomes of the master plan implemented by Baron Haussmann in the second half of the 19th century: before that time, the great cathedral was immersed in a maze of narrow, medieval streets.
There is a bronze star in the pavement in front of Notre-Dame: this is the so-called "Point zéro des routes de France"/"Point zero of French roads", that is, the starting point for all roads, and the point from which the distance to any other French city is calculated. The plaques on the road pavement indicate the old city road system.
Opposite the churchyard you can see the Prefecture, which was built on the area where an inn once stood that was attended by the likes of literati such as Molière and La Fontaine.
On the side near the Seine you can admire the 19th-century statue of Charlemagne on horseback, flanked by the two paladins Orlando and Oliviero. Next to it is the Petit Pont , or "small bridge", which is the shortest and oldest bridge in Paris. It dates back to Roman times, is only 40 meters long, and connects the Ile de la Cité with the very nearby Rive Gauche, or southern bank, and its "Latin Quarter". There's even a museum here underneath the pavement trodden by millions of tourists: it is the Crypte du Parvis Notre-Dame. In fact, thanks to the archaeological excavations carried out along with road works, the remains of thousand year-old buildings of various eras have emerged: they range from the walls of the Roman city to the foundations of the first cathedral in medieval times, up to the remains of an 18th-century orphanage.
FUN FACT: legend has it that the blacksmith in charge of the locks and pins of the Cathedral's doors realized that the job was beyond his abilities, and sold his soul to the devil in order to finish on time. At its inauguration, however, the doors wouldn't open. They only managed after pouring blessed water over the locks.