SAINTE CHAPELLE, Exterior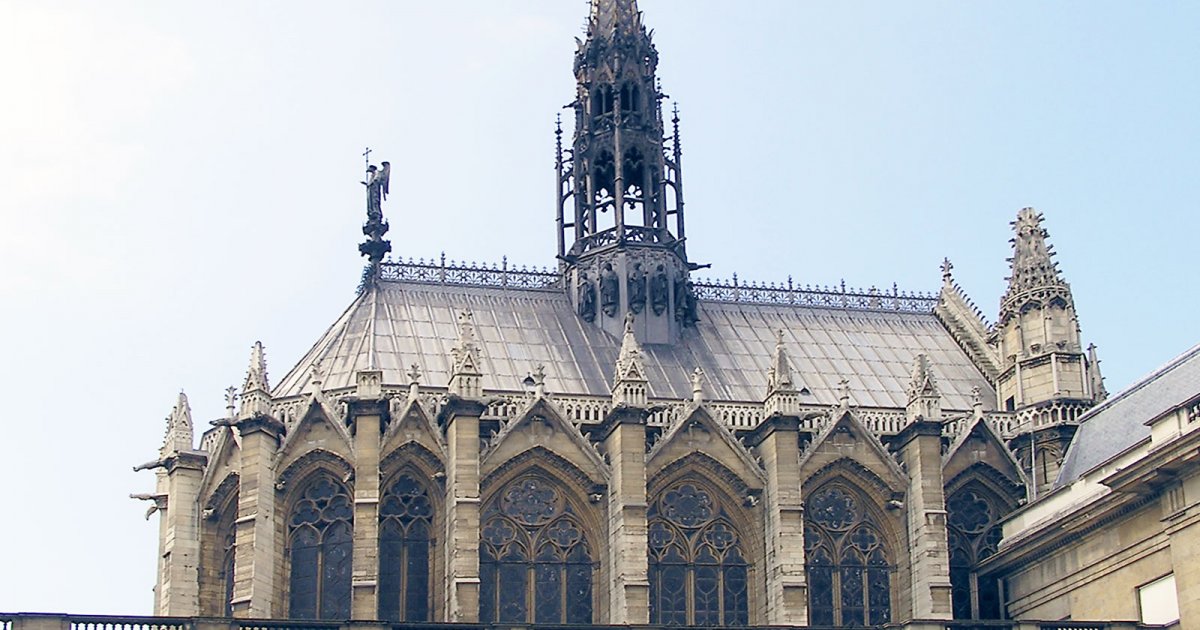 Audio File length: 2.48
Author: STEFANO ZUFFI E DAVIDE TORTORELLA

Language: English / USA
Now that you've seen some of the palace, it's time to visit the chapel. So go to the main entrance of the Palace of Justice next to the Cour de Mai, or May Court, which is closed by a beautiful eighteenth-century gate. The surrounding walls also date back to the 18th century, with abundant 19th-century additions and modifications.
While all the other parts of the palace have been modified, you will see the chapel exactly as the medieval kings of the Capeti dynasty saw it, apart from the inevitable restorations. The spire at the top of the complex was also rebuilt in the 1800s. It is high, pointy, and lined with lead, and weighs an impressive 230 tons!
Built in 1242, the chapel illustrates one of the best examples of full-fledged Gothic style, so get ready for the amazing spectacle of its extraordinary colored stained glass windows. The chapel is called "holy" because of the precious relics that Louis IX placed here; he was also given the status of saint because he fought in the Seventh and Eighth Crusade. These relics, including some fragments of the Cross and the Christ's crown of thorns, were considered a true treasure of the kingdom of France; unfortunately during the Revolution they were partially lost, and the baldachin that held them was destroyed.
All you need to do to understand that the interior is divided into two floors is look at the façade with its two overlaid porticoes. Moreover, the Chapel's particular form, 42 meters high but only 36 long, was obviously created to provide extra horizontal space: in fact, a lower, more robust chapel holds up a very light and slender upper one. The sculptural decoration of the façade was redone in the mid 1800s.
When you enter you're immediately in the lower chapel, which was reserved for the palace staff: here, you can admire medieval tombstones in the floor. The vaults are 6 and a half meters high and are supported by fourteen large columns. Unfortunately, the overall appearance is somewhat distorted by the heavy nineteenth-century restorations.
FUN FACT: Sainte Chapelle's spire has often been compared to the mast of a ship, and in fact the tip of the island almost looks like a prow of a boat sailing the Seine. The island is also linked to the Latin coat of arms and motto of the city of Paris, which depicts a ship with the words "fluctuat nec mergitur", which means "floats and does not sink".