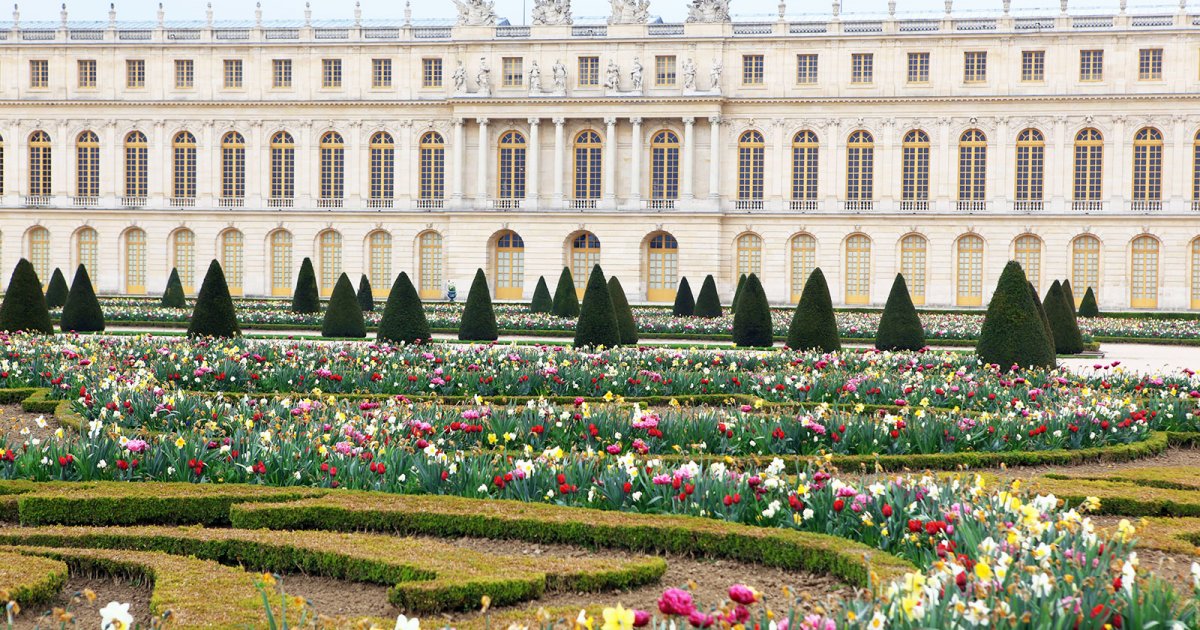 Audio File length: 2.45
Author: STEFANO ZUFFI E DAVIDE TORTORELLA

Language: English / USA
The town of Versailles, where you are now, obviously centers around the palace, but it's not just an attachment: it's a lively conurbation of around 90,000 inhabitants, crossed with a trio of "avenues" - broad thoroughfares that converge towards the great open space with its magnificent railings that guard the palace.
At each end of the parade ground, in front of the castle courtyard, you'll see the two symmetrical buildings that constitute the stables, dating back to the late 1600s.
Walk past the railings with its golden finials and embellishments and approach the imposing palace building. The palace was built in the first half of the 17th century as a small castle for hunting and... a lovers' retreat for Louis XIII, on the edge of an immense forest in an area which at the time was very marshy and insalubrious. The title of "château" or castle has survived officially to define the immense palace that was subsequently built here.
Louis XIV wanted the old castle to be preserved and indeed to become the architectural element on which the new palace was to be structured. So around 1670 architect Louis Le Vau "enclosed" this earlier nucleus within a new U-shaped building, which became known aptly as the Enveloppe. As you can see, the style is typically 17th century French: a grand Baroque palace inspired by Roman models and with a certain classical external rigidity, in contrast to the unrestrained decoration inside. The facade faces the town of Versailles, but the preferred view is the rear of the edifice, where extensive reclamation work of the surrounding marshland and stagnant pools began immediately, to create the fabulous "French" garden.
In 1682 Louis XIV moved permanently into the new palace whilst the works were still going on: Versailles thus became the official residence of the king and the whole court. Two years later the two long side wings were added to the palace, which you will see shortly.
FUN FACT: near to Versailles cathedral and the Swiss Lake, you can visit the Potager du roi, a fruit and vegetable garden for the King's kitchen, dating back to the time of Louis XIV and extending over an area of nine hectares. It has been perfectly restored to recreate its original orderly subdivisions, and is still used today for cultivating rare, edible plant species. These are on sale at the stalls on site, so you really can say you've eaten like a king!