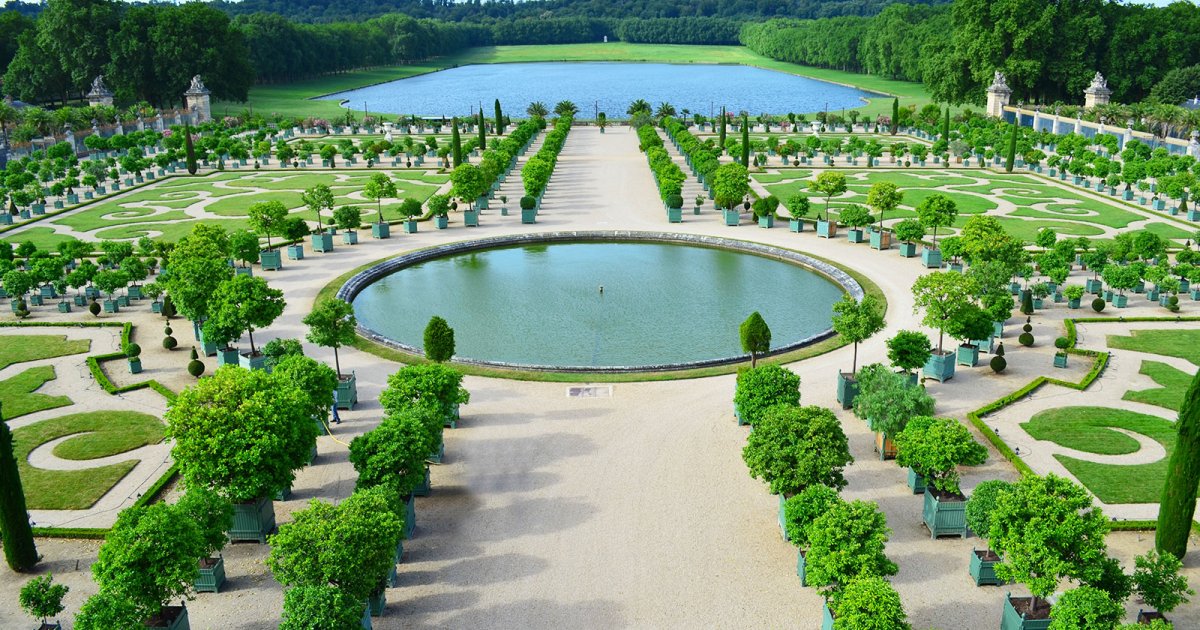 Audio File length: 2.49
Author: STEFANO ZUFFI E DAVIDE TORTORELLA

Language: English / USA
You're now in the Palace's huge garden, with walkways and flower beds designed geometrically on a main axis that intersects with secondary axes, walkways, and pools with fountains, defining a type of garden that will from here on out be called a "French garden" thanks to its perfect symmetries between long straight walkways, square and well cared for meadows, and high rows of trees, all orchestrated with great scenic and theatrical sense.
The architect André Le Nôtre designed these gardens. The main theme of the park and its furnishings (statues, water displays, flowerbeds, fountains, vases) is the figure of Apollo, the Greek god the king identified with, who illuminates the world by driving his cart of sunshine.
Le Nôtre was a genius, and knew to best transform the land's cleanup works into ornamental elements, designing long bodies of water. At the bottom of the Grand Canal there was even a village called "Little Venice", where sailors were once employed to handle all kinds of boats on the gardens' waters.
Crossing the pathways of the gardens of Versailles is an art: the Sun King personally wrote a handbook titled "How to show the gardens of Versailles to guests". Following the itinerary recommended by Louis XIV, the privileged path through the park begins on the terrace behind the palace, turns left towards the Orangerie, goes past the queen's grove, and then takes the king's garden to the great Apollo Fountain, a vast fountain crowded with statues, and then returns to the palace, passing by the Latona Fountain in a symbolic itinerary of the sun from sunrise to sunset.
More than a kingdom of nature, the "French" garden is meant as a place to please the eyes, to enjoy pastimes, and a place for stately representation. Its triumphal and celebratory flavor soon conquered all of Europe, and sooner or later every prince worthy of the title wanted to have his own "Versailles". But just think, Louis XIV left these gardens open to the people.
On Sundays the road from Paris to Versailles was always full of people coming to the gardens for a stroll, and even if they often caused damage the entrance was always free. And indeed you too can visit them for free!
FUN FACT: you surely know the story of Little Red Riding Hood. You should know that its author, Charles Perrault, was the brother of one of the Sun King's favorite architects, and he had the idea of putting thirty-two fountains in the park, one for each of Aesop's fables.