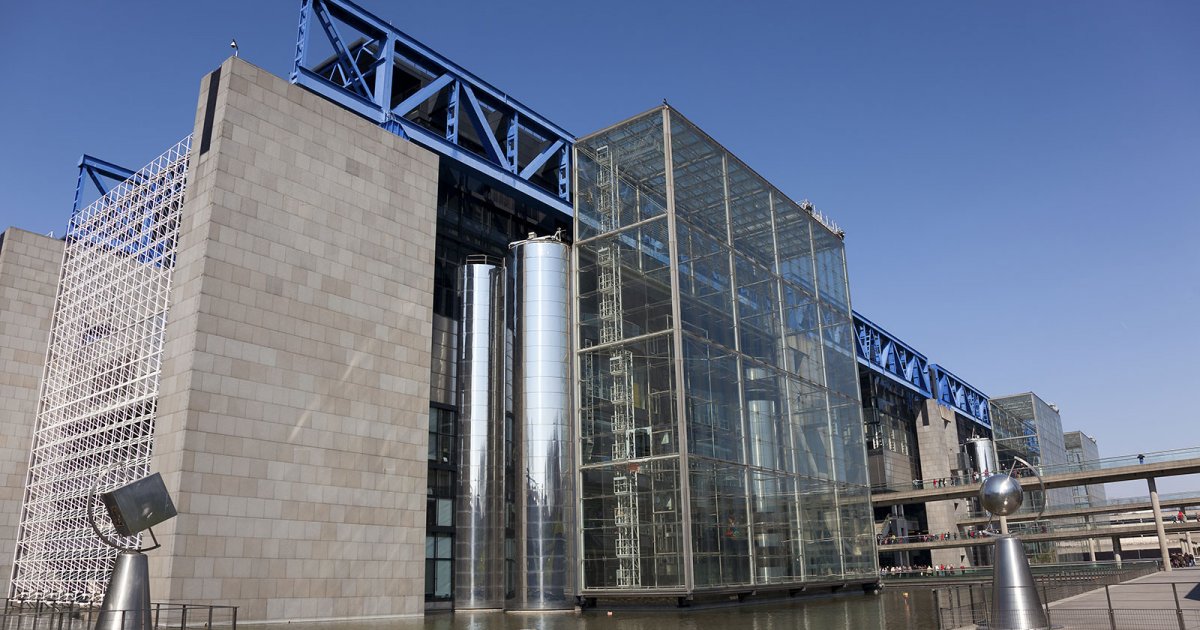 Audio File length: 2.37
Author: STEFANO ZUFFI E DAVIDE TORTORELLA

Language: English / USA
Once you reach the intersection of the two platforms, you can continue straight on down the longest one, or you can take a right and follow the canal.
At the center of the large circular meadow you'll see the Geode glittering, which is a huge, mirrored, steel globe that seems to float silently over the water, like a contemporary version of a Hieronymus Bosch painting that MyWoWo discusses in one of Madrid's files. In its 400-seat circular hall you can watch unforgettable projections thanks to the Omnimax technology applied to its 1000 square meter screen.
At the end, also surrounded by water, you'll finally reach the grand palace that holds the Cité des Sciences et de l'Industrie. Rather than a "museum", it's an interactive experience, a guided and exciting exploration through the universe of natural sciences, with excursions to technology, math, and medicine. A significant date was chosen for its inauguration: March 13th, 1986, which was the last passage of Halley's comet.
Continuously renewed and modified, the exhibition areas are integrated and reference each other. To best orient yourself among the various things to be seen, start from the large central room called "Explora", which all of the sections lead off from.
Whichever path you decide to choose, you definitely can't miss the astronomical demonstrations of the great Planetarium, and if you have children you'll make them extremely happy in the Cité des Enfants, or The City of Children. This is perhaps the most innovative and important part of the entire museum: children are introduced to the natural sciences with games and direct experiences in the world of animals, plants, and water. You can choose between a path for school-aged children and one for toddlers.
Of all the pavilions, I'd especially like to point out the Cinaxe, next to the Cité des Sciences. It is a projection room with moving supports, which can move and "shake" you along with the projections on the big screen. Let me warn you that this is an intense experience: the shows only last five minutes, but it will seem like much longer!
FUN FACT: the Cité des Sciences hosted an exhibition dedicated to Star Wars. It was conceived as a journey into the saga's universe: each room was a planet and had scenes from the movie projected within it. It had 750,000 visitors!
And with this we have finished our tour of Parc de la Villette. MyWoWo thanks you for staying with us, and will see you at the next Wonder of the World!