GEMÄLDEGALERIE, Miraflores By Weyden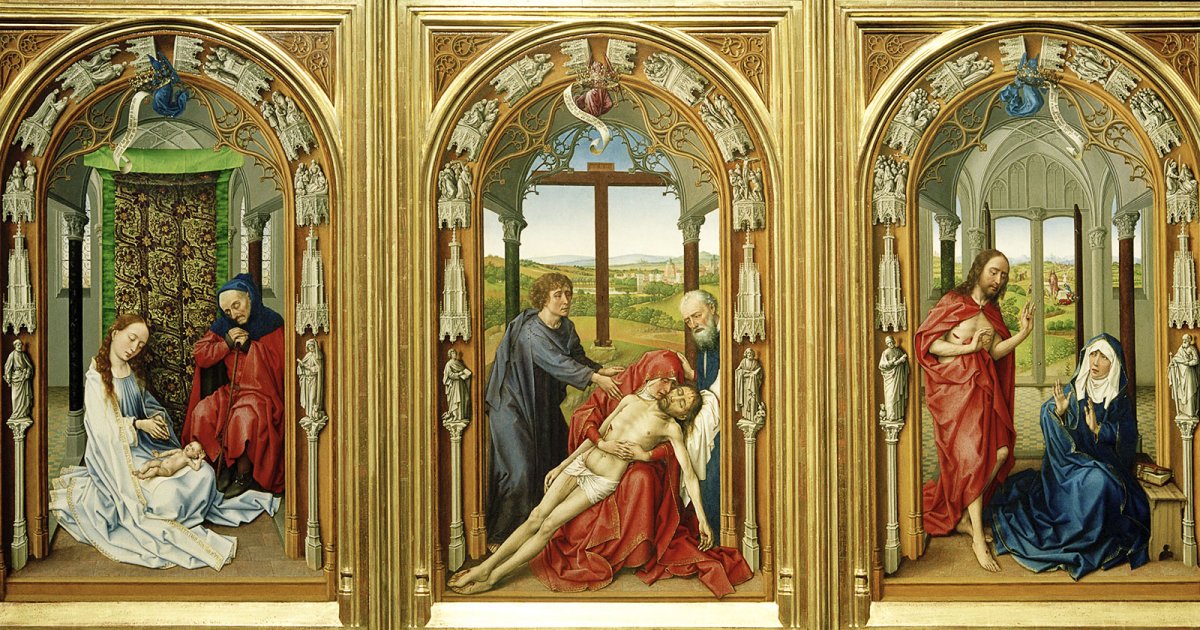 Audio File length: 2.41

Language: English / USA
The Miraflores Altarpiece is one of the most famous altarpieces painted by the Netherlandish artist, Rogier van der Weyden. It was painted between 1422 and 1445 for John II of Castile, and donated upon his death to the Carthusian monastery of Miraflores, in Spain, from which it takes its name.
The triptych is an oil-on-oak work composed of three panels, each measuring 71×43cm and set into a Gothic arch wooden frame. The work shows three significant moments in the relationship between mother and son, in chronological order from left to right, featuring a profound balance of colors dominated by blue, red and white, as you'll no doubt have noticed.
The first panel depicts the Holy Family. The young Mary is dressed in blue and white, indicating her virginity. Joseph is already an elderly man, leaning on a stick. Note the attention to detail, the perfection evident in the depiction of the glass of the windows, or the tapestry. If you look closely at the sculptures painted as a decoration around the arch of the frame, you'll see they represent moments of Jesus's youth.
The second panel shows the most painful moment in Mary's life: a mother compelled to hold the dead body of her son in her arms. In this scene, the Virgin is dressed in red, underlining her pain and her holiness.
The two male figures depicted are St. Peter, the founder of the Church, and Luke the Evangelist, the patron saint of artists. The sculptures around the arch represent the Passion of Christ.
The third panel illustrates the moment when Christ reveals to his mother that he has risen from the dead. The Virgin is dressed in dark blue, while Christ is dressed in red, representing the divine.
If you look carefully at the background, you'll notice something strange: Jesus is shown leaving the tomb, making his way towards Mary. These two moments in time, shown in the same image, are a clear indication that at the time, despite the painstaking detail, paintings were not intended to show reality, as a photograph might, but rather to tell a story.
An interesting fact: for years, this painting was believed to be a copy of the original, kept in Spain; recent studies, however, have demonstrated – without a shadow of a doubt - the exact opposite.
Our visit to the Gemäldegalerie ends here. MyWoWo would like to thank you - see you again at another Wonder of the World!