MUSEUM ISLAND, Alte National Galerie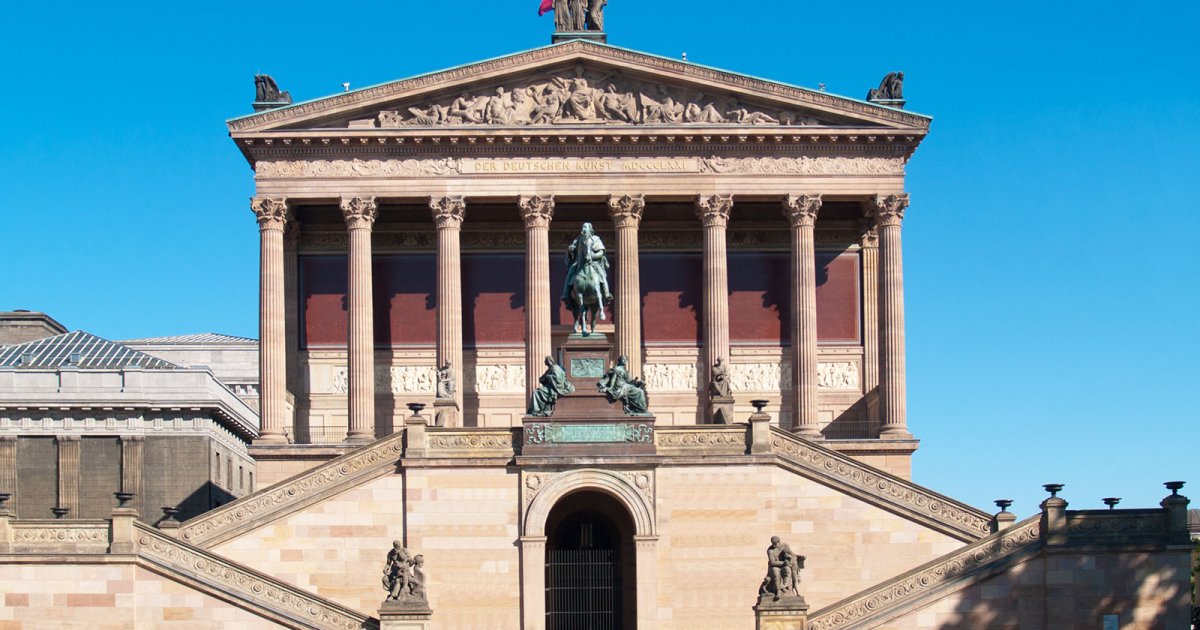 Audio File length: 2.34

Language: English / USA
The Alte Nationalgalerie is one of the most important collections of nineteenth-century German paintings and sculptures.
Built in the style of a Greek temple, the Museum was designed by the German architect Friedrich August Stüler, based on a sketch by the Emperor Frederick William IV of Prussia. It was inaugurated in his presence in 1876, after 13 years of construction.
It was severely damaged during the Second World War, and was restored at the end of the 20th century.
At the entrance, you can see the words "Der Deutschen Kunst", meaning "to German art", followed by the date when the facade was completed, 1871, in Roman numerals. The Museum was conceived as a temple to German art, although the collection you see today, comprising 1800 paintings and 1500 statues, is not exclusively German and also contains a significant number of works by French painters, such as Manet, Monet, and Cézanne.
I suggest you start your visit from the third floor, the most "patriotic", featuring works by the great German Romantic artists, in particular Caspar David Friedrich. Interesting paintings include the Monk by the Sea, dominated by a broad expanse of landscape that almost seems to engulf the tiny figure of the monk, and The Abbey in the Oakwood, which plunges the observer into a desolate cemetery marked by bare, dead oak trees.
The second floor is dedicated to French painting, mainly Impressionists: works by Monet, Renoir and Degas offer an interesting glimpse of nineteenth-century French art. On this floor, you can also visit a section dedicated to the late 19th century German art.
On the first floor, a trip through the world of sculpture awaits you, with Neoclassical statues by Johann Gottfried Schadow.
At the end of the area dedicated to sculpture you'll find paintings from the Realism movement, including works by Courbet and Beckmann, and large canvases by Menzel depicting the lives of wealthy Berliners at the end of the 19th century.
An interesting fact: the core collection of this splendid museum was created by Joachim Wagener, a banker and art aficionado, who succeeded in bringing together a unique collection during his lifetime, comprising 262 paintings, which he bequeathed to the Prussian state.