MUSEUM ISLAND, Berlin Cathedral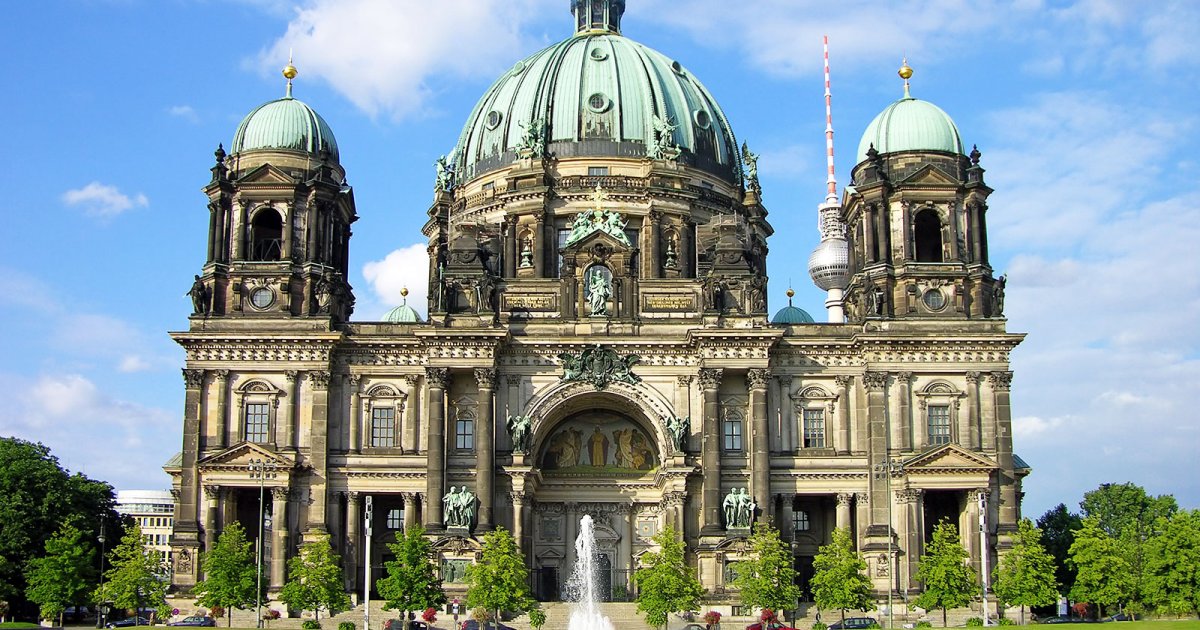 Audio File length: 2.40

Language: English / USA
The Berliner Dom, or Berlin Cathedral, is the largest Protestant church in the city, with a long and troubled history.
As far back as the 15th century, there was already a small royal chapel here, next to the Royal Palace. In the 17th century, the chapel was extended, and became the first Calvinist cathedral in Germany; around 1750, a Baroque facade was added.
After the Lutheran and Calvinist congregations came together under the Evangelical Church of Prussia, on the wishes of William II, between 1894 and 1905, the previous structure was demolished and replaced with a Cathedral in Renaissance Revival style designed by the father and son architects, Julius and Otto Raschdorff.
The Cathedral unfortunately suffered severe damage as a result of the Second World War bombing raids, and the magnificent building you see today is the result of major restoration work that was completed in 1993.
The Cathedral now sits on its own, because the Royal Palace that used to stand next to it was also destroyed by bombing during the War and was later demolished by the East German government. It therefore now faces the Spree River on one side and the Lustgarten, or "pleasure garden" on the other.
Every architectural detail of this striking building is exquisitely decorated, offering the visitor the image of splendor and opulence that might be expected from a cathedral.
The interior is equally opulent, with a large circular area dominating the space embellished with stucco work and gilding. The Baroque main altar, designed by Friedrich August Stüler, comes from the earlier cathedral, while the new upper part in wood is adorned with small statues of the 12 Apostles.
The magnificent organ on the left, built in 1905 by Wilhelm Sauer, is composed of 7269 pipes, and is one of the largest in the country.
You can also go down into the crypt, where you can see the tombs of numerous members of the Hohenzollern family, or climb the 267 steps leading up to the observation gallery, at a height of 114 meters, where you can enjoy spectacular views of Berlin.
An interesting fact: the Berliner Dom, although it is known as Berlin Cathedral, is actually not a cathedral at all, because the seat of the Bishop of Berlin is in St. Mary's Church
Our visit to Museumsinsel ends here. MyWoWo would like to thank you - see you again at another Wonder of the World!