NEUE SYNAGOGE, Presentation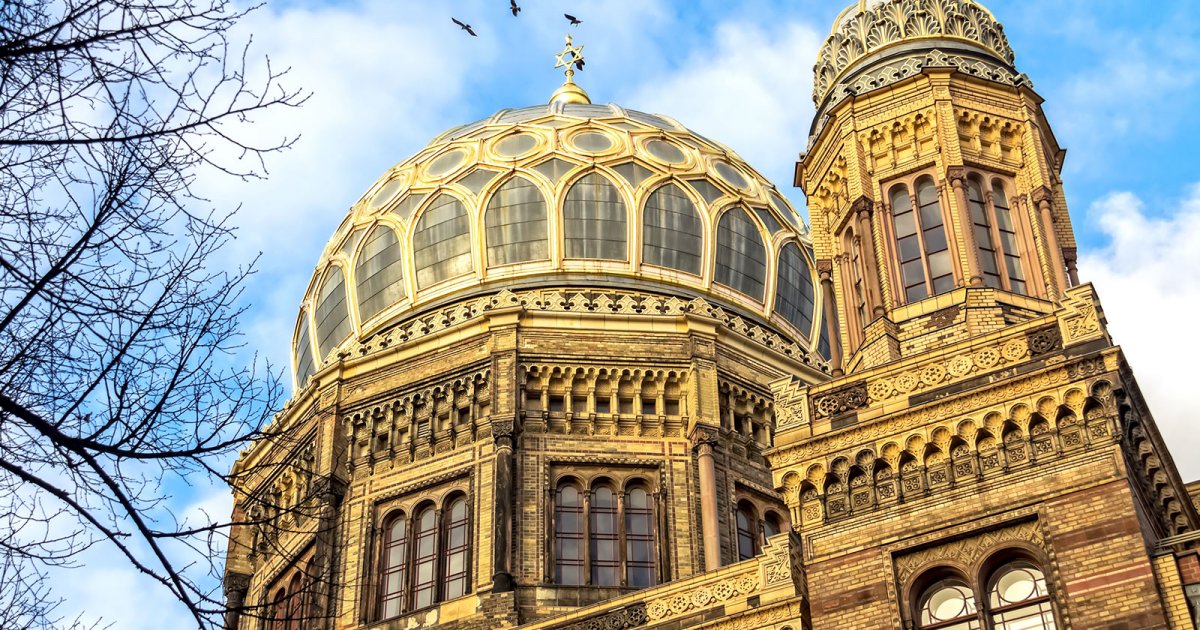 Audio File length: 2.37

Language: English / USA
Hi, my name's Rick, and I'm your personal guide. Along with MyWoWo, I'd like to welcome you to one of the Wonders of the World: the Neue Synagoge.
The Neue Synagoge is the largest place of worship for Jews in Germany.
What you see today is an exact reconstruction of the original synagogue, which was destroyed by British bombs in 1943. The building was designed by the architect Eduard Knoblauch in the Moorish Revival style that was very much in vogue for synagogues in the 19th century because it was reminiscent of the Middle-Eastern origins of the Jews.
The model for synagogues at the time was the Alhambra in Granada, Spain, the splendid, magnificent complex of palaces built in the 13th century by Sultan Muhammad ibn Nasr.
What you'll notice immediately is the marvelous, glittering dome, one of the landmarks of the Scheunenviertel neighborhood and more generally, the skyline of Berlin.
The facade is entirely covered with terracotta bricks, but the New Synagogue was the first building in Germany to also use iron for its construction.
The Synagogue was inaugurated in 1886, and was the largest of the time, with a capacity of over 3000 worshippers.
On November 9, 1938 during the so-called "Kristallnacht", the Nazis attempted to set fire to the Synagogue, but were only partially successful. Once they came to power, however, they desecrated the building, using it as a military warehouse during the Second World War.
The post-war reconstruction did not begin until 1988, on the occasion of the 50th anniversary of the Kristallnacht; the work was completed in 1995.
Today the Synagogue is a museum and meeting space as well as a place of worship where religious services are held. It hosts the Centrum Judaicum, in which temporary exhibitions are held, as well as a permanent exhibition featuring fragments and objects recovered during the reconstruction work.
Let me leave you with an interesting fact: it was thanks to the courageous action of Wilhelm Krützfeld, the then head of the local police, that the Nazis were not entirely successful in their attempts to burn down the synagogue on November 9, 1938. He stood in staunch defense of the building, allowing the firemen to put out the first blaze, for which he is remembered with a plaque on the facade of the building.