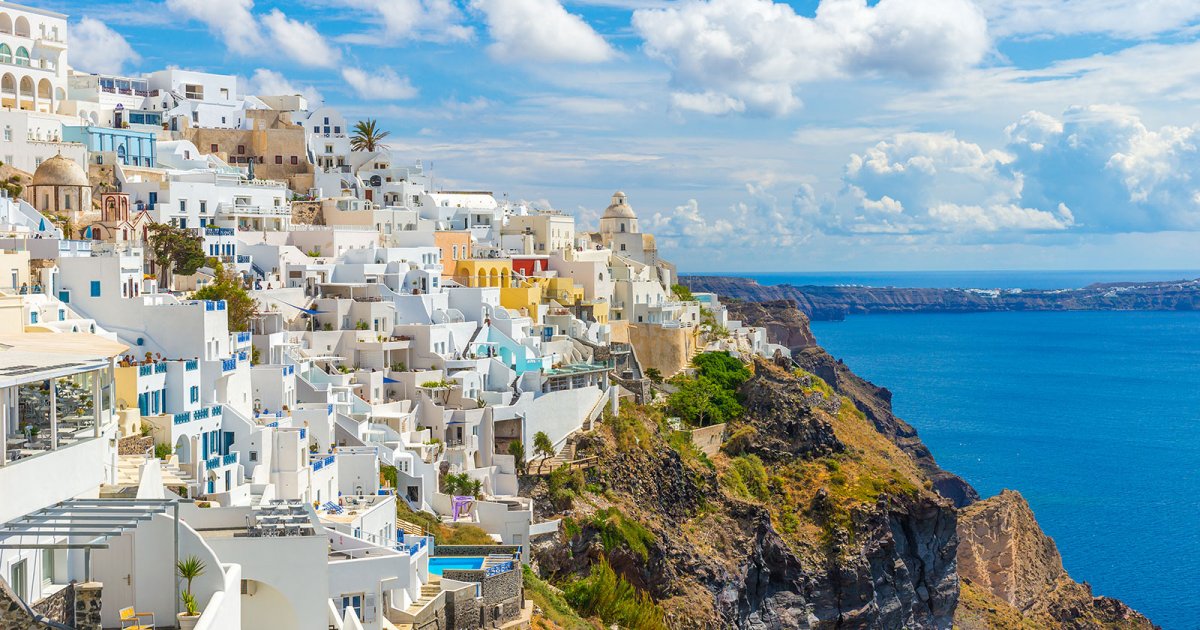 Audio File length: 2.26

Language: English / USA
Here we are in Fira, the splendid capital of Santorini, the main residential and tourist center on the island. This typical settlement was built on the edge of a cliff over 250 meters high, with white-washed houses that stand out against the dark volcanic rock typical of the island.
Spread over many levels, Fira is divided into a number of neighborhoods that you can explore by wandering up and down the steps of the narrow lanes. The earliest buildings date to the beginning of the 19th century, when the presence of pirates in the Aegean Sea began to decline and the population of the island rose. Many of the buildings you can see were rebuilt following a violent earthquake in 1956.
One of the main features of the town are the narrow lanes, many of them with steps. One of them has about 580 steps that will take you down to the old port. Don't worry, it's not particularly tiring on the way down, and – especially on the way back up – you can take the efficient cable car, or a ride on one of the many donkeys.
Fira is home to a number of fascinating Orthodox religious buildings, such as the Metropolitan Cathedral of Ypapanti, surrounded by a large cloister. Inside are some fine frescoes, with striking gold detail, and precious icons. Not far from here, you can also see the Catholic Cathedral of John the Baptist, in Neo-Baroque style, with the facades and the beautiful bell tower embellished in gray and pale yellow.
If you have time, I also suggest a visit to the Archeological Museum and the New Museum.
As you stroll around the island, you'll be sure to remark on how many little swimming pools there are in Fira, as in other villages looking onto these cliffs. It's not hard to imagine why: what could be better than a refreshing dip as you admire the splendid scenery? The views from here are truly priceless!
Let me leave you with an interesting fact: many foreign visitors are not familiar with the famous loukoumades, a traditional Greek fried sweet. There are two variants you can enjoy: one with honey, walnuts and cinnamon, and one with delicious Nutella. If you have a sweet tooth, I suggest you head to LukuMum, where you can try the best loukoumades in the world. Trust me, you won't be disappointed!