VOLCANO AND ISLANDS IN THE ARCHIPELAGO, Day Trip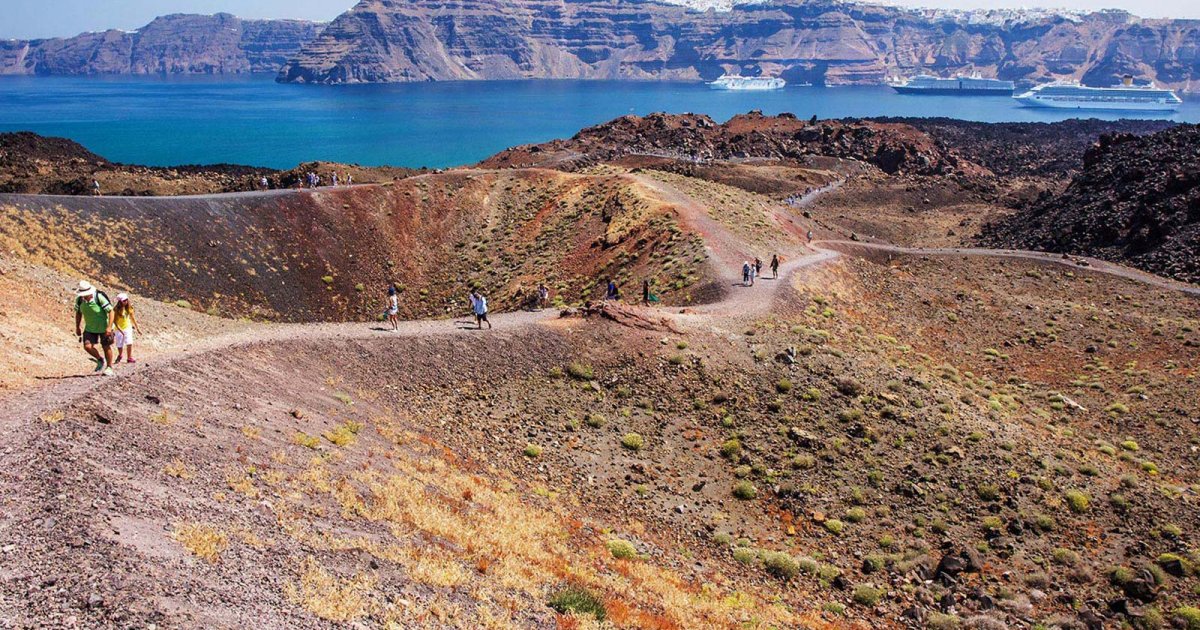 Audio File length: 2.26

Language: English / USA
It's now time to explore other wonderful sights in the area: the volcano of Santorini and the delightful surrounding islands.
Santorini is surrounded by a number of little islands: Nea Kameni, Palea Kameni, Therasia and Aspronisi.
The best way to explore them and to admire the steep cliffs of Santorini is to take one of the cruises that set out daily from the old port of Fira.
You can reach Nea Kameni aboard typical boats, and a local guide will lead you in exploring the small island, as black as the lava it is made up of, which was formed around 1570. Here you'll find the active part of the volcano that led to the formation of the entire Santorini archipelago. As you stroll along its enchanting paths, you'll notice the recent craters and the steam from the fumaroles.
The last eruption was in 1950, and there have been just 6 eruptions in the last 400 years, fortunately none of them explosive or dangerous for the islanders.
The name Nea Kameni means "new burnt", distinguishing it from the smaller island opposite it named Palea Kameni, "old burnt", which you can admire during the boat trip. Palea Kameni has older origins, dating to 46-47 AD.
On both islands, you'll find hot springs, where you can take a dip even in spring.
Further away you can spot the little island of Aspronisi, whose name derives from the Greek term aspro, meaning white, a reference to the pale color of the rocks that form the island, up to 70 meters high. This privately owned, uninhabited island, dates back to the explosive eruption that created the oldest part of the archipelago, around 1650 BC.
Not to be missed is a visit to the largest of these little islands, Therasia, with a small village on the peak, little more than 300 steps up from the little harbor, where there are a small number of characteristic Greek taverns where you can enjoy some superb Greek dishes and fresh fish.
Let me leave you with an interesting fact: if you enjoy a glass of beer, on Santorini you can try the local craft beer, flavored with honey, which has received several awards, both in Greece and abroad. Guess what it's called? Volkan, of course!