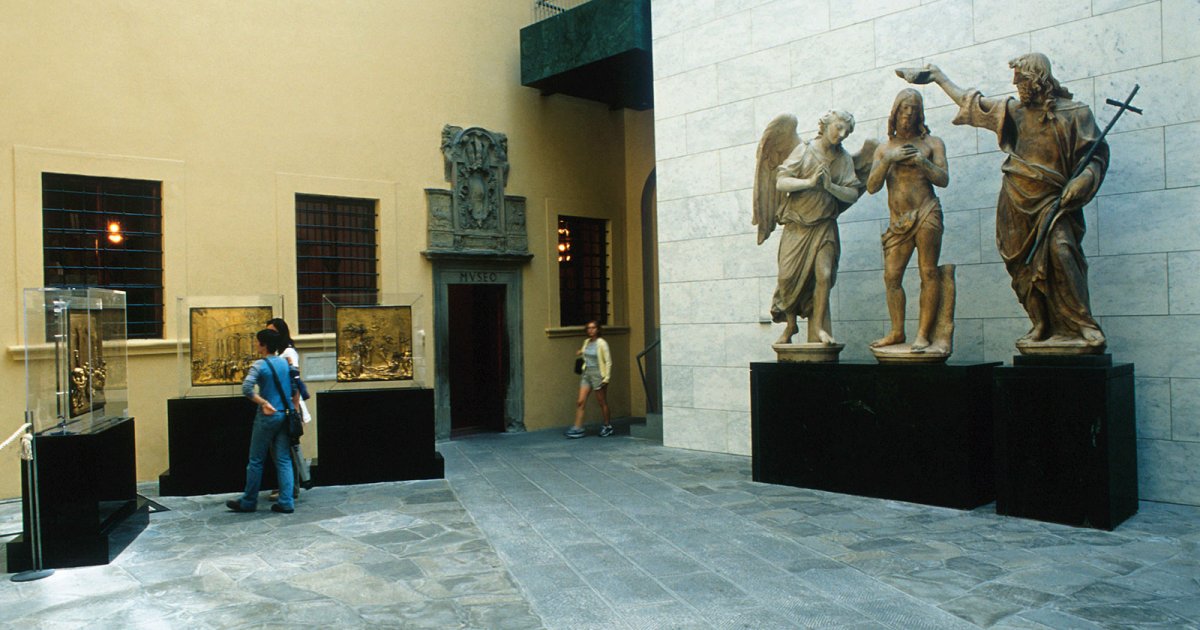 Audio File length: 2.36
Author: STEFANO ZUFFI E DAVIDE TORTORELLA

Language: English / USA
When talking about the Cathedral, Giotto's Bell Tower, and the Baptistery, I repeatedly mentioned that many of the sculptures that are exposed to the elements are copies, and that the originals are preserved in the Cathedral Museum. It's finally time to see these masterpieces "live", which for centuries have made this Cathedral a unique center of art, and especially of sculpture, in the world.
The Museum occupies part of the premises that for centuries belonged to the Opera del Duomo, or Cathedral's Works, which is the lab where they processed marble and architectural elements, and where the sculptures were kept that hadn't been installed or replaced. It has recently been extended into larger spaces. This has allowed for spectacular exhibition solutions: get ready to travel through time, retracing the history of the Cathedral's construction site along a path full of masterpieces.
You'll be left gaping almost immediately when you enter the huge hall with a life-size reconstruction of the Cathedral's façade designed by Arnolfo di Cambio, as it should have appeared at the beginning of the 1300s. Here you can see the groups of original Gothic sculptures for the three portals, the niches, and other parts of the façade placed exactly where the artist had intended them. It is a truly unique sight!
Opposite you can see the original gilded bronze doors of the baptistery's three portals, surmounted by their respective groups of statues. It is a group of masterpieces that covers one and a half centuries of history, from Andrea Pisano's door to Verrocchio's statues.
The oldest door is the left one, which was built in the first half of the 1300s. It depicts scenes from the life of St. John the Baptist: the size and particular shape of the panels (a rhombus with four semi-circles) were used as a model for the following door, which was assigned to Lorenzo Ghiberti after a memorable contest he won where the sculptor was forced to challenge Filippo Brunelleschi head to head. The series is concluded with the unequaled "Gates of Paradise" made by the same Ghiberti for the central, most important door, which is opposite the Cathedral's façade.
FUN FACT: the walls of the short hallway you pass through at the beginning of the Museum list the names of all the architects, sculptors, painters, goldsmiths, and embroiderers who have worked at the Cathedral's construction site over the centuries.