ORSANMICHELE, Exterior Statues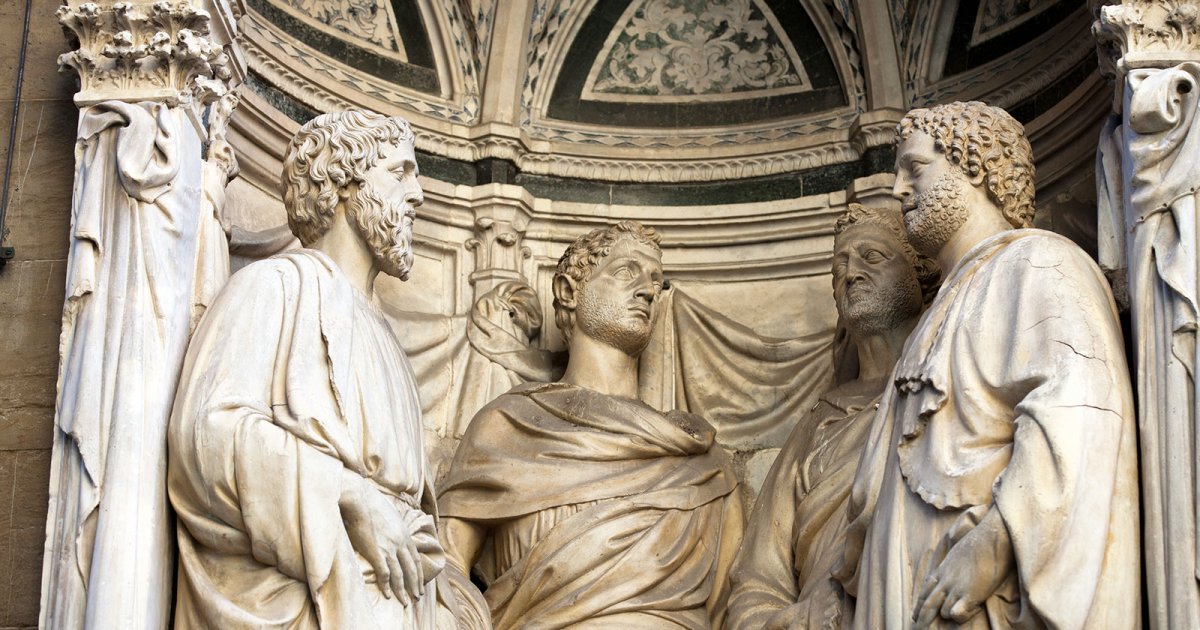 Audio File length: 2.21
Author: STEFANO ZUFFI E DAVIDE TORTORELLA

Language: English / USA
The best part of Orsanmichele that you can't miss is the extraordinary set of sculptures lined up in the sixteen niches all around the church's exterior.
So just like always, before entering the church, I highly recommend taking a full tour around the building's exterior: this time it's more important than ever, and you'll see wonderful sculptures in the tabernacles between the large ground floor windows! Mark, George, Matthew, John the Evangelist... these are just some of the saints who seem to protect this extraordinary monument with their majestic presence: the expression of an entire community, represented by professional trade associations.
You should know that each "Arte" (the name trade corporations in Florence were given) was assigned a pillar of the loggia to decorate with a tabernacle and statue of its own patron saint. So at different moments almost all of the great 15th-century sculptors worked here, including Donatello, Brunelleschi, Verrocchio, and Ghiberti, as well as some important sculptors of the following century, such as Baccio da Montelupo and Giambologna. As you can see, all the statues are united by a great admiration for ancient sculpture.
Remember, however, that many of the statues you see are copies; to admire the "real" statues, you have to go to the museum on the upper floors, where they are placed in the same order as they are found on the outside.
In the museum you'll find yourself face-to-face with impressive masterpieces, like the magnetic St. Matthew by Ghiberti, with his wild eyes, or the group of Four Crowned Saints (the patron saints of sculptors) organized by Nanni di Banco like a gathering of toga-wearing statues from antiquity, or the fantastic bronze complex The Incredulity of Saint Thomas, a dynamic masterpiece by Verrocchio.
When you reach the top floor, don't forget to admire the view: it almost feels like you're floating over the heart of the city!
FUN FACT: I mentioned that the sculptors have four saintly protectors. When it was time to put the group of four into the niche, they didn't fit! For a dinner, Donatello bet that he would solve the problem: he cut the group into two, put the two parts into the niche separately, then glued them together, making some refined retouches to their arms. He won the bet and earned a princely dinner!