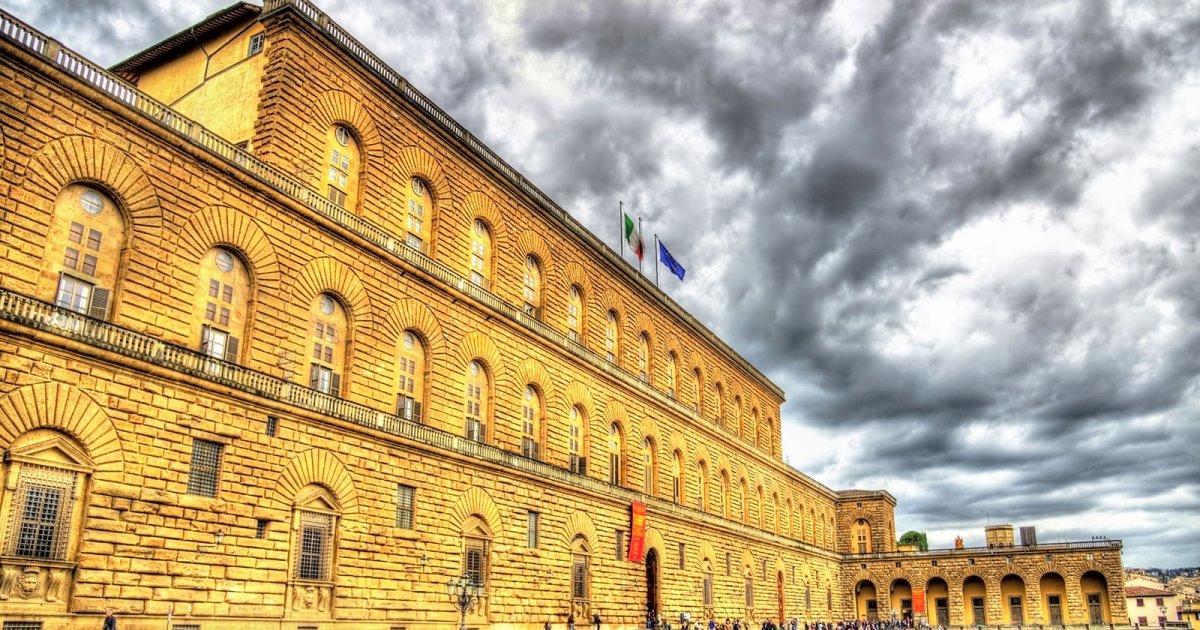 Audio File length: 2.56
Author: STEFANO ZUFFI E DAVIDE TORTORELLA

Language: English / USA
If you stand right in front of the façade you'll be able to recognize the palace's original body, which was designed by Filippo Brunelleschi. You should know, however, that its construction began many years after Brunelleschi's death: the new architect who was entrusted with the work site's direction suggested such varied and expensive alternatives that the family spent all its money and the palace remained unfinished. But by then the style had been defined, and the subsequent additions to the palace respected its initial design, at least in the façade, with massive stone blocks at the bottom and beautiful arched windows in the upper floors.
The palace was enlarged in the middle of the sixteenth century when Eleonora da Toledo, Cosimo I de' Medici's wife, purchased it for the new home of the ducal court. The large inner courtyard overlooking the gardens was added as a spectacular panorama for the court, and Giorgio Vasari designed the complicated and ingenious "Corridor" that offers direct access to Palazzo Pitti from the Uffizi by passing over Ponte Vecchio. It was then that the Boboli Gardens were created: a superb example of an "Italian garden" with fountains, fake caves, statues, and hedges.
In the first half of the seventeenth century the palace was further enlarged: the façade was doubled with additions on both sides, and extended with wings with less floors. Finally, two other buildings were built called "rondò", which surround the square.
To get an idea of ​​the whole, you absolutely must go to the inner courtyard that was built in the second half of the 16th century, which is the real center of the entire complex and serves as a junction between the palace and the park behind it, with a play on lights and shadows, and on architecture and vegetation. As you can see, the courtyard is surrounded on three sides by an awe-inspiring portico with pillars and gives off a "rustic" feeling that's created by the rough stones used. The fourth side is the first terrace of the gardens, where you can see the Artichoke Fountain, behind which the vast green amphitheater of the Boboli Gardens opens up.
FUN FACT: Duchess Eleonora di Toledo bought Palazzo Pitti because she thought that thanks to the Boboli Gardens, they would breathe much better air than in Palazzo Vecchio. Many of her eleven children had died at an early age, and she herself died of malaria at the age of 42 during a trip to Maremma. However, the legend says that she died of a broken heart because her husband Cosimo had killed their son after an argument.