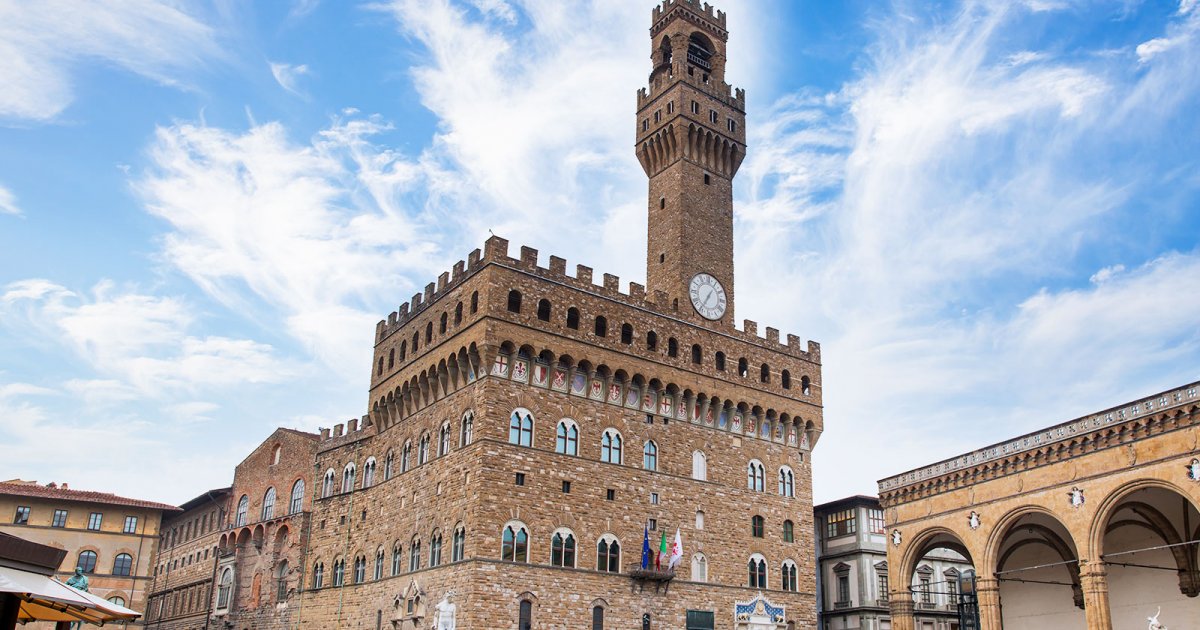 Audio File length: 3.01
Author: STEFANO ZUFFI E DAVIDE TORTORELLA

Language: English / USA
Palazzo Vecchio's construction began in 1299 and was completed in just three years. This building is the civil and secular heart of Florence, and was the stage for centuries of the city's proud history, as well as the perfect counterweight to the religious complex surrounding the Cathedral. The civil administration building also had a very important symbolic role: its hard and impenetrable mass expresses strength and security; the statues you see in front of it recall virtuous and intelligent heroes (such as Judith, David, and Hercules) who triumph over the brutality of an apparently stronger enemy.
The palace's first nucleus dates back to the architect and sculptor Arnolfo di Cambio, who was the protagonist of Florence's renovation in the age of Dante Alighieri. The tall building with overlapping stone walls, square battlements, and wall-walks probably reminds you of a fortress. The slim tower you see in the front culminates in a small loggia open on four sides.
Looking at the sides of the palace, you can see its different stages of enlargement. In the 15th century, when the Republic of Florence was ruled by a group of noble families led by the Medici, the building was remodeled and renamed Palazzo della Signoria, a name that remains in the square facing the building.
In the 16th century Cosimo I de' Medici moved the court and had apartments for himself and his wife Eleonora da Toledo arranged here. 25 years later the Medici, who had since become Grand Dukes, left the building to move to their "new" home in Palazzo Pitti, and for this reason the building was renamed "Palazzo Vecchio". In the second half of the 19th century it became the seat of the parliament of the new Kingdom of Italy.