PALAZZO VECCHIO, First Floor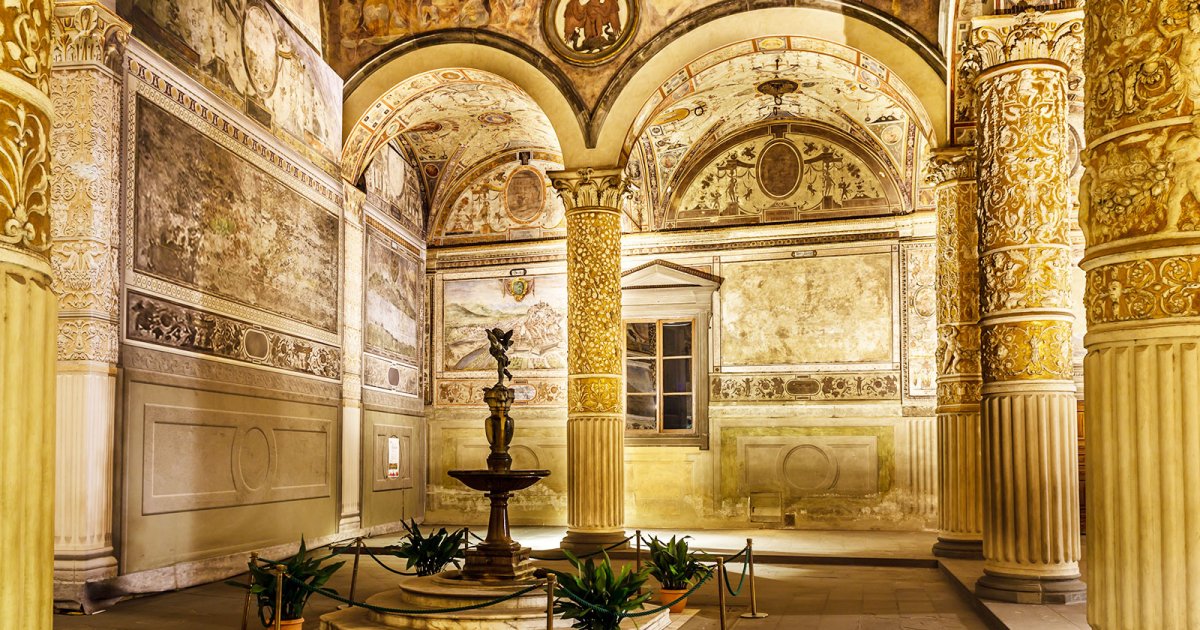 Audio File length: 3.03
Author: STEFANO ZUFFI E DAVIDE TORTORELLA

Language: English / USA
In addition to being a great historical and artistic monument, Palazzo Vecchio is still home to Florence's Town Hall and numerous public offices. For this reason it has entrances on all its sides, even if you enter from the main façade between the replicas of the statues of Michelangelo's David and Donatello's Judith.
The square courtyard will surprise you for its stark difference with the sobriety of the façade. In the second half of the 16th century, when the Grand Duke Francesco de' Medici married Anna d'Austria, the courtyard was renovated by the great architect and painter Giorgio Vasari, whom you may have heard of because he wrote the biographies of so many great Italian artists. On that occasion Vasari lined the courtyard's columns and walls with graffiti, frescoes, reliefs, and gilding, transforming it almost into a theatrical stage.
On the left, a single entrance gives you access to the Camera dell'Arme, or Weapons Room, an old civic arsenal where weapons were kept that could be distributed to citizens if necessary. It is the only hall of the palace that has preserved its Gothic appearance of the early 1300s. From there you'll reach the Cortile della Dogana, or Customs, designed by Vasari, with a staircase that leads you to the monumental apartments.
And now you've entered the gigantic Salone dei Cinquecento, where first city council meetings were held, and was then later modified to host the hearings given by Francesco I. For this purpose Giorgio Vasari built the raised platform with various 16th-century statues. See how spectacular the ceiling is, with its 42 painted squares included in a rich golden frame? Among the statues on the walls you should carefully observe a masterpiece by Michelangelo, The Genius of Victory, which had been modeled for the tomb of Pope Julius II but later donated to the Florentine Republic. The frescoes you see on the walls are also by Vasari and his workshop, and depict military episodes in Florentine history.
In a corner of the hall, don't miss the small, precious Studiolo, or small study, of Francesco I, a refined private room that almost feels like a casket, with statuettes, wood panels, paintings, and frescoes made around 1570 under the direction of Giorgio Vasari.
FUN FACT: for many years it was believed that a painting by Leonardo, the Battle of Anghiari, was supposedly hidden behind the fresco Battle di Marciano della Chiana by Giorgio Vasari, protected by a space between the walls.
Vasari wanted to protect the master's fresco. In fact, if you look at the fresco closely, one soldier's banner has the text "Cerca Trova", which means search and find. Dan Brown also talks about it in his novel Inferno.