PIAZZA DELLA SIGNORIA, Presentation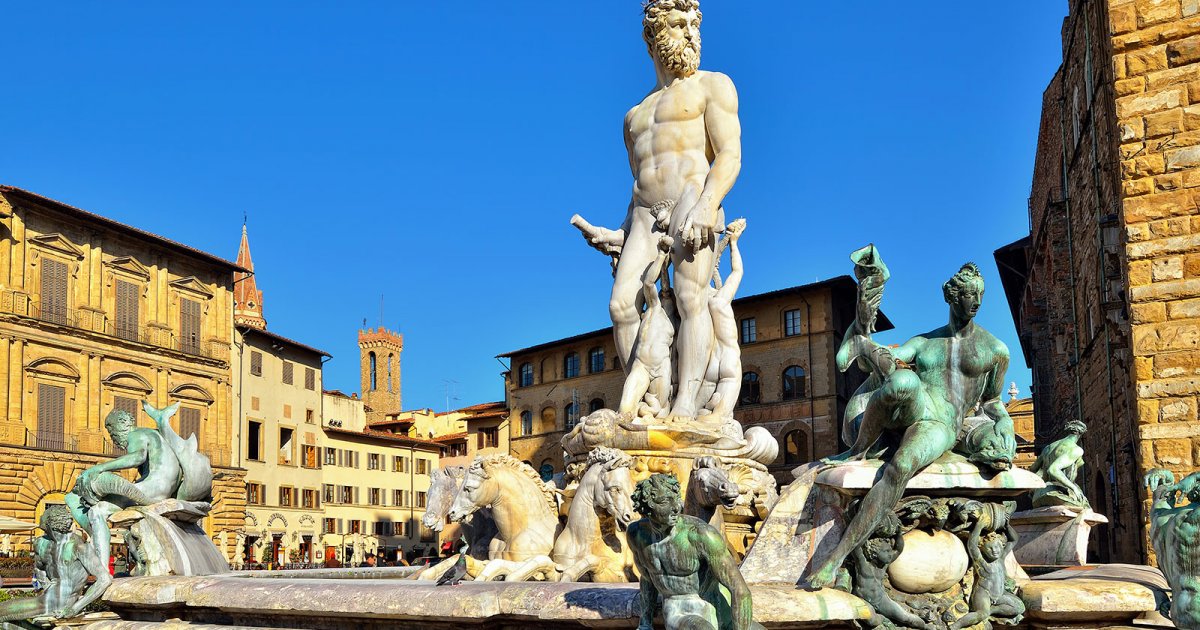 Audio File length: 2.35
Author: STEFANO ZUFFI E DAVIDE TORTORELLA

Language: English / USA
Hi, I'm James, your personal guide. Together with MyWoWo, I'd like to welcome you to one of the wonders of the world.
Today I'll accompany you through Piazza della Signoria, which is one of the most characteristic sights in Florence!
There are few cities in Italy where it is so easy to understand the separation between religious power, represented by the Cathedral, and civil power, concentrated here in Palazzo Vecchio, which MyWoWo talks about in three separate files. Repeated architectural modifications have not altered the square's solemn character, which fully conveys a sense of the city's history, art, and culture.
Situated at the entrance to the crowded Via de' Calzaiuoli, the square welcomes you into a compact and severe scenario with a prevalent medieval character, although the 15th and 16th-century sculptures, partially replaced by copies, make it a true open air museum.
The palaces that set the square's backdrop are from different ages, although they were largely restored in the 1800s to create a homogeneous set around the two main buildings: Palazzo Vecchio, and the three great sandstone arches of the beautiful Loggia dei Lanzi.
Under the loggia you can admire a splendid series of statues, among which I would especially like to point out Perseus by Benvenuto Cellini, an absolute masterpiece of bronze sculpture from the the mid-1500s, and the marble Rape of the Sabine Women by Giambologna.
The small square of the Uffizi opens up between the Loggia dei Lanzi and Palazzo Vecchio. Here in front of the palace, you'll find the copies of Donatello's bronze Judith and the famous David by Michelangelo.
The splendid, original, sixteenth-century Hercules and Cacus by Baccio Bandinelli still stands, as does the fabulous Neptune Fountain at the corner of the palace, as well as the Equestrian statue of Cosimo I by Giambologna.
The pavement in rough stone blocks arose some controversy, as traces of Roman buildings were found in the subsoil; they were studied by archaeologists but later covered by the pavement.
FUN FACT: if you don't want to have to check the weather report, keep an eye on the golden lion on top of Palazzo Vecchio's Tower, which sometimes turns to the river. The Florentines say that when the lion pees in the Arno, there will be water. That is, it will rain.
And with this we have finished our tour of Piazza della Signoria in Florence. MyWoWo thanks you for staying with us, and will see you at the next Wonder of the World!