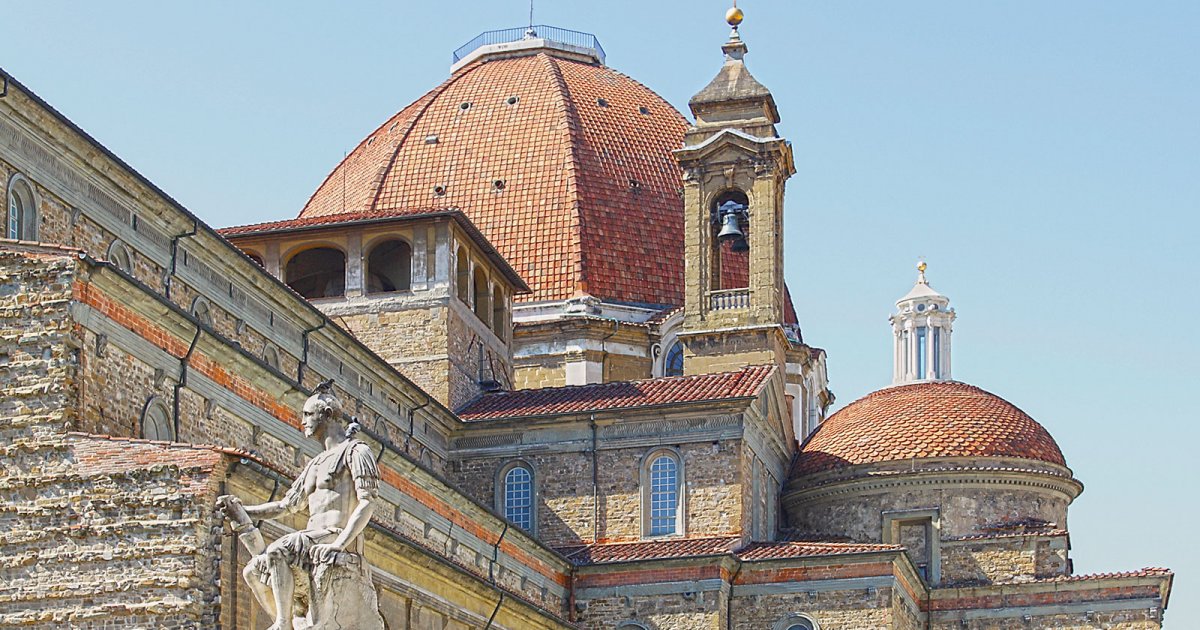 Audio File length: 2.47
Author: STEFANO ZUFFI E DAVIDE TORTORELLA

Language: English / USA
Hi, I'm Ed, your personal guide. Together with MyWoWo, I'd like to welcome you to one of the wonders of the world.
Today I'll accompany you through the Basilica of San Lorenzo.
San Lorenzo is among the most lively artistic and architectural complexes in Florence!
The church stands on a large platform with stairs in the square behind Palazzo Medici. Right in front of the unfinished façade, you can see the 16th-century monument to the leader Giovanni dalle Bande Nere, who is depicted sitting. It might be a bit hard for you to notice the statue in the chaos of the bustling clothing and accessories market in the square.
You are about to visit a large Renaissance complex, but you should know that the basilica dates back to much earlier: in fact, it is the oldest place for Christian worship in Florence, and was built outside of the Roman's four city walls.
The great cross-shaped church before you dates back to the first half of the 1400s. It was commissioned by the Medici family and designed by the great Filippo Brunelleschi, the same master who designed the Cathedral's dome and the Old Sacristy to your left. The basilica's construction was slow-going: so much so that it was still unfinished when the architect died. About a century later the design of the façade was entrusted to another sacred mastermind, Michelangelo. The great sculptor wanted to use marble from the Pietrasanta quarries for its façade, but Pope Leo X de' Medici demanded that he use marble from Serravezza, which had no connecting roads with Florence. This greatly increased costs and time-frames, and in the end San Lorenzo remained without a façade, just as you see it now.
You should know, however, that in later years Michelangelo created two masterpieces for San Lorenzo: the New Sacristy on the opposite side of the Church with respect to Brunelleschi's, and the Mediceo-Laurenziana Library inside the convent. Lastly, the dome covered with red tiles that you see rising up behind the complex is the Cappella dei Principi, or Chapel of Princes, which was built a few decades later.
FUN FACT: the statue of Giovanni dalle Bande Nere, the great leader of the Medici family who died very young, was transported from San Lorenzo to Palazzo Vecchio, and in the mid-1800s was restored to its original base. On this occasion, a satirical epigram was composed that says: "Messer Giovanni dalle Bande Nere / bored and tired after a long ride / got off his saddle and sat down".