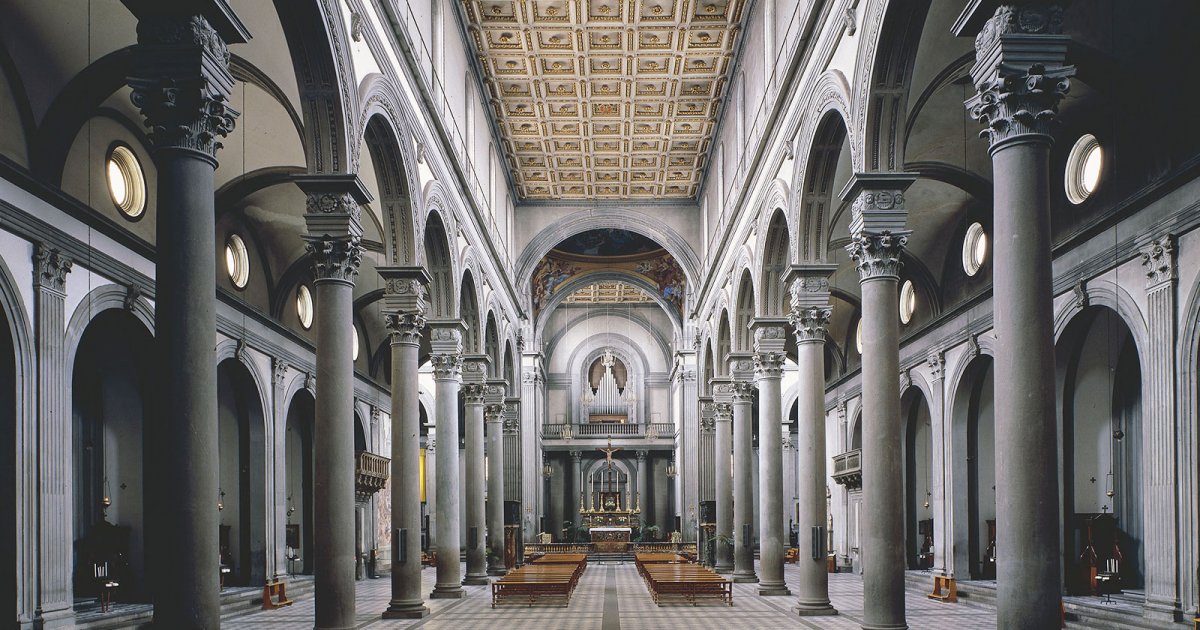 Audio File length: 2.42
Author: STEFANO ZUFFI E DAVIDE TORTORELLA

Language: English / USA
After the bare, rustic façade, the interior of San Lorenzo will give you quite a thrill. A bright structure inspired by classic antiquity opens up before you; it is one of the most representative monuments of the "golden age" of 15th-century Florence.
The ingenious architect Filippo Brunelleschi designed a profoundly harmonious building, where the white plaster alternates with the gray of the Serena stone, one of his favorite materials. Note the elegance of the two rows of columns, paneled ceiling, arches, and tall windows that illuminate the central part of the basilica. Carefully observe the exceptional sophistication of the sculpted elements, like the capitals that look like baskets of foliage and were inspired by the ancient Greek architectural style known as "Corinthian", or the frames around the chapels that appear regularly on both sides.
There are countless fascinating works of art throughout, making San Lorenzo a true museum of fourteenth-fifteenth century Florentine sculpture and painting. I'd especially like to point out the beautiful Annunciation painted by Filippo Lippi that you can see in a chapel at the back left, and near there, the great fresco of Bronzino depicting the Martyrdom of San Lorenzo. Another interesting painting is the Marriage of the Virgin by Rosso Fiorentino on the second altar to the right.
But the absolute masterpiece that you can't miss is the two rectangular bronze pulpits supported by columns, which you can see facing each other at the end of the central nave. These are Donatello's last works, which were still unfinished when he died in 1466 and were completed by students: the great sculptor was by then eighty years old and was completely unburdened by obligations and conventions; he sculpted episodes of the life of Jesus and San Lorenzo with great energy and originality, as well as an overwhelming dramatic sense and strong theatricality.
In back on the left side, you'll find the entry to the precious Old Sacristy, a masterpiece by Brunelleschi and Donatello. MyWoWo suggests paying a lot of attention on your visit there while listening to the next file.
FUN FACT: one of San Lorenzo's side chapels reserved for the faithful has a dramatic, full-size Crucifix sculpted by Antonio del Pollaiolo. As it was made for being carried in processions, it was made of cork, the lightest possible wood!