SAN LORENZO, Laurentian Library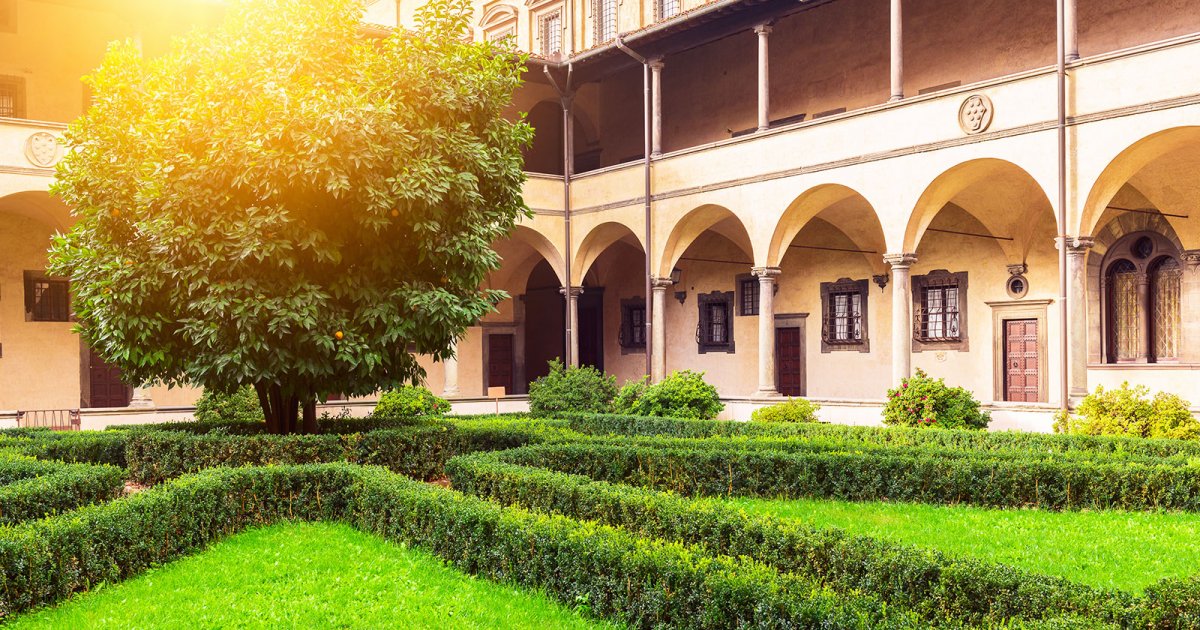 Audio File length: 2.57
Author: STEFANO ZUFFI E DAVIDE TORTORELLA

Language: English / USA
Your visit of the San Lorenzo complex continues with the convent. Leave the church and enter the passage that is immediately to the left when facing the façade.
After the entrance hall, next you'll reach the First Cloister, an elegant square-shaped space that has been used as part-garden and part-cemetery for centuries. Let your gaze wander over the arched portico and loggia rising up above it: these elements are also part of Brunelleschi's design, even if they were built about thirty years after his death. On the left you'll find the Second Cloister, which is smaller and has a rectangular shape.
At the back of the First Cloister, a passage takes you to part of the convent that in the first half of the fifteenth century was transformed by Michelangelo to house the Biblioteca Medicea Laurenziana, or Laurentian Library, a prestigious collection of manuscripts that are largely decorated with marvelous miniatures.
Together with the New Sacristy on the opposite side of the complex, the Library marks Michelangelo's new direction, who after creating painting and sculpture masterpieces grew increasingly interested in architecture and proposed a new, intense, and dramatic form of expression. The structure's elements no longer follow Brunelleschi's serene and harmonious rhythm, but seem to conflict each other, as if they're contending for the available space.
You'll get the same impression from the vestibule, a relatively small, square-shaped room that's almost completely filled by the large triple staircase that seems to spread like an unstoppable flow of unexpected curves. You'll almost get the impression that the shelves and double columns are set back into the wall because of the lack of space available!
Once you go up the stairs, you're in the large Reading Room, which is a long and beautiful rectangular, bright, and serene setting. Michelangelo designed everything here: the architectural structure, the pattern of the terracotta floor that's repeated in the wooden ceiling, the inlaid shelves where the books are chained to prevent theft. Temporary exhibitions are organized in the Library to display the magnificent miniature codices, which are predominantly from the 1400s.
FUN FACT: your itinerary also includes an underground passage where you'll see the tombs of two illustrious personalities from the 1400s: Cosimo il Vecchio de' Medici and Donatello. You'll recognize them by the fresh flowers that visitors often leave.
And with this we have finished our tour of the Basilica of San Lorenzo in Florence. MyWoWo thanks you for staying with us, and will see you at the next Wonder of the World!