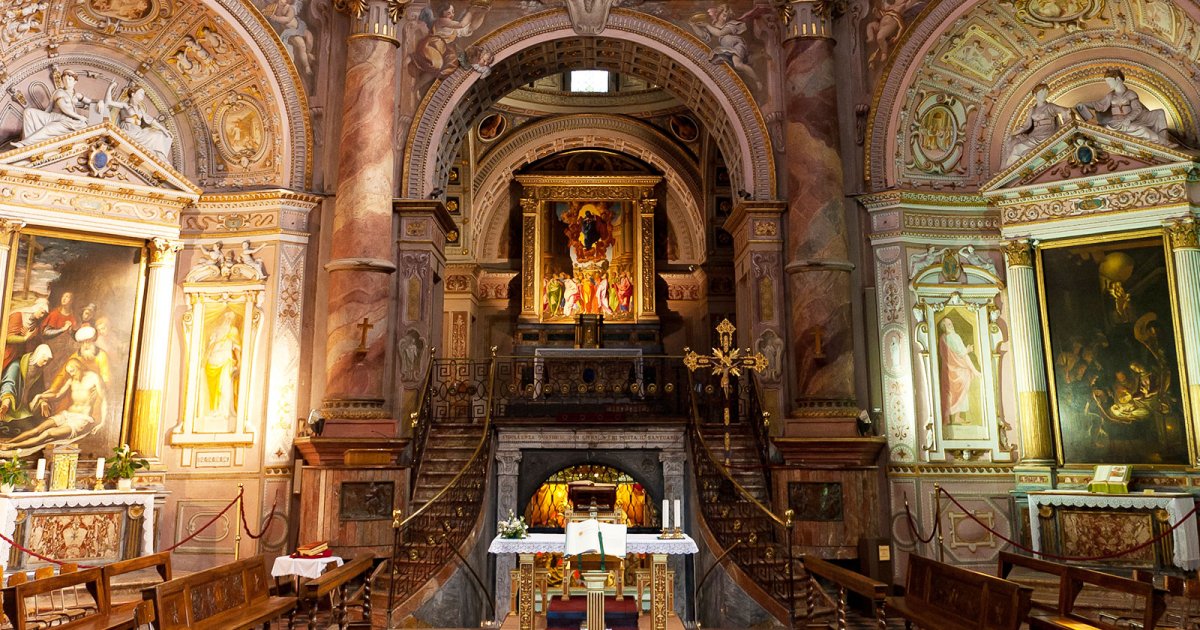 Audio File length: 3.15
Author: STEFANO ZUFFI E DAVIDE TORTORELLA

Language: English / USA
Now go inside the basilica. Even though the entrance is on the left side, as soon as you enter I suggest immediately going to the center of the church with your back to the wall with the façade so you can admire the majestic and simple whole of its architecture, starting your tour as if you were entering through the main door.
Look! Can you see the richness of the frescoes, altars, funerary monuments, and sculptures, which are at the same time so simple! This monumental church is the perfect example of the solemn and powerful style that reigned in Florence at the threshold of the 1300s thanks to Arnolfo di Cambio, the architect who also designed the Cathedral and Palazzo Vecchio. Admire its cross-shaped floor plan, with the square, shallow choir at the end of the central nave, flanked by five chapels per side. Admire the tall and wide Gothic arches supported by the simple octagonal pillars, and the gallery that runs along the entire central space, interrupting the vertical thrust and adding to the basilica's general harmony. Note the simplicity of the wooden beam ceiling, and the preciousness of the light filtering in from the colored, 14th-century stained glass windows. Admire, above all, the impressively effective contrast of the materials' colors: the gray of the Serena stone, the red of the terracotta floor, and the white of the plaster.
The twelve side altars are all equal and were designed by Giorgio Vasari; you can also see great altar paintings by the same Vasari and other Florentine painters of his time, the second half of the fifteenth century.
As I mentioned, over the centuries Santa Croce has become the most sought after burial site for illustrious Italians: just think, there are an impressive 256 funeral tombs in the floor! Along its side naves you'll see monumental tombs dating from the fifteenth to the eighteenth centuries that are home to many famous figures of art, literature, and history, including Michelangelo, Machiavelli, Galileo, Alfieri, Rossini, and the previously mentioned Foscolo. It contains many fifteenth-century sculptures, including two fascinating arched tombs on each side of the church, and the pulpit with reliefs leaning on a pillar on the right.
As you admire so much splendor, don't miss two absolute masterpieces by Donatello: the relief of the Annunciation, towards the back of the right side, and the expressive, dramatic wood Crucifix in the chapel at the back of the left side.
FUN FACT: the funerary monument of the playwright Niccolini has a statue of the Freedom of Poetry: some believe that it inspired the sculptor Bartholdi, who created the most famous Statue of Liberty that exists, which currently sits in the bay of New York.