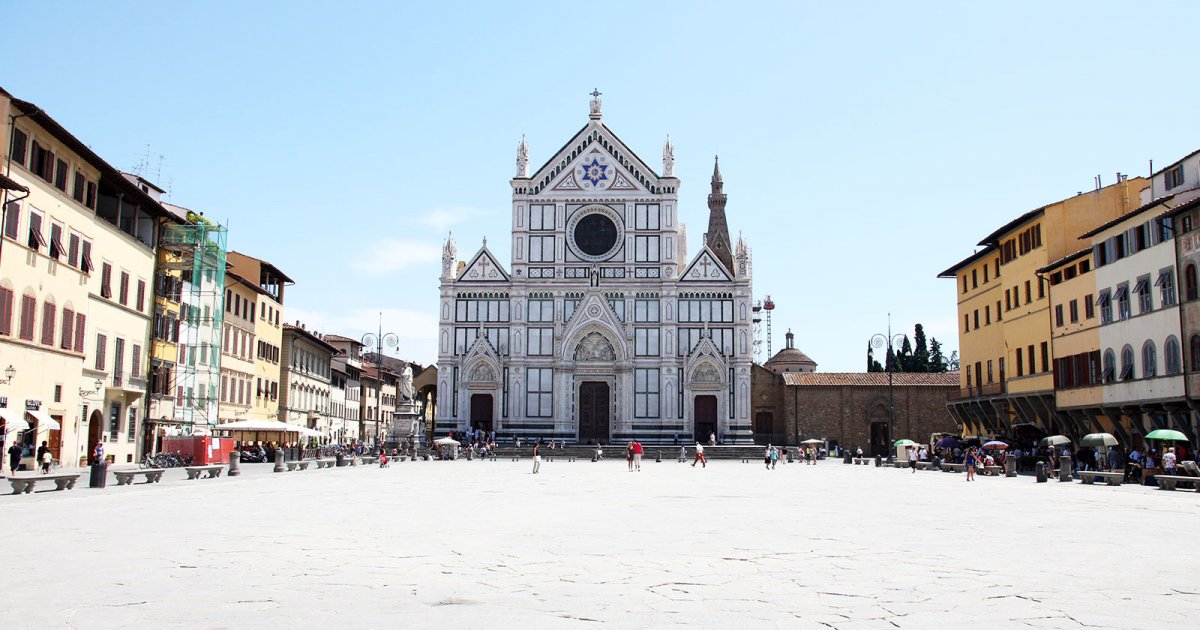 Audio File length: 3.00
Author: STEFANO ZUFFI E DAVIDE TORTORELLA

Language: English / USA
Hi, I'm Alyson, your personal guide. Together with MyWoWo, I'd like to welcome you to one of the wonders of the world.
Today I'll accompany you through the Basilica of Santa Croce, one of the most splendid and illustrious places in Florence!
The magnificent Gothic building before you is a monument of architecture, painting, and sculpture; this large Franciscan complex includes the basilica and the convent of Santa Croce. Its "twin", the Dominican convent of Santa Maria Novella, is located at the opposite end of Florence's historic center.
The large rectangular square where you stand, brightened by the basilica's white marble façade, is an important urban planning project implemented at the end of the 13th century to expand the city outside of its Roman walls. Unfortunately, due to its proximity to the river, the building was severely damaged in the flood of November 1966, when the Arno River overflowed and flooded the historic center of Florence, causing terrible damage to its artistic heritage.
Piazza Santa Croce has a more animated and popular appearance thanks to the small palaces and houses of different heights surrounding it. The right side of the square, or the one in the direction of Arno River, is the most homogeneous: the building you see in the center with the frescoed façade is Palazzo dell'Antella. Its seventeenth-century frescoes are by several Florentine painters.
In front of the basilica's façade you can see the monument to Dante Alighieri, which was an integral part of the construction work on the basilica in the 1800s. For centuries Florence has held public readings of the "Divine Comedy": recently the Cenacle, or upper room, of the Basilica of Santa Croce was transformed into a stage for the exciting and passionate complete reading of the hundred cantos of Hell, Purgatory, and Paradise, recited and commented by Vittorio Sermonti.
FUN FACT: if you're in Florence around the end of June, don't miss the legendary finale of "Historical Florentine Soccer", a sport that's halfway between soccer and rugby and is played in the middle of the square according to rules that date back the 1500s. The four teams are formed based on the city's districts: the "whites" from Santo Spirito, the "blues" from Santa Croce, the "reds" from Santa Maria Novella, and the "greens" from San Giovanni. The games are a spectacle and also get kind of crazy, not only for the passionate players (called "calcianti", or kickers) but also for the wild uproar of the spectators.