SANTA MARIA NOVELLA, Cloisters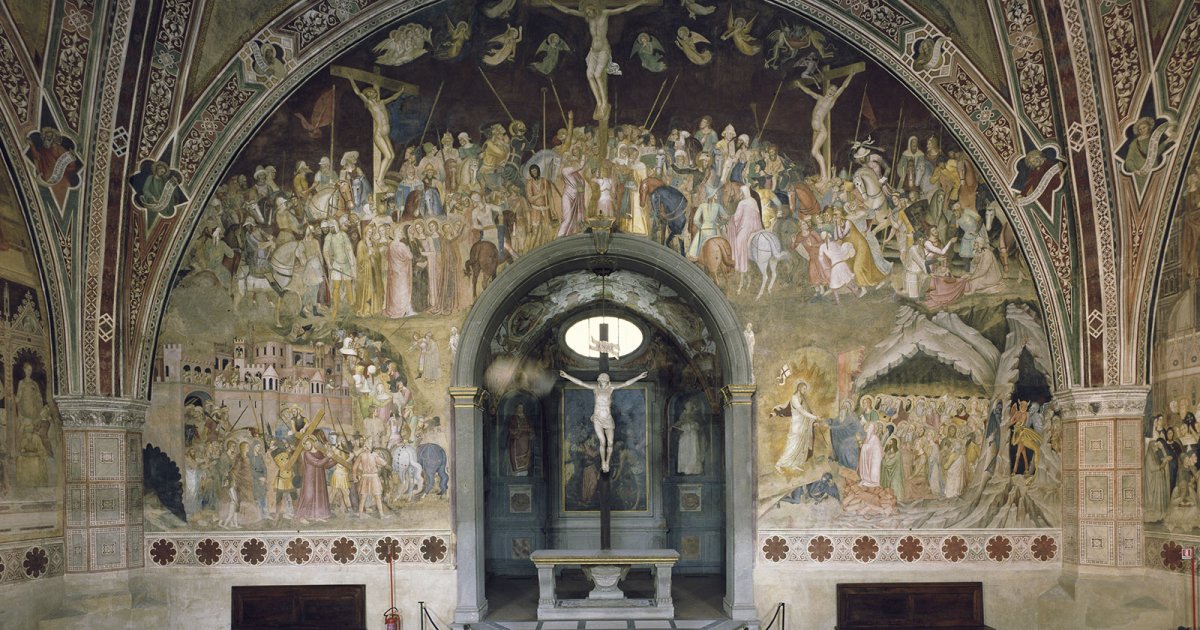 Audio File length: 2.41
Author: STEFANO ZUFFI E DAVIDE TORTORELLA

Language: English / USA
After having walked around the church's exterior, follow the sidewalk that goes along the higher rear portion of the church next to the bell tower, and you'll reach the entrance where your tour begins. The new itinerary doesn't take you immediately into the church: first you cross the convent halls, some of which were previously closed and have since been restored and opened for viewing.
First you pass through the Cloister of the Dead with its shady and irregular form. Like other Florentine churches, Santa Maria Novella was long used as a burial site. Below the arches and along the walls, you can still see tombstones from different ages and remains of frescoes dating back to the 14th century, as well as beautiful cypresses growing up high in the cloisters.
Your perception of light changes entirely when you reach the Green Cloister, which got its name from the background color of Paolo Uccello's frescoes that decorate the interior, which would be very beautiful if they weren't so poorly conserved! The cloister is on the left side of the church and was built in the middle of the 14th century. As you can see, the colonnades are made up of robust octagonal pillars.
Below one side of the cloister you can admire the ancient 14th-century Chapter House, which was named the Chapel of the Spaniards because in the 1500s it was used by the compatriots of Duchess Eleonora da Toledo. The large Gothic structure is completely covered by a spectacular cycle of frescoes painted in the second half of the 14th century, which depict scenes from Christ's life and unusual allegories of the Dominican order.
The room faces the bright Great Cloister with a 14th-century portico and a loggia from the following century: you can see it from a window but unfortunately you can't visit it because it's used as a military school.
From here you go into two notable 14th-century halls: the Ante-refectory and the long Refectory where the friars once ate. Here you can admire sacred furnishings and vestments, but above all the most integral and important parts of the Green Cloister: the frescoes were detached and restored here on special structures. Paolo Uccello worked on these paintings for a significant amount of time in the first half of the 15th century, where he experimentally adopted very bold perspectives, as you can especially see in the scene of Noah's Ark.
FUN FACT: in many parts of the cloisters, as in the church, you may have noticed geometric decorations with alternating white and black bands: this is a reference to the color of the Dominican robes, which consisted of a white tunic and a black cloak.