SANTA MARIA NOVELLA, Square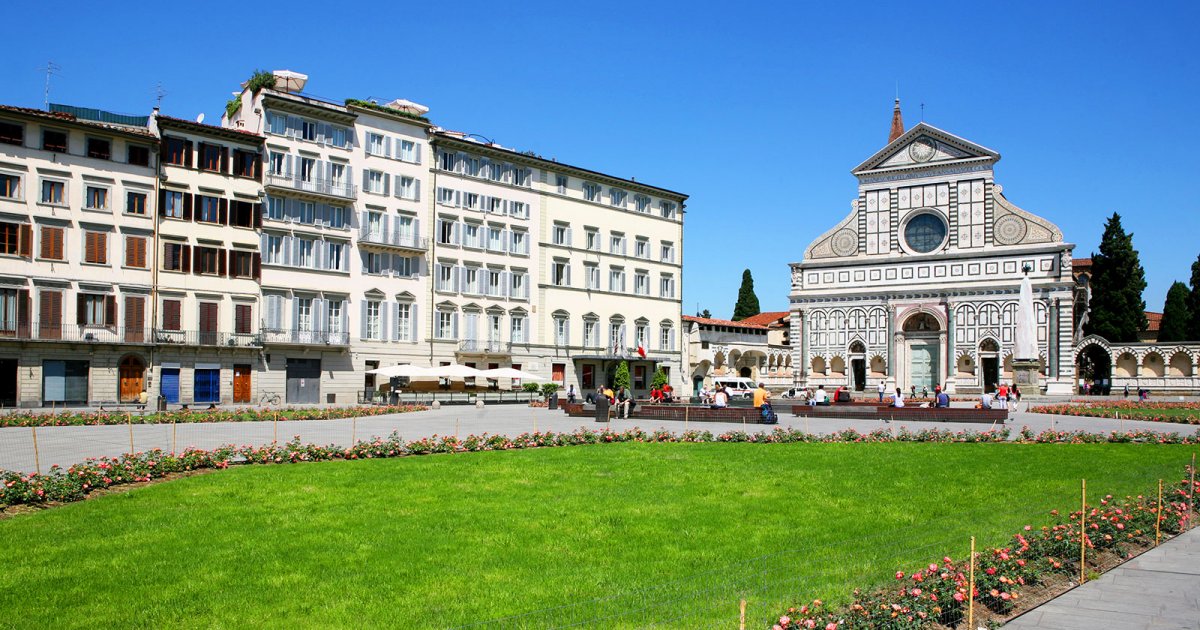 Audio File length: 2.49
Author: STEFANO ZUFFI E DAVIDE TORTORELLA

Language: English / USA
Hi, I'm Debbie, your personal guide. Together with MyWoWo, I'd like to welcome you to one of the wonders of the world.
Today I'll accompany you through the church and convent of Santa Maria Novella.
This complex is one of the most spectacular treasures of art in Florence!
The great Dominican convent of Santa Maria Novella welcomes you upon your entrance to the western part of Florence's historic center. It is one of the city's landmarks, not only for its exceptional architectural beauty and for the masterpieces of art that it contains, but also because it gave the central train station its name: it's called "Stazione Santa Maria Novella" and it overlooks the square behind the church. When you exit the station you are standing right in front of the 300 year-old bell tower; if instead you take the pedestrian tunnel, you'll come out right at the church's side.
Before heading to the entrance, which is located at the back near the square of the station, I suggest observing the exterior of this beautiful Gothic church, starting from the façade and continuing along the right side.
So please walk to stand before the beautiful marble façade, and take in the sight of one of the largest and most pleasant churches in the historic center. It was built in the 1300s with an approximately pentagonal shape. It is almost completely closed to traffic and its large open space with beautiful paving and green flower beds offers a break to the narrow streets of the center that are always overcrowded with tourists. The two stone obelisks you see in the center of the square supported by funny bronze turtles are by Giambologna, who loved to reproduce animals in a realistic way.
The church is also a backdrop to a very homogeneous urban setting. At the back you have the loggia façade of the Hospital of San Paolo, a refined, mid-fifteenth century building with beautiful glazed ceramic bas-reliefs by Andrea della Robbia that I'd like to point out.
Europe's oldest spezieria-profumeria, or spice and perfume shop, is also part of the church complex. Isn't it crazy to imagine that it's been open since 1612? In its beautiful frescoed rooms that can be reached from Via della Scala, you can buy different products and enjoy herbal teas.
FUN FACT: a liqueur that is still used by pastry chefs today has been produced by the friars of Santa Maria Novella since the 1500s: alchermes. At the time it was considered a medicine, and the Medici loved it. Its red color comes from dried cochineal insects, which are in fact called alquermes in Spanish.