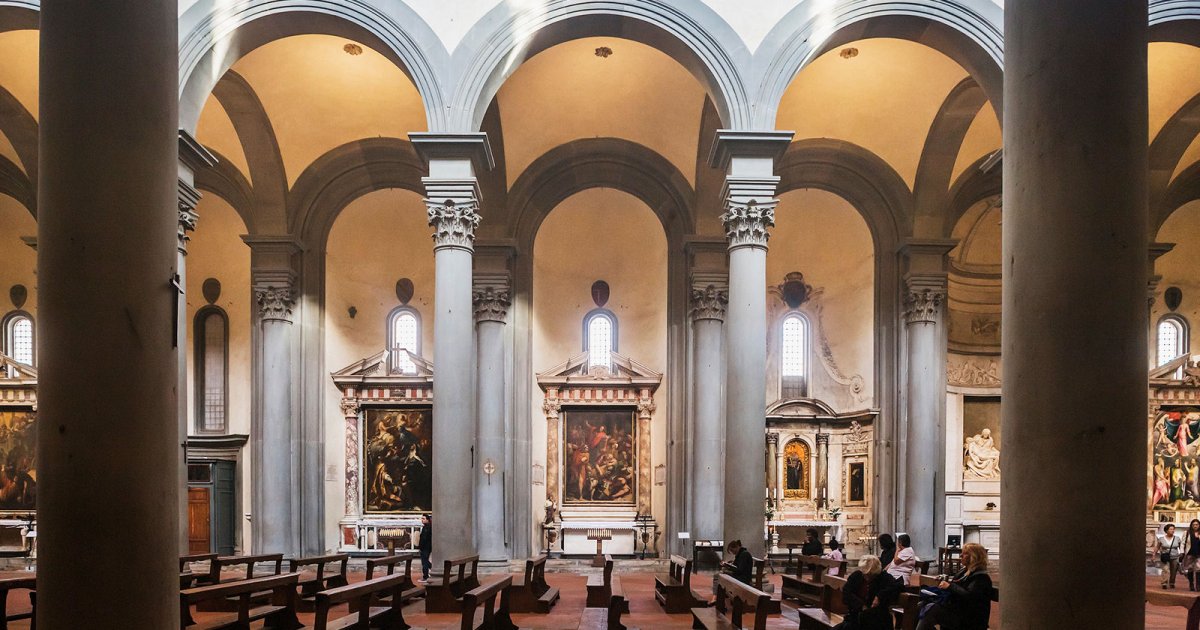 Audio File length: 2.49
Author: STEFANO ZUFFI E DAVIDE TORTORELLA

Language: English / USA
Compared to the simple and linear exterior, the interior of Santo Spirito will move you for its complexity, where its architectural elements seem to acquire an almost musical rhythm. The basilica is cross-shaped and divided into three naves with thirty-one marvelous and identical columns, which are also placed around the altar like a stone river that irresistibly draws your gaze.
Although the church is very large, almost a hundred meters long, the elegance of Brunelleschi's proportions creates a great sense of harmony. As in the Basilica of Santa Croce, here you find the same elegant alternation between the light plaster and the architectural elements in gray stone. Walking along the side walls, you'll notice that the altars are embedded in graceful curved niches.
The interior is also very bright thanks to the large arch-shaped windows and particularly slender arches: Brunelleschi also inserted a nut element over the capitals of the columns, which gives a further boost to the arches. The large stained glass window in the façade was designed by Pietro Perugino.
If you turn to the main altar, you may notice that it doesn't match its context too well. Yet it is a remarkable work of inlaid colored marble and large canopy with fretwork that was made towards the end of the 1500s in forms that anticipate the Baroque period.
The Basilica of Santo Spirito has an impressive amount of artwork. The most precious part are the altar paintings in the left transept, at the back of the church next to the main altar. They were made by several Florentine painters of the second half of the 15th century and are still kept in their original frames of carved and golden wood, as designed in Brunelleschi's uniform project.
The 15th and 16th century sculptures of masters such as Rossellino, Sansovino, and Buontalenti are also noteworthy; they are distributed in various parts of the large church.
On the left side you have access to two remarkable rooms: a vestibule covered by a rich paneled ceiling, and the octagonal sacristy covered by a dome.
FUN FACT: the famous funeral scene in the film "Amici miei" by the great director Mario Monicelli takes place precisely here in the Basilica of Santo Spirito.
And with this we have finished our tour of the Basilica of Santo Spirito in Florence. MyWoWo thanks you for staying with us, and will see you at the next Wonder of the World!