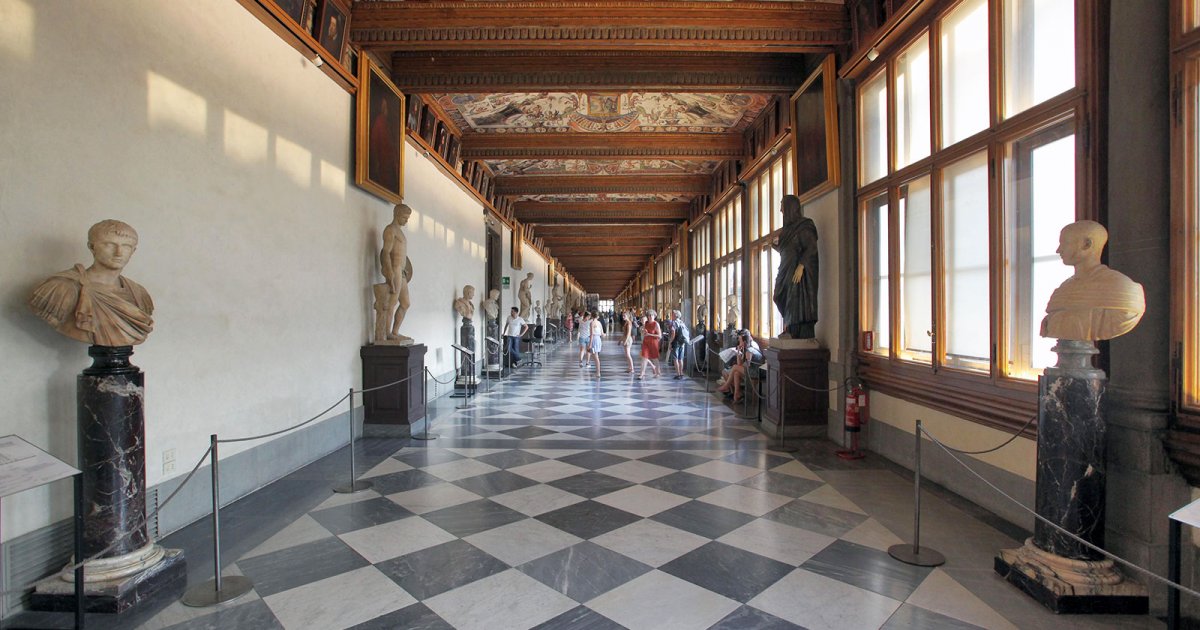 Audio File length: 3.07
Author: STEFANO ZUFFI E DAVIDE TORTORELLA

Language: English / USA
Your tour of the Uffizi Gallery can take many hours. The new rooms on the first floor have less paintings and sculptures than the main corridors, but are still full of seventeenth and eighteenth-century Italian and European masterpieces. You can also appreciate how well the colors of these rooms have been chosen: the candid ancient marble stands out against the red background, while a bright blue welcomes the canvases of the Flemish and Dutch masters.
I suggest paying special attention to the three canvases by Caravaggio, which alone make the trip here worth it. The painter's early work Bacchus shows his extraordinary ability in replicating still lifes, such as the overflowing fruit bowl or the large cup of wine.
Next is the awesome Medusa, with its decapitated head full of horrible serpents; this was painted as a parade shield, and is an ornament forming part of luxurious and exotic armor.
Lastly, go to Sacrifice of Isaac, one of Caravaggio's few works set within a landscape. In all three works, you can sense his desire to demonstrate things directly, almost violently, bringing you live into the action.
Now move on to the most important international paintings of the 1600s: you can completely dive into the world of Rubens in the Uffizi, where you'll find several works including the Portrait of Isabella Brant, his first wife, as well as paintings by Rembrandt, Van Dyck, and Velázquez.
As for the eighteenth century, you're spoiled for choice here among the great Venetian painters ranging from Tiepolo to Canaletto, which can perfectly be admired alongside the fine French painters of the same period. Francisco Goya is also present with a beautiful portrait.
Crossing the Vasari Corridor, which was obviously designed by Vasari, is an experience that I absolutely recommend, but don't forget to make reservations in advance. The Vasari Corridor is the long passage that connects the Uffizi with Palazzo Pitti and passes over Ponte Vecchio. If you are curious to see the faces of the great protagonists of art history, this corridor offers the largest collection of self-portraits in the world: around 1,500 of them by artists that were painted from the 1500s to the 1900s.
FUN FACT: the Vasari Corridor was the only way to pass from the north to the south of Florence on liberation days. This can be seen in the movie Paisà by Roberto Rossellini, where the protagonist crosses the Uffizi Gallery full of packaged statues.
And with this we have finished our tour of the Uffizi Gallery in Florence. MyWoWo thanks you for staying with us, and will see you at the next Wonder of the World!