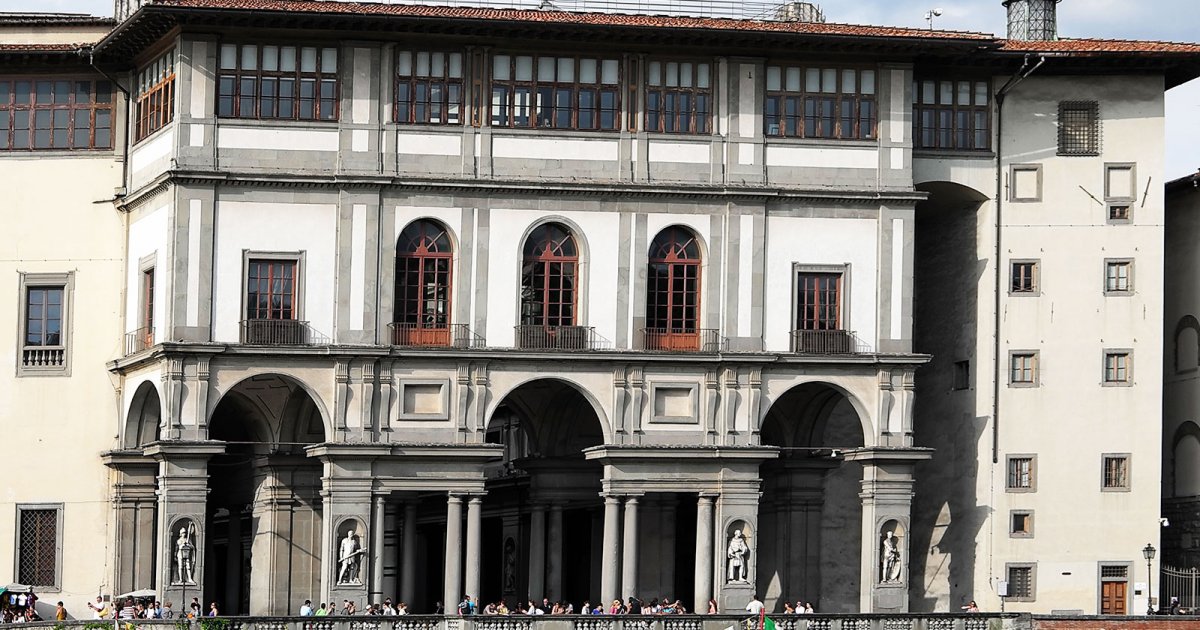 Audio File length: 2.56
Author: STEFANO ZUFFI E DAVIDE TORTORELLA

Language: English / USA
I'll briefly summarize the history of the Uffizi building: the palace was built next to Palazzo Vecchio in 1560 by Giorgio Vasari to accommodate the government's "administrative offices", but also to become the first and most prestigious part of the long pathway that led to Palazzo Pitti, where the Grand Dukes had moved their residence. Even today, a small bridge connects Palazzo Vecchio with the Uffizi.
Vasari was an architect, painter, and writer, and he created a masterpiece: he had some buildings demolished, including a church, and designed a long, narrow square surrounded on three sides by a series of steps and the porticoes of the new palace, which has two floors with high arches. The short side facing the Arno River was designed as a spectacular panoramic loggia. In the 1800s the exterior decorations were enriched with twenty-eight large statues of illustrious Florentines: you can see them above in the niches.
Even before you enter the Gallery's collections, the Uffizi will captivate you from the ground floor.
After the ticket office, a walkway leads you to the large space where the ancient Romanesque church stood. On the walls and near some 20th-century works, you can admire the frescoes of the Illustrious People painted in the mid-1400s by Andrea del Castagno: the most famous portraits are those of the 14th-century Tuscan poets: Dante, Petrarca, and Boccaccio. Underneath there's another important detached 15th-century fresco, the amazing Annunciation by Botticelli.
The Cabinet of Drawings and Prints that you can visit on the first floor of the palace is located in the ancient Mediceo Theater. With over one hundred thousand sheets from the 1300s to the 1900s, exhibited in rotation in the form of temporary exhibitions, it is one of the most important collections of graphics in the world.
In the palace, and especially along the lengthy corridors of the Gallery, there are so many ancient statues scattered that you could spend a day at the Uffizi pretending to be in an archaeological museum, ignoring the paintings altogether. You could fully immerse yourself in the Hellenistic and Roman works, many of which are complemented by various Tuscan Renaissance sculptors, such as Baccio Bandinelli's unmissable Laocoön group. Just think, even Michelangelo would work on "restorations" of this type of classic statue when he was younger.
FUN FACT: the Uffizi Palace was built in a district that was so rough it was called "Baldracca", which was the name of a tavern that was famous for its prostitutes.