PALAZZO CELESTINI, Introduction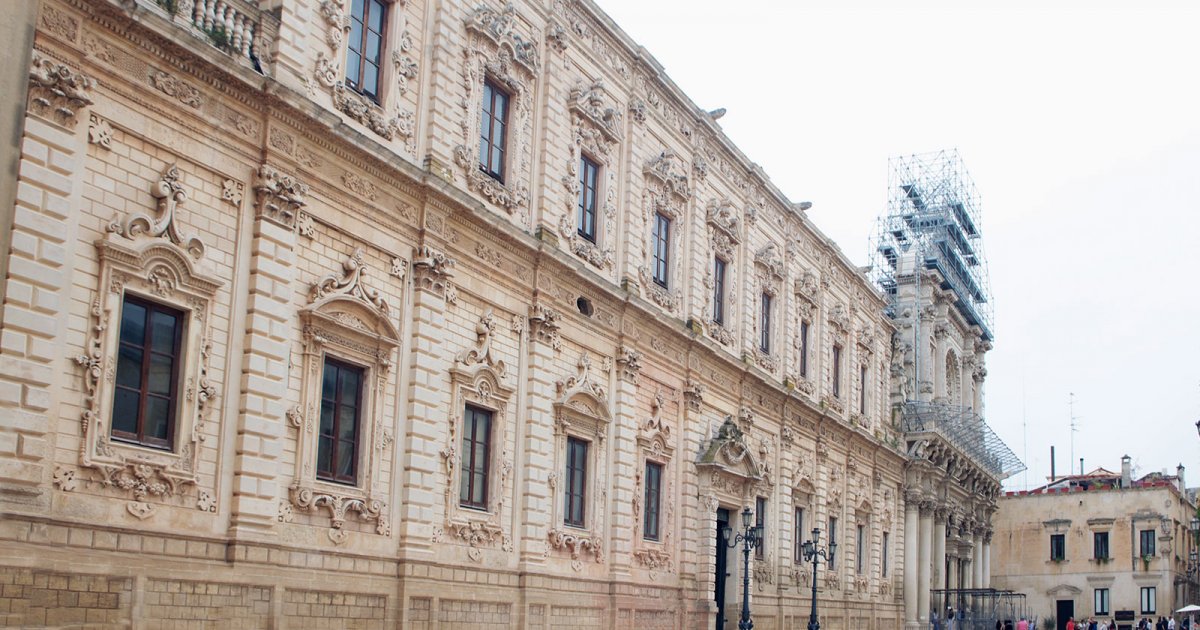 Audio File length: 2.46

Language: English / USA
Hi, my name's Jill, and I'm your personal guide. Along with MyWoWo, I'd like to welcome you to one of the Wonders of the World: Palazzo Celestini.
Palazzo Celestini used to be the Convent of the Celestines, a branch of the large Benedictine Order. Today it houses the Prefecture of Lecce.
This building is part of a single complex along with the Basilica of Santa Croce, and was built at the same time, starting from 1549, based on a project by the same architect, Gabriele Riccardi, who also designed the cloister.
The magnificent facade was built between 1659 and 1695 by two Lecce architects: Giuseppe Zimbalo, who designed the bottom level, and Giuseppe Cino, who designed the top level.
Observe the impressively long facade, embellished with two small loggias at the sides: it is divided into two levels by the horizontal cornice, and divided vertically by eleven elements, between the large windows and the central door, richly decorated with cherubs and bunches of fruit. The impression we have is that the abundance of ornamentation on the facade of the nearby Basilica of Santa Croce has been structured into a more orderly architectural style, marked by half columns alternating with 21 windows. Look closely at the cornices in particular, where the prodigiously talented local sculptors have indulged their creativity with some extravagant decorations: the two outer cornices on the upper level feature balustrades and a frieze adorned with shields.
In the magnificent interior courtyard, you'll notice that the decorations seem to have vanished altogether. If you look closely, you'll understand why: inside the portico, you can see the columns that supported the seventeenth-century facade, which in the 19th century was covered by a new facade in a much more classical style.
Let me leave you with an interesting fact: the Celestine Order this convent belonged to was founded by Pietro da Morrone, whose story is particularly interesting. The son of a very humble family, Pietro lived the saintly life of a hermit in the mountains of Abruzzo. At a very elderly age, he was elected as Pope Celestine V by the cardinals, who had been unable to agree on a candidate. Just two months from his election, unable to govern and unaccustomed to the treachery of politics, he decided to resign from the papacy and retire to life in the convent.