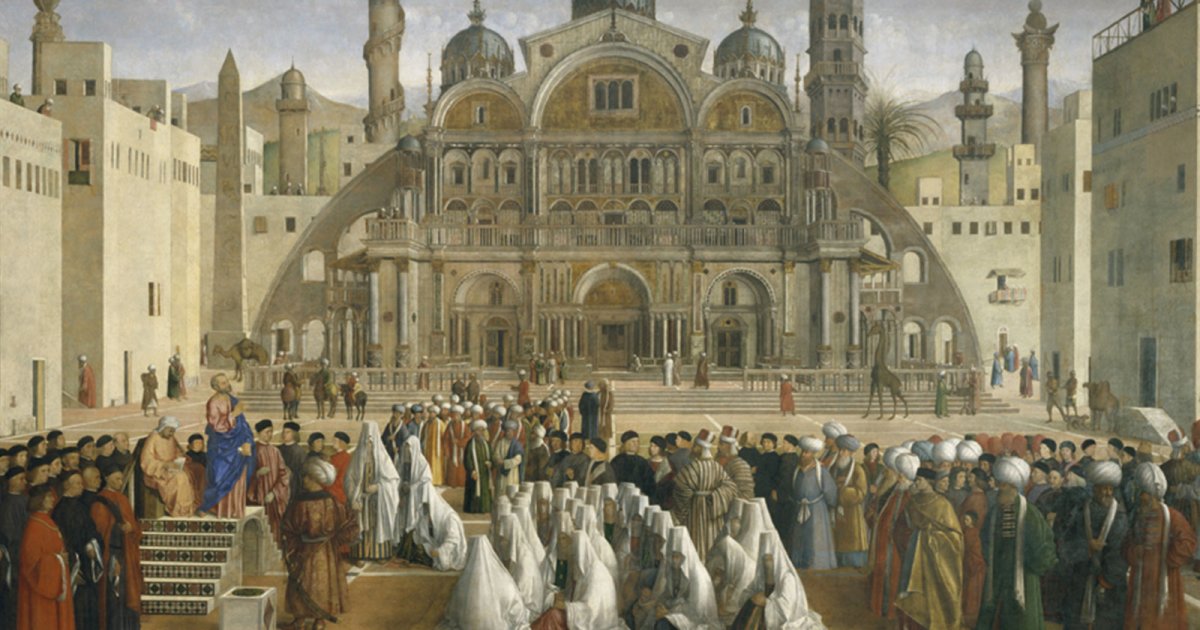 Audio File length: 2.15
Author: STEFANO ZUFFI E DAVIDE TORTORELLA

Language: English / USA
You are now in one of the largest rooms of the Brera Art Gallery, where the large canvas Saint Mark Preaching in Alexandria sets the scene. A truly fascinating setting: more than 26 square meters of painted canvas, making it the largest painting of the museum, and certainly one of the most crowded and theatric.
The painting was commissioned to Gentile Bellini, one of the most important Venetian painters of the 1400s, who was specialized in this type of vast narrative scene. The work was intended for the large hall of the Scuola Grande di San Marco in Venice, but was unfinished upon the artist's death in 1507. It was his brother Giovanni, who was then more than seventy years old and the official painter of the Venetian Republic, who took it up and completed it.
The scene depicts St. Mark preaching in Alexandria, Egypt; St. Mark is the patron saint and protector of Venice. Gentile Bellini had never been to Alexandria in Egypt, so he painted what he imagined it was like, which resulted in a canvas with Venetian architecture mixed with oriental elements such as towers and obelisks. It is easy to note that despite the exotic details, the square where the scene takes place is very similar to Saint Mark's Square in Venice.
The saint is standing at a podium preaching to the crowd, and a group of white-veiled Arab women stands out in the middle. The Eastern dignitaries are depicted with great respect, and perhaps this is no coincidence if you think about the fact that Venice had delicate commercial relations with the East.
This enormous painting is chock-full of details: have fun trying to find the exotic animals like a giraffe and two camels. Can you also find among the various people in the crowd, towards the right, a man who in reality would have lived over a thousand years after Saint Mark? It's Dante Alighieri, the greatest Italian poet to ever live.
FUN FACT: This painting is a so-called "telero". "Teleros" were typical canvases in Venice, and were used to replace the frescoes. In fact, the city's walls were so humid that the colors in frescos would be ruined in little time; these canvases were used to cover them.