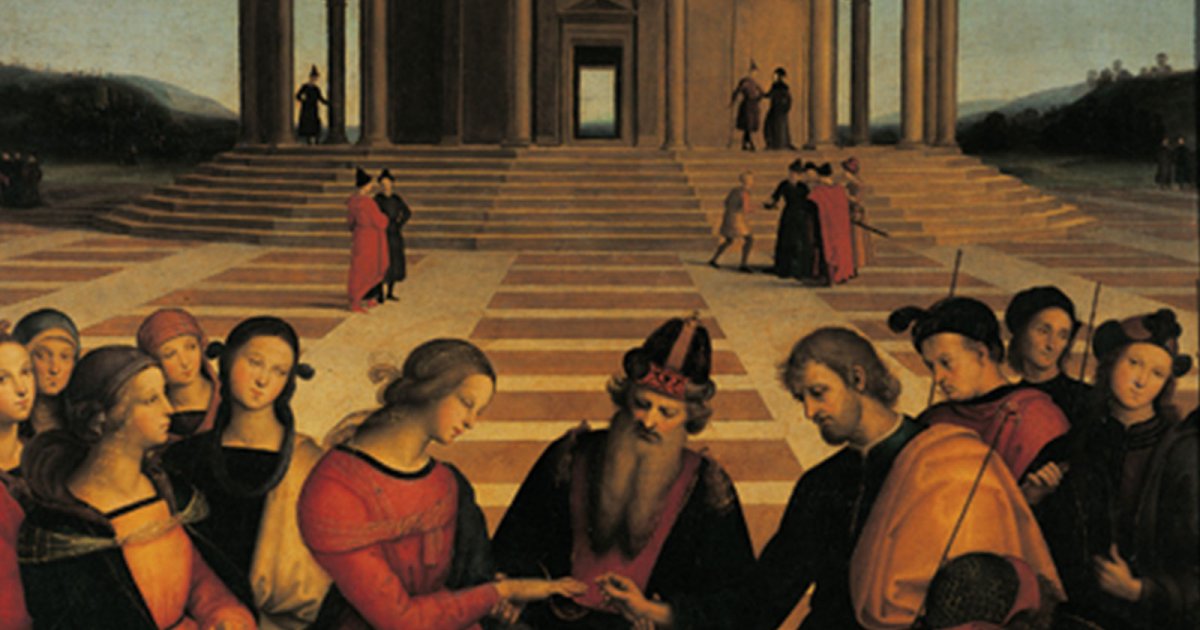 Audio File length: 2.28
Author: STEFANO ZUFFI E DAVIDE TORTORELLA

Language: English / USA
You'll find the painting The Marriage of the Virgin to the left of Piero della Francesca's altarpiece. You may not believe it, but this masterpiece was painted by an artist who had just turned twenty-one: his name was Raffaello Sanzio, and he was a great painter and architect from the Marche region who lived at the end of the 15th and beginning of the 16th centuries.
The scene depicts the moment when Joseph places the wedding ring on Mary's finger, and we can see a large temple in the background before a gentle, hilly landscape. With a touching expression of shyness, Mary holds out her hand to receive the wedding ring offered by Joseph, while the high priest marries the young couple.
More important than the wedding scene, the real protagonist of the composition is the temple, which as you can see is exactly in the middle of a space in perspective: the figures are naturally laid out in a series of semicircles which take the shape of the dome and the painting itself. The double door open at the temple's center is a stroke of genius, and lets you see through the building all the way to the bright horizon.
Thanks to the refined choice of light and harmony of colors, grace hangs over the scene in an atmosphere of poetic melancholy. No aspect is overloaded, no feeling prevails over the others, and every gesture is composed. Look at the young men on the right who are breaking sticks. You might wonder why they are making this strange gesture. The explanation comes from a story that can be found in one of the so-called apocryphal gospels, that is, the gospels the Church never officially recognized. It seems that Mary had several suitors, and she would marry he who had managed to miraculously make a stick bloom with flowers. If you look at the painting closely, you'll notice white flowers at the top of the stick Joseph is holding, while the other suitors, disappointed, are breaking their now useless sticks.
The painting comes from the Church of St. Francis in Città di Castello, and is more or less loot from the Napoleonic Wars: even periodically today, the inhabitants of the Umbrian city try to have it returned!
FUN FACT: there is a quirk in The Marriage of the Virgin: Giuseppe slips the ring on Mary's right hand. This has led scholars to think that Raffaello painted in front of a mirror.