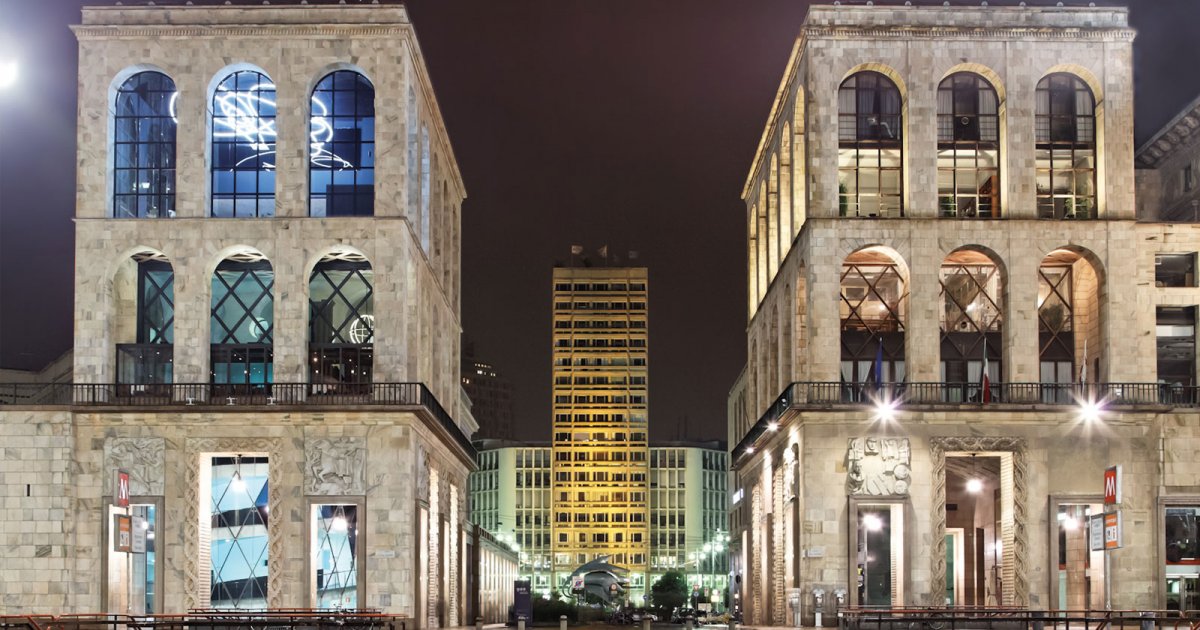 Audio File length: 2.36
Author: STEFANO ZUFFI E DAVIDE TORTORELLA

Language: English / USA
There are a lot of Cathedral Squares in Italy, but none is as famous as the one in Milan!
It dates back to 700 years ago when the Cathedral needed to have a fitting frame, but over the centuries its appearance has changed several times. What you see today is the result of a public competition that invited citizens to submit proposals for the square's final arrangement: the winner was Giuseppe Mengoni, who also built the famous gallery where you can go shopping before visiting La Scala Square. The Gallery was finished in 1877.
Now pause the audio and go to the Arengario.
Similar to the Gallery side, this side of the square is decorated with nineteenth-century arcades, but you may notice the stark contrast of style in relation to the two twin palaces which date back to 1930. With their essential geometry, they are an eloquent example of "rationalism", Italy's typical style during the fascist period. The left palace is called Arengario, and if you want to get an idea of the best Italian art of the last century, you should absolutely go visit the Twentieth Century Museum. I recommend coming back here in the evening, when light from a composition of neon tubes by Lucio Fontana passes through the windows of the second floor. And if you want to do something crazy, book a table at the restaurant to enjoy a spectacular view of the Cathedral!
As you may have noticed, the Arengario has merged with a much older building: the Royal Palace. Notice the way in which the palace's façade steps back in correspondence with the Cathedral. Make sure not to trip on the cobblestones like all the women wearing heels do when they attend the civil wedding ceremonies that take place in a special hall of the palace.
FUN FACT: there is a hustle and bustle directly underneath the square! From the two metro lines below, you can reach anywhere in the city, you can go shopping in the underground stores, and there's even a La Scala ticket office that gives you access to one of the world's most famous opera houses. But if you would rather go back to the past, don't miss the fascinating archaeological site of the early Christian excavations, which brought the remains of the Santa Tecla and Santa Maria Maggiore churches to light, which are the Cathedral's "ancestors", and above all don't miss the easily recognizable parts of St. John's Baptistery, which was built in the late fourth century on the instructions of St. Ambrose.