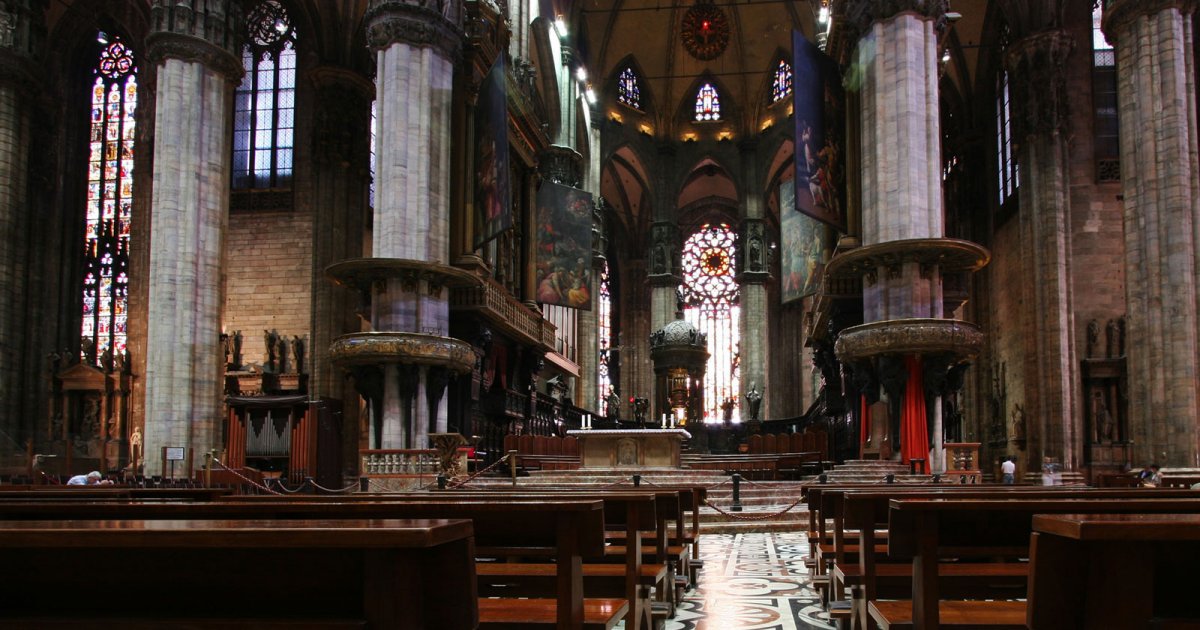 Audio File length: 2.35
Author: STEFANO ZUFFI E DAVIDE TORTORELLA

Language: English / USA
Now that you're in the Cathedral, you'll first need to get used to the light. I suggest staying close to the entrance, right in the middle, to get a general idea of what it looks like inside.
Even if the sun is shining outside, you probably got the impression of being in a gigantic space at twilight. And yet there's no lack of windows: there are an impressive fifty-five of them, including three huge windows at the back. The fact is that the light is filtered by the colored and stained glass windows, as occurs in other European Gothic cathedrals. These stained glass windows were made by French, German and Italian masters over a very long period, from the fifteenth to the twentieth century. The oldest and most valuable panels are now preserved in the Cathedral Museum.
You probably won't be able to immediately adjust to the size of this fabulous Gothic cave which basically looks like a forest, with its 52 super-high pillars that divide the space into five naves and are all covered with Candoglia marble. Notice how there are statues of saints at the top of these columns instead of capitals. Think about the fact that there's a spire above the church for each pillar you see here inside.
Just to give you an idea of its huge size, the Cathedral is 153 meters long, which is one and a half soccer fields. Its maximum width is at the transverse arm of the cross: an impressive 93 meters! In all, it's almost twelve thousand square meters, and there are more than 3,000 statues inside and outside combined. Its foundations are deep, but the Cathedral has had many problems over the past half century, mainly caused by the metro's tunnels and vibrations.
FUN FACT: one of the colors used for the Cathedral's windows is saffron, and it is precisely for this reason that this fragrant and delicious spice made its entry into the city's typical cuisine, becoming the main ingredient of the famous Milanese risotto. If you've never tried it, you definitely should!