EATALY SMERALDO (SPONSORED), First Floor Dairy Salamis Fish Meat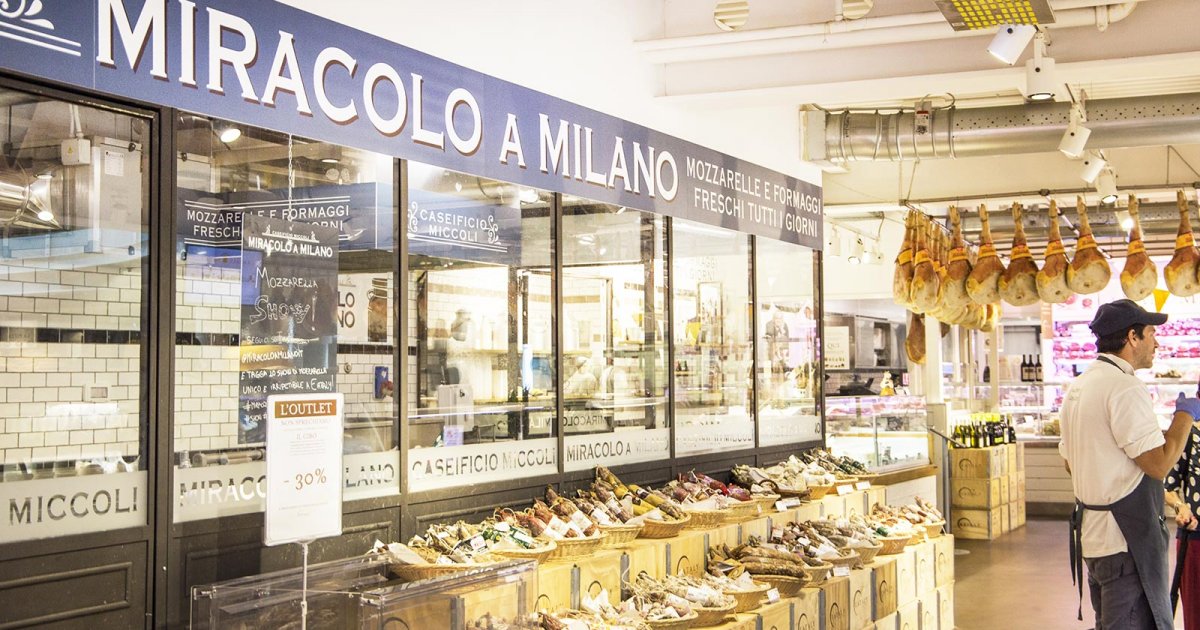 Audio File length: 2.38

Language: English / USA
Here on the first floor you'll find a full range of outstanding fresh produce.
Immediately on the right, you'll see the open workshop for the production of mozzarella, run by the Miracolo a Milano cheese factory, which produces many types of mozzarella from cow and buffalo milk, as well as fresh goat cheeses every day.
Our skilled cheese maker Marco shows visitors how mozzarella is made. The milk, fresh from the farms in the Lodigiano area, is used raw and turned into excellent cheeses in the Miccoli family workshop.
Make sure you sample some of the cheeses displayed on the counter – you won't be disappointed. The cheese factory is known as Miracolo a Milano, or "Miracle in Milan", because it's something of a miracle to find such delicious mozzarella in the north of Italy!
Continuing in the same direction, you'll come to the area dedicated to deli meats, with 400 of the former and 600 of the latter. Impressive, isn't it?
Most of them are of Italian origin of course, but you'll also find a few outstanding specialties from abroad such as Jamón ibérico or the British cheese Stilton.
Here you'll also have the chance to admire our fish section, one of the best places to buy fish in Milan, where you'll find it fresh every day, brought directly from the general market in Milan. Every morning, our staff set up the counter with the finest catches of the day, including white fish, oily fish, mollusks, rockfish and shellfish.
Some types of fish are quick-frozen so you can enjoy them raw at home, or in the area next to the fish counter called "il crudo secondo Eataly" (raw fish the Eataly way).
This is the place to try all sorts of fish tartare, selected according to the reproductive cycle of each species and enhanced with a variety of marinades to bring out the flavors.
If you prefer meat, don't miss our butchery counter, where you'll find a large variety of the finest cuts from Piedmontese cattle and other breeds.
The beef sold here comes from La Granda, an association of cattle farmers committed to improving the culture of quality meat, especially the Piedmontese breed.
The animals are fed on a natural diet, including corn, barley, bran, beans and hay. The closed-loop farms adopt the "cow-calf" method, in which the animals are weaned and grow up on the same farm they were born on, to avoid separating the calves from their mothers.