EATALY SMERALDO (SPONSORED), First Floor Panoramic View Deli Restaurants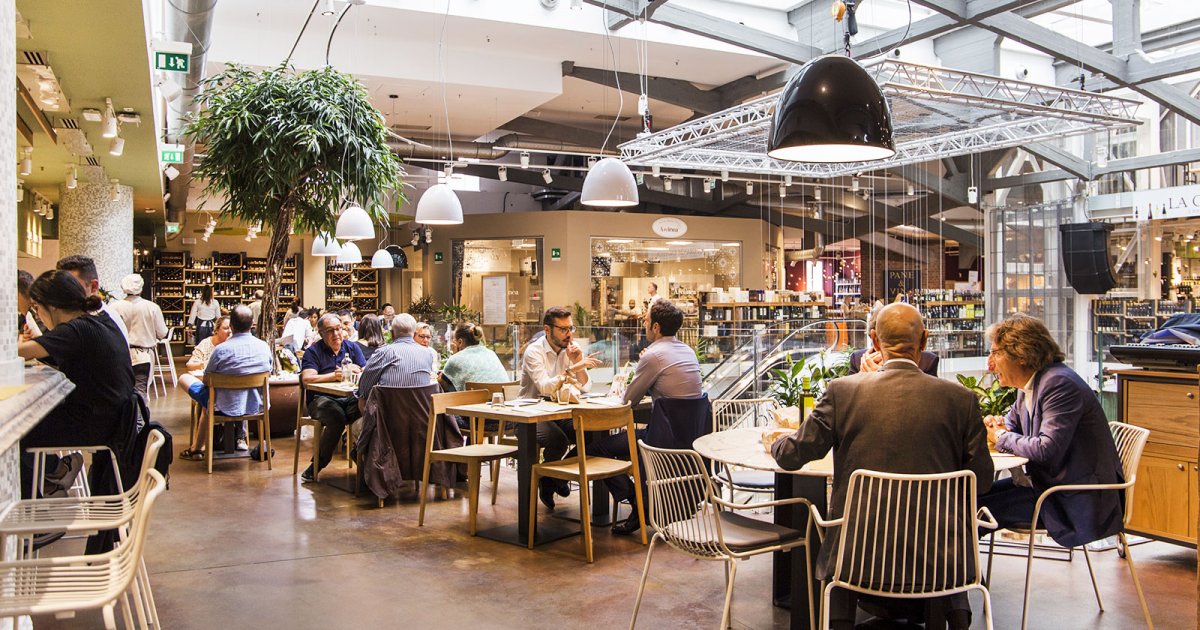 Audio File length: 3.05

Language: English / USA
On this floor, you can admire the store from its "panoramic" view: the stage!

As I already mentioned, Eataly took over what was once the famous Teatro Smeraldo, where so many internationally renowned music and theater performers appeared over the years. The stage continues to host spectacular events today, including cooking shows, musical evenings, book presentations and much more. From here, you can admire the whole of Eataly in all its splendor, and it is without doubt the best vantage point for an overview of Eataly Smeraldo.
When there are no events planned, this is the ideal place to enjoy the gourmet dishes of the Michelin-starred Alice restaurant, which I'll be telling you about in a moment.
Right next to the stage is the deli, with an open kitchen where delicious dishes are prepared for you to enjoy here or to take away.
On the opposite side of the stage is our "Pasta e Pizza" restaurant, the ideal place to enjoy simple, down-to-earth Italian cooking at its finest, featuring numerous dishes using the best raw materials from our market.
The spaghetto al pomodoro Eataly is a definite must: it is spaghetti from Gragnano with small red datterino rosso tomatoes from the "Così Com'è" company. These incredibly sweet, tasty tomatoes are so delicious because they're conserved whole in nothing but their natural juices; in this dish, you find the real essence of Italian cuisine: simplicity and tradition!
Along with the pastas, there are our pizzas, also made with Mulino Marino organic flours and mother yeast and cooked in a wood-burning oven. The menu changes regularly based on the seasonal produce available at the time.
Now press pause and go up to the second floor.
Here you'll find the restaurant "Carne, Pesce e Orto", which serves our finest meat, seafood and vegetable dishes. All the raw materials come from our fresh food counters where our cooks choose the finest produce for their recipes. This restaurant also serves simple dishes in which the ingredients are enhanced by genuine, invariably light recipes.
At the center of the room, you'll notice the entrance to chef Viviana Varese's Michelin-starred restaurant Alice, a particularly modern, elegant eatery completely separate from the rest.
Viviana Varese offers a highly sophisticated gourmet menu, placing the accent on research and a blend of different styles, with a strong focus on high-quality ingredients and Slow Food. The skilled chef is ably assisted by her restaurant manager and business partner of many years Sandra Cicciriello, a wine expert guaranteed to provide a very warm welcome. The restaurant boasts an excellent, varied wine list that closely follows the evolution of the Chef's experimental cuisine.