HOLY MARY OF GRACE, EXTERIOR - INTERIOR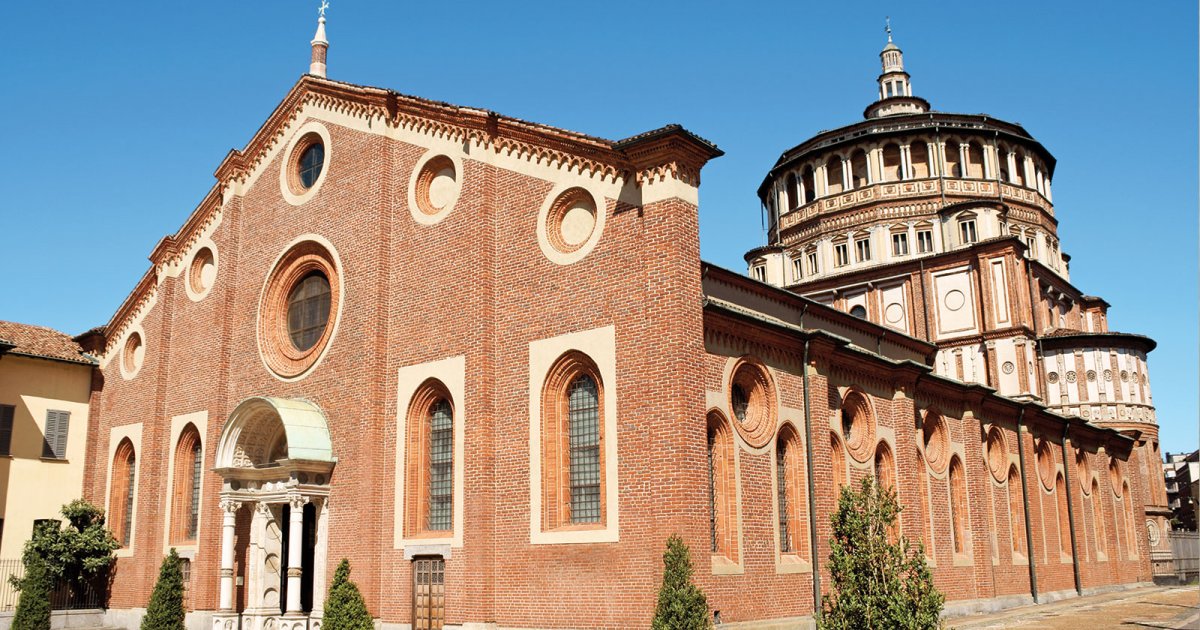 Audio File length: 2.18
Author: STEFANO ZUFFI E DAVIDE TORTORELLA

Language: English / USA
You're about to visit the architectural and decorative complex which more than any other monument represents the magnificence of the Sforza dynasty in Milan: the Church of Holy Mary of Grace. Look at the church's exterior from Corso Magenta (but watch out for passing trams!): you can see two different phases of construction which were carried out close in time but are quite different.
The front of the church is still in the Gothic tradition and dates back to the second half of the 1400s. The magnificent dome, the small cloister and the sacristy are instead part of the intervention commissioned by Ludovico il Moro and entrusted to architect Donato Bramante at the end of the 1400s, who also designed the beautiful marble portal that stands out against the brick façade. Now pause the audio and go inside the church.
Inside the church, you'll notice that the walls and arches are covered with lively painted decorations, which also include the frescoed friars of the Dominican order on the side pillars.
Ludovico il Moro's rule came to a sudden and tragic end when the Duchy of Milan was invaded by the king of France's army in 1500. Fortunately, the work on the church had almost been finished at that time. Over the centuries various other magnificent works of art have been added, including the fresco by Gaudenzio Ferrari that I suggest looking at closely: it shows scenes from the Passion of Christ and can be found in the fourth chapel on the right.
At the end of the nave a wide staircase leads to a mezzanine floor called the "gallery". It is very bright and solemn and was designed by Bramante to hold Ludovico il Moro's tomb. The Duke died in France while in exile: his tomb remained empty and was never moved to Holy Mary of Grace. It is currently located in the Certosa di Pavia monastery.
FUN FACT: the Church, with its adjoining Cenacle, was the first Italian work of art to be classified as a World Heritage Site by UNESCO.