LA SCALA THEATER, Interior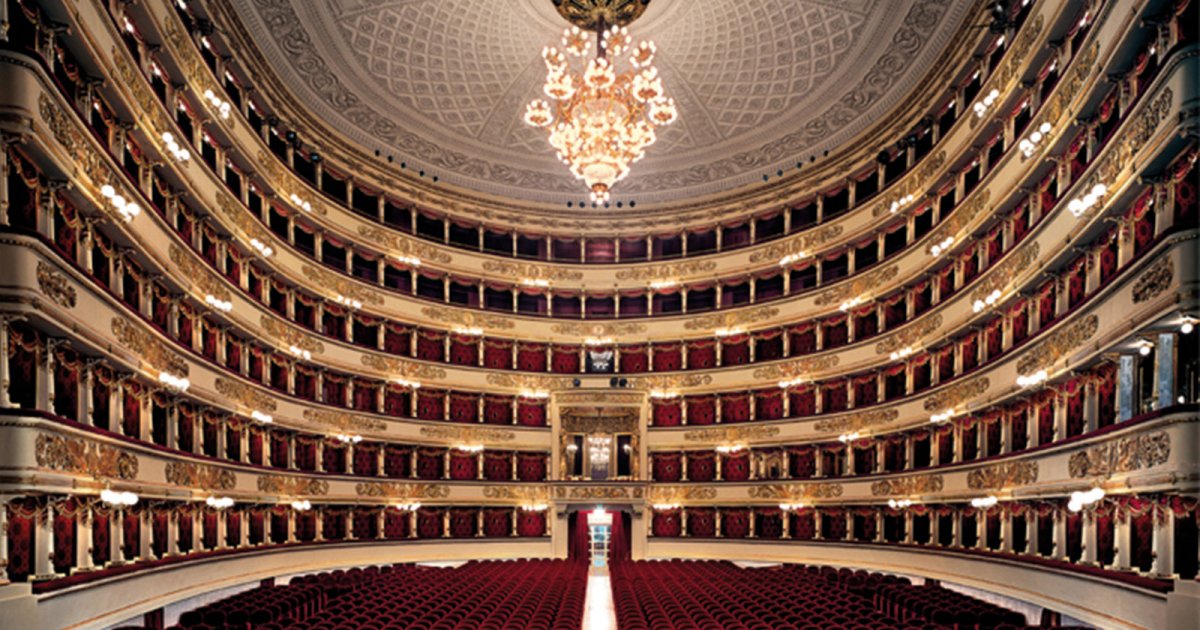 Audio File length: 2.28
Author: STEFANO ZUFFI E DAVIDE TORTORELLA

Language: English / USA
Even if you weren't lucky enough to get tickets to a performance, you should still visit the theater's interior. First go into the foyer, or the large indoor atrium in glitzy and neoclassical style, where you can peruse the busts of composers and conductors. If you go to one of the boxes, you can look out onto the great hall shaped like a horseshoe, all in red and gold, and experience the thrill of one of the most beautiful theaters in the world. With a little luck, you might also chance upon a rehearsal! The hall has four tiers of boxes and two galleries: the topmost gallery, which has the cheapest seats, is the famous and feared "peanut gallery", and the most demanding public is traditionally seated here, ready to acclaim the operas but also mercilessly boo them and any unpopular singers. The vast and sumptuous Royal Box is at the center of the hall.
Between galleries and boxes, the theater can hold about three thousand spectators. The stage was first made bigger at the beginning of the 1800s, and was modernized again a few years ago. Even though it may not seem like it when looking from the audience, the stage's width is greater than the room's, and can accommodate extraordinarily complex installations. Now pause the audio and go to the Theater Museum.
If you love music and especially opera, you'll find plenty to please you in the Theater Museum! Its fourteen rooms display memorabilia and instruments that belonged to composers, performers, and figures from the theater world. I'd like to point out the collection of musicians' portraits, and the section with objects connected to Giuseppe Verdi. The museum was recently restored by Pier Luigi Pizzi, the director, scenographer and costume designer whose name is tied to the production of many operas.
FUN FACT: at the end of the eighteenth century, the stages of La Scala were the property of the city's richest families. Each of these could do whatever they wanted during performances, including inviting friends, eating, and even playing cards, all while talking loudly. Just imagine how happy the singers and musicians were about this!
Thus ends our tour of La Scala Theater in Milan: MyWoWo thanks you, and will see you at the next Wonder of the World!