SAN MAURIZIO CHURCH, History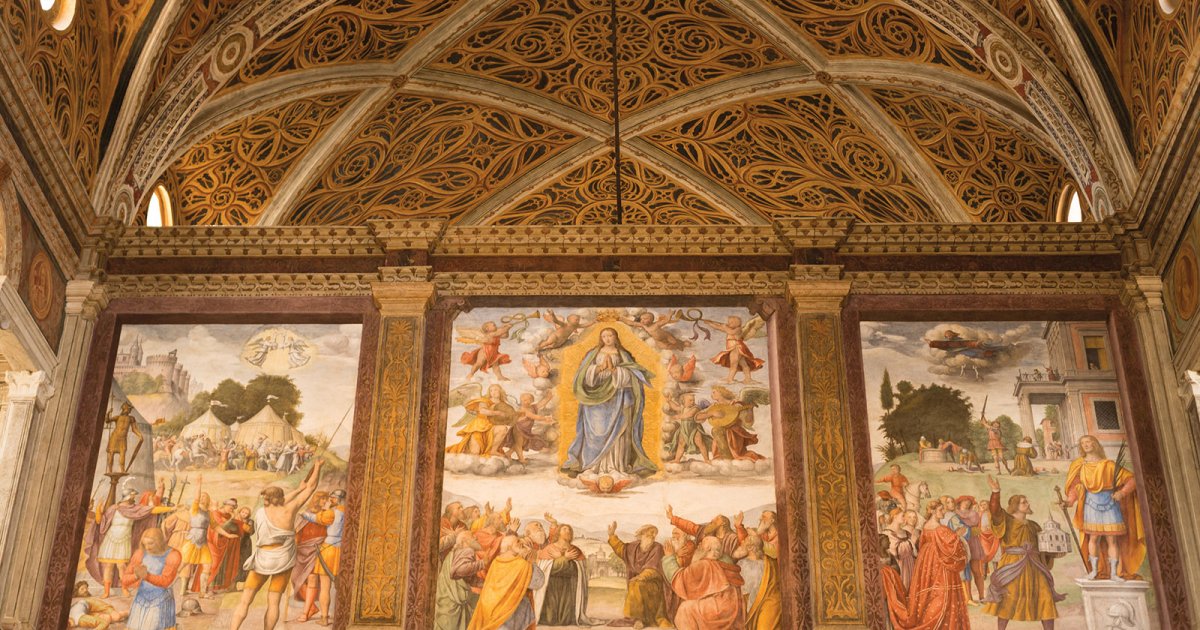 Audio File length: 2.42
Author: STEFANO ZUFFI E DAVIDE TORTORELLA

Language: English / USA
Hi, I'm Debbie, your personal guide. Together with MyWoWo, I'd like to welcome you to one of the wonders of the world.
Today I'll accompany you on your tour of San Maurizio.
San Maurizio is one of the most popular churches in Milan!
The Basilica of San Maurizio is on lively Corso Magenta, not far from Saint Ambrose and the Ambrosiana Art Gallery. Don't be fooled by the inconspicuous exterior: inside you'll find extremely elegant architecture and the church is lined with a magnificent cycle of frescoes that cover four thousand square meters, which is why it is often called the "Sistine Chapel" of Milan! Its creator is one of the finest painters of sixteenth-century Milan, Bernardino Luini.
Yet despite such magnificence, the sixteenth century was difficult for Milan: after the fall of the Duchy of Sforza, the city turned into a battleground that was fought over by the Kings of France and Spain, and there were famines and epidemics.
San Maurizio was founded at the beginning of the 1500s in an area with a lot of ancient memories: for example, the bell tower that you can see on the left side is actually a tower that dates back to the Roman Empire. Founded as a church for a convent of nuns, the church's interior is divided into two spaces: the public part and the part reserved for the nuns. The walls are adorned with an elegant loggia, and the side chapels are also full of frescoes. But it is above all the partition wall, called a "pontile", that should be noted: it depicts various saints and scenes from the life of San Maurizio and is by Bernardino Luini.
Pass by a chapel on the left and you'll reach the church's rear part, where you can admire the frescoes on the back of the partition wall, again by Luini. There's also a splendid organ dating back to the 16th century, and you can even enjoy refined concerts of ancient music here.
If you still have some time, after touring the church you should go to the Archaeological Museum located in the convent's rooms which contains works of Greek and Etruscan art, and above all Roman art.
FUN FACT: look for the fresco depicting Noah's Ark and carefully examine all the animals. You might even find two legendary creatures: unicorns.
And with this we have finished our tour of San Lorenzo Church: MyWoWo thanks you for staying with us, and will see you at the next Wonder of the World!