SFORZA CASTLE, Halls Of The Ducal Court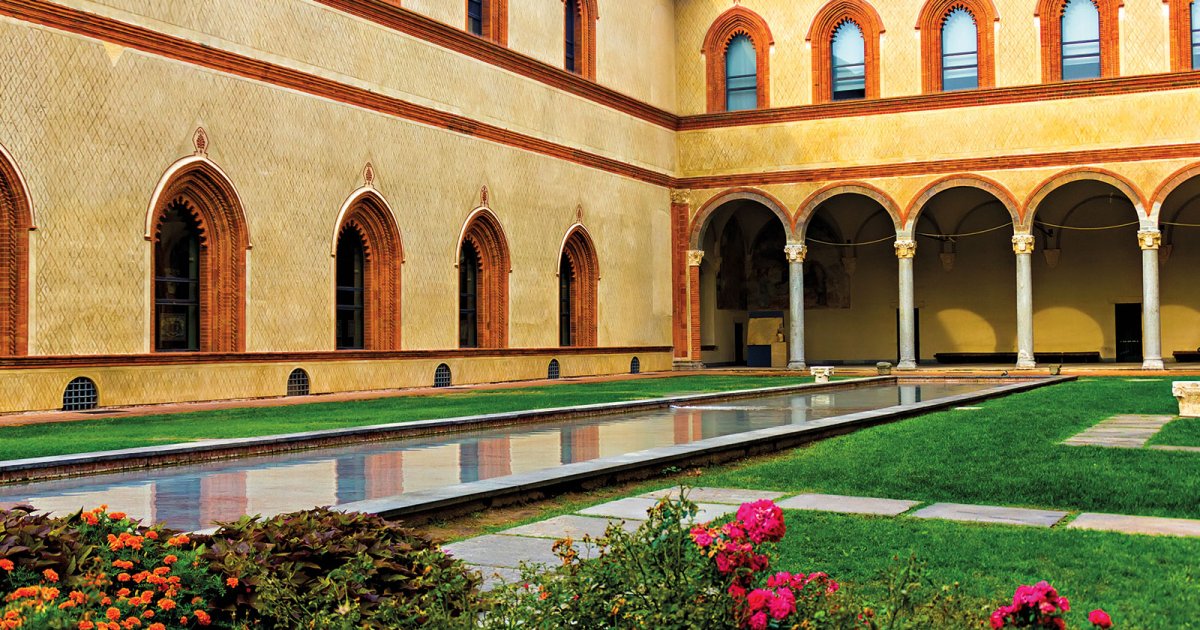 Audio File length: 3.03
Author: STEFANO ZUFFI E DAVIDE TORTORELLA

Language: English / USA
You are now in the first hall of the Ducal Court, which is a spectacular room decorated with marble busts and Flemish tapestries. In the middle you can see the grandiose Banner of Milan which depicts St. Ambrose, the city's patron. If you look out the last window on the right, you can enjoy the most beautiful view of the Ponticella of Ludovico il Moro, the loggia bridge that you admired during your tour of the castle, which was built by Bramante to pass over the moat. Now pause the audio and go to the Room of the Wooden Boards.
The Room of the Wooden Boards was decorated by the great Leonardo da Vinci, who transformed it into a veritable pergola with the branches of sixteen interwoven trees with knotted cords and the Sforza family's plates and coat of arms. Unfortunately almost all of the wonderful decoration has faded, but traces of Leonardo's drawings still remain on one wall and you can make out the roots that creep between the stones.
Now pause and go to the Ducal Chapel.
You're in the Ducal Chapel. As you can see, it faces the refined and beautifully decorated Portico of the Elephant, which you already admired on your stroll through the interior of the castle.
Now pause the audio and go to the "green room".
Now you're in the Green Room, and you might feel like you're in the middle of a parade of warriors. If you look attentively, you'll notice that all the weapons are placed in chronological order: from side arms to firearms, there's all kinds, and there's even a parade of mannequins wearing battle and formal armor made by Italian and German producers.
Now pause and go into the museum's last room.
You're in the last room of the museum dedicated to sculpture, which is decorated with a red and white zig-zag motif. You can see several highly refined fragments on the ledge of the large staircase, which are enough to help you imagine the beauty of the original work. The fragments are from the Monument to Gaston de Foix, a French commander who died in the battle of Ravenna in the early sixteenth century. It was done by Agostino Busti, also known as Bambaia.
FUN FACT: there is one equestrian statue missing from the sculptures. Ludovico il Moro had brought 70 tons of bronze in for Leonardo da Vinci, who he had hired to perform the work. But it was wartime and there was need for weapons and ammunition. So Ludovico took his bronze back and made cannonballs!